Pony's Swim Again Betta Rescue
---
Hello all!
I finally decided to start a thread about my rescue organization and the bettas that I have rescued along with their stories. I have rescued a few bettas in the past; some were successful and some didn't make it unfortunately, but lately I have acquired quite a few vt's thanks to my buddies from my local pets unlimited. Some were given to me for free or at a discount. Forever thankful for my pet store friends! They understand my urge to help the bettas and trust me to nurse them back to health. Once the bettas are healthy, I find them loving homes that must be approved by me before sending them off!
Thank you for clicking on my thread. I hope you enjoy!
Good for you.
I hate how walmart treats their fish.
---
Sorry if there is spelling or grammer mistakes above. I am not good with either.
My tanks
5 gallon betta tank, 15 gallon community tank
Goldfish tank, and a shrimp tank.
Member
Join Date: Jul 2011
Location: North Carolina
Posts: 1,365
I <3 rescues! Keep us posted with lots of photos
---
Rajah | Minnie | Goober III | Hawk | Red | Elliot
2.5G | 20GL | 46G | 150GTub
Sophie (Crested Gecko) | Sampson (Pied Ball Python) | Atticus (Frilled Dragon) | Sebastian (Blood Python) | Bean (Jackson's Chameleon) | Sunny (Colombian Boa) | Momo (B&W Argentine Tegu)
I will post pictures and stories tonight :)
First i'll introduce you to "Tye". Nicknamed after my boyfriend, Tylor, hehe. He was the healthier of the two bettas that I rescued from the pet store on August 2. Besides being a little thin and stressed, he was in good shape and had no signs of illness or disease. I knew this guy was going to be able to go to a home quite quick because he improved so much since day 1 with me. On August 10, I found the right home for him with a girl who also shared a passion for fish. He is currently living in a 10 gallon community tank.
August 2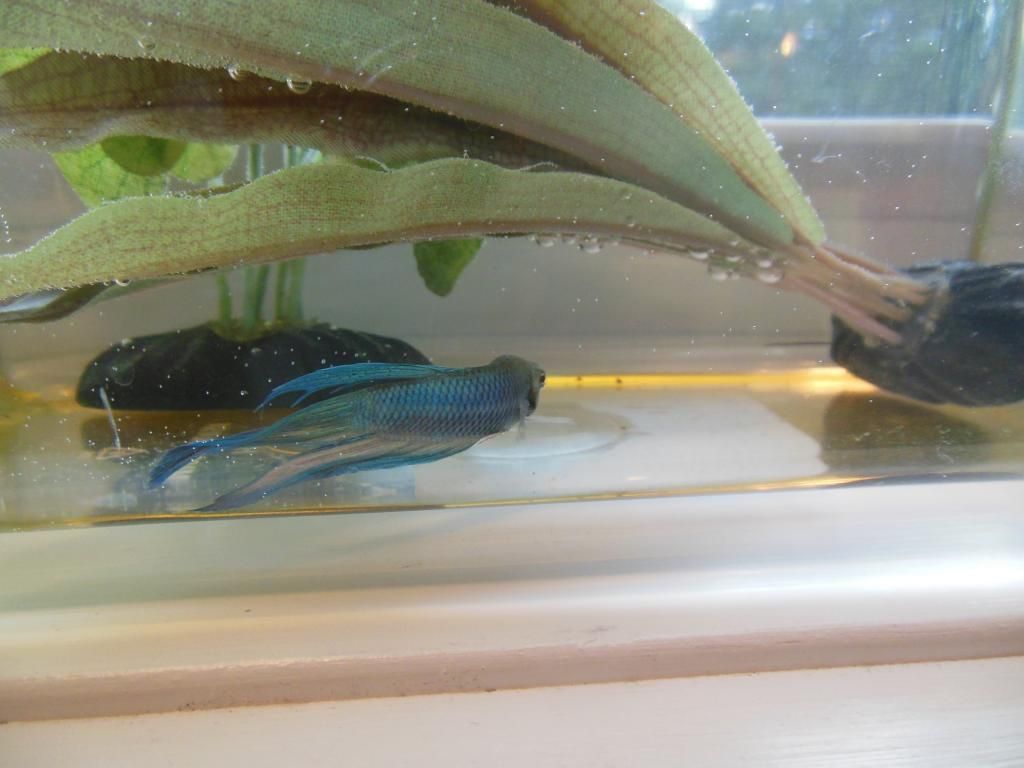 August 9, one day before he went to his new home.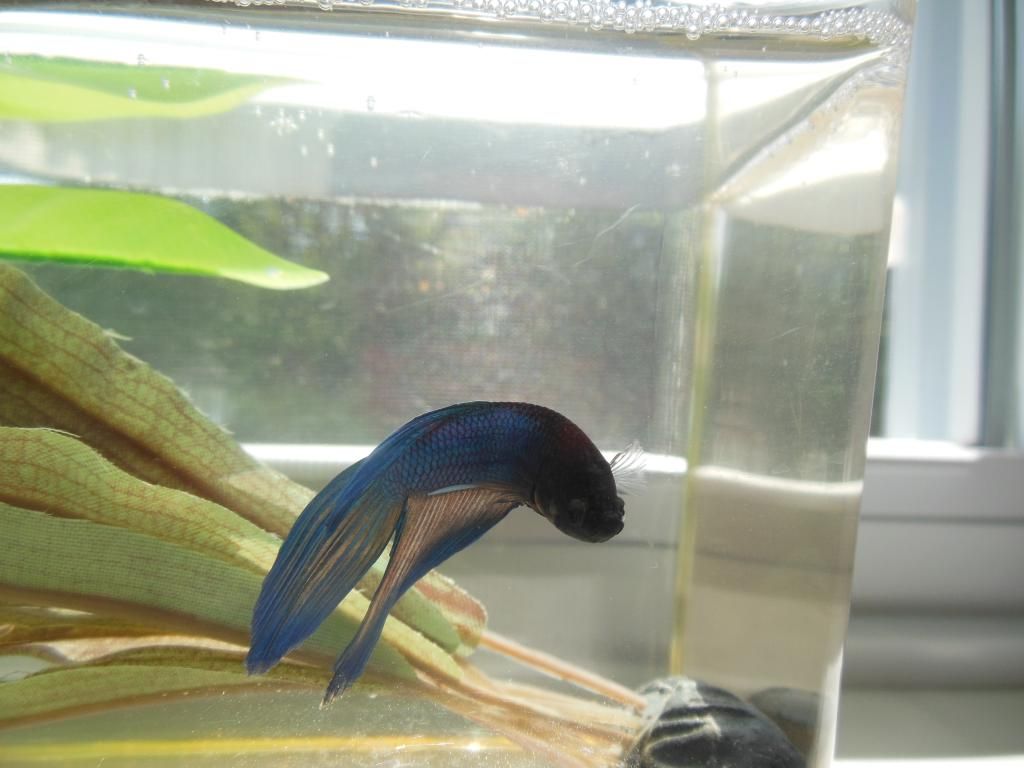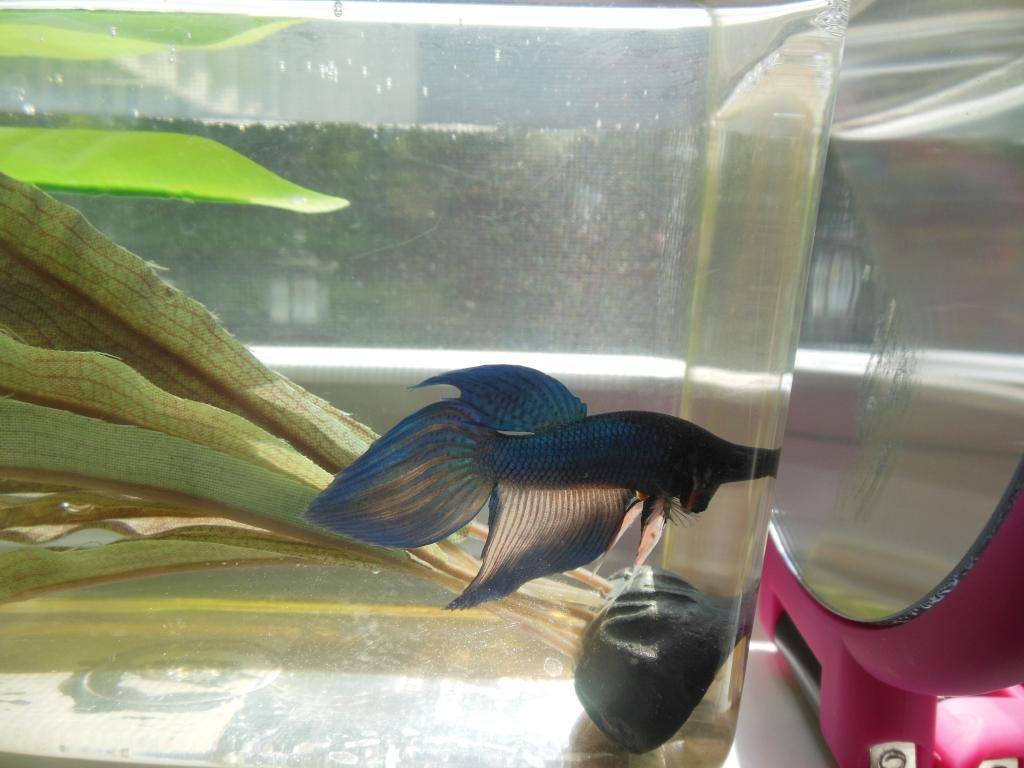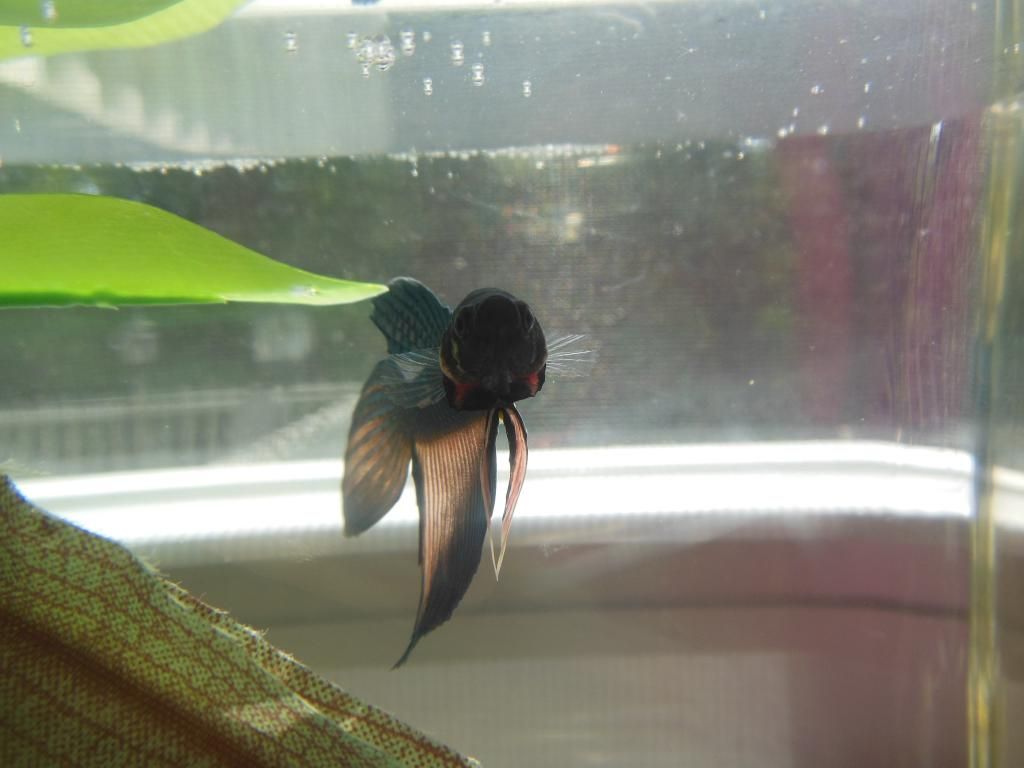 The other betta who came with Tye, who I have named Shubie, after Shubenacadie, a town in Nova Scotia, didn't arrive so well. He came to me with some nitrite poisoning and a tiny bit of velvet. He mostly laid at the bottom and only moved a few times. He was quite skinny. Shubie didn't eat until a couple days after I rescued him, but once he did eat, he perked right up and started to re-gain his energy and personality. Shubie is still in my care at the moment. I have grown a bit attached to him and I am not sure of his fate yet. He has improved so much since August 2. He turned into quite the curious little fish!
August 2, first day home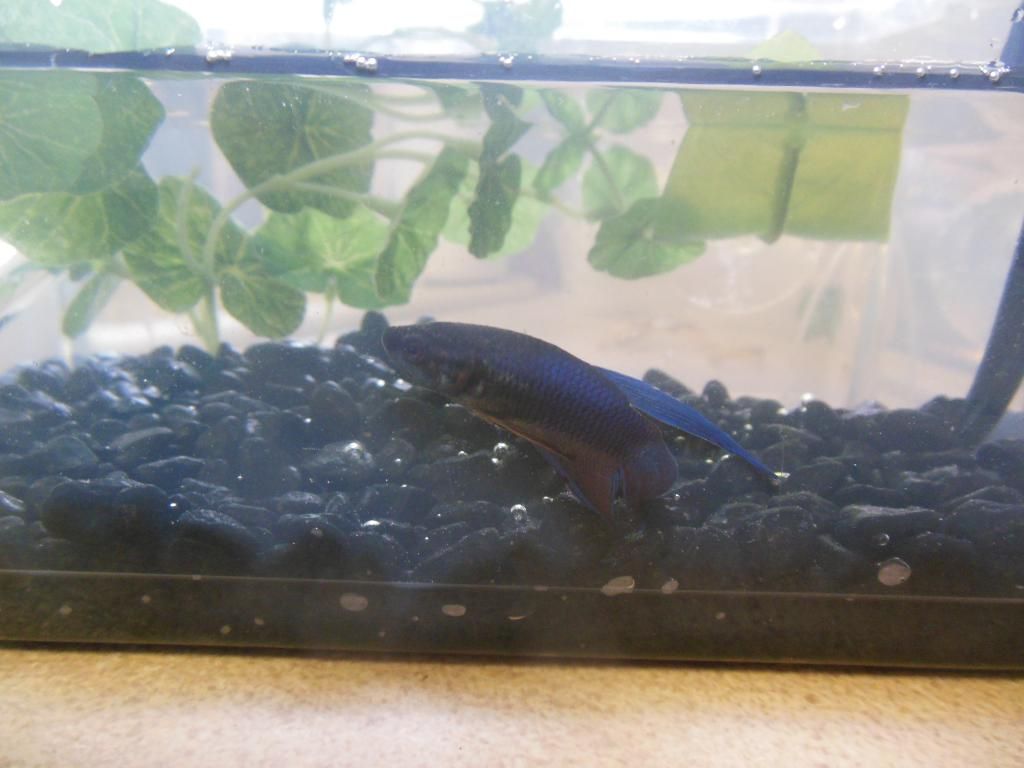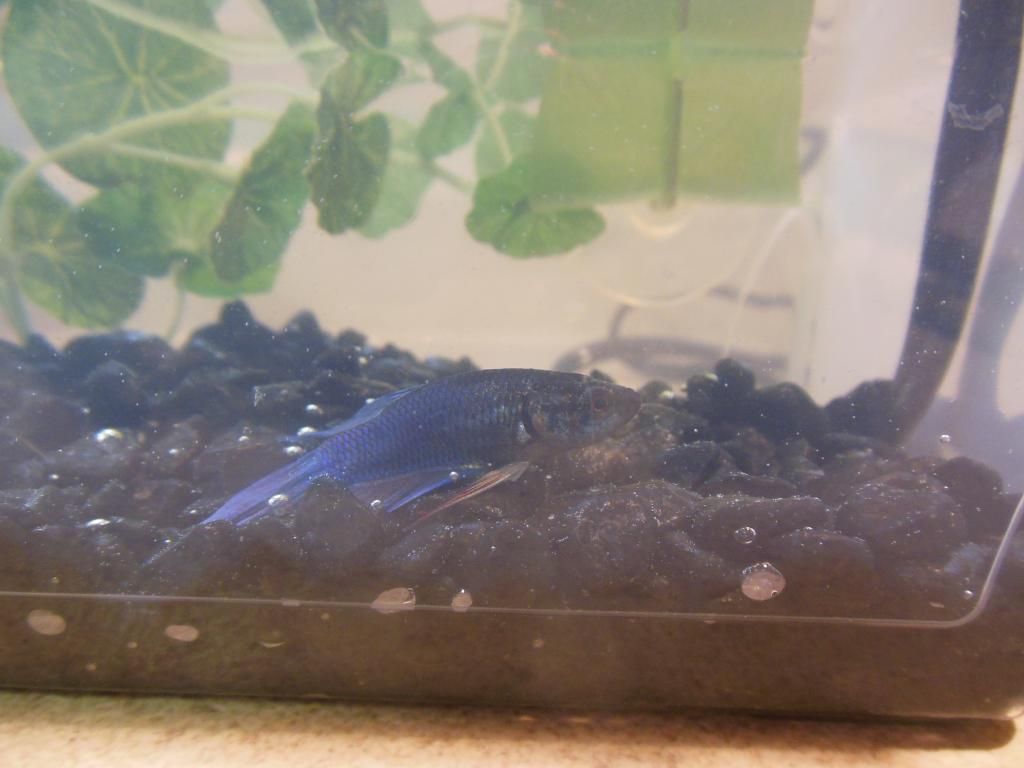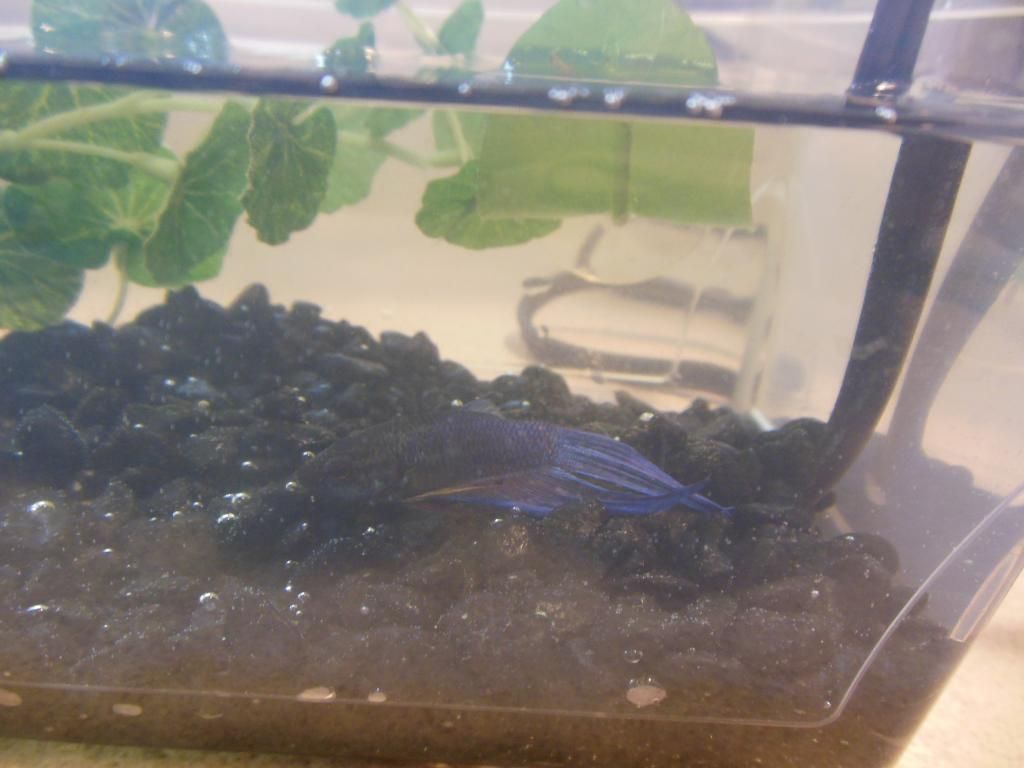 August 8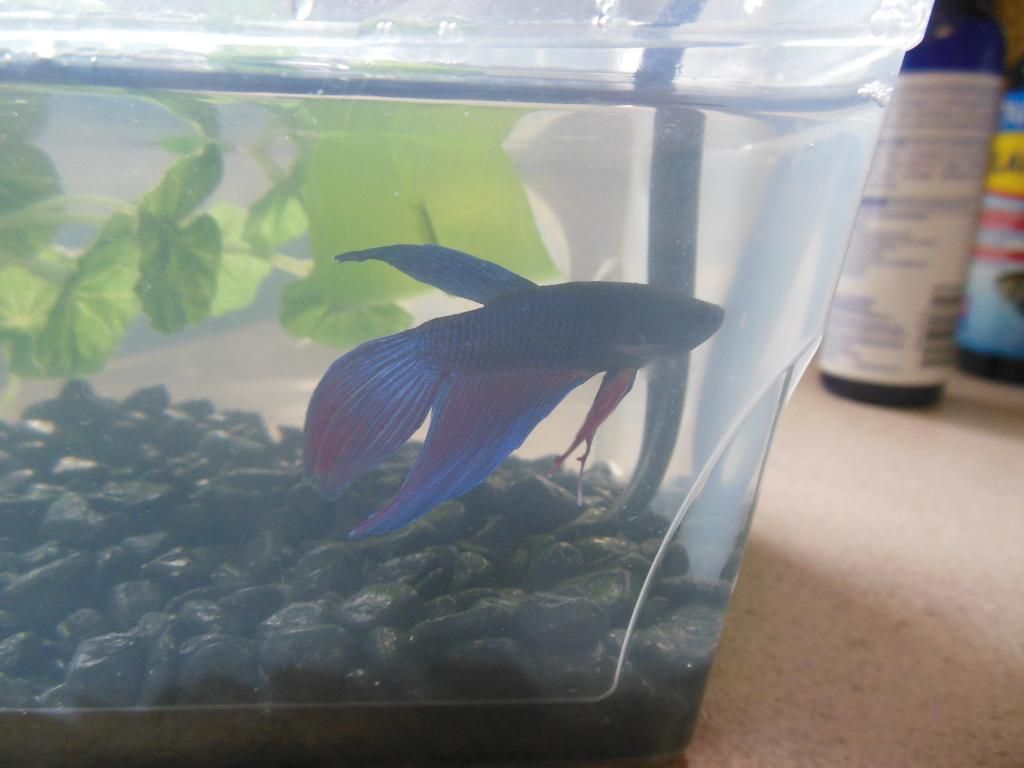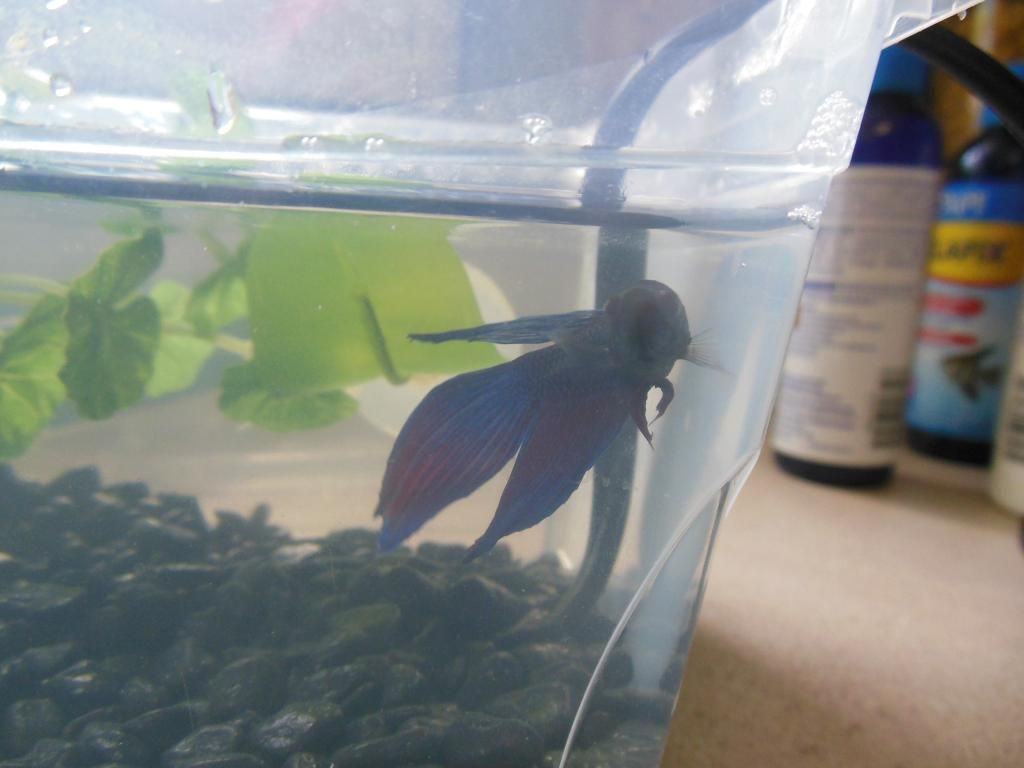 August 10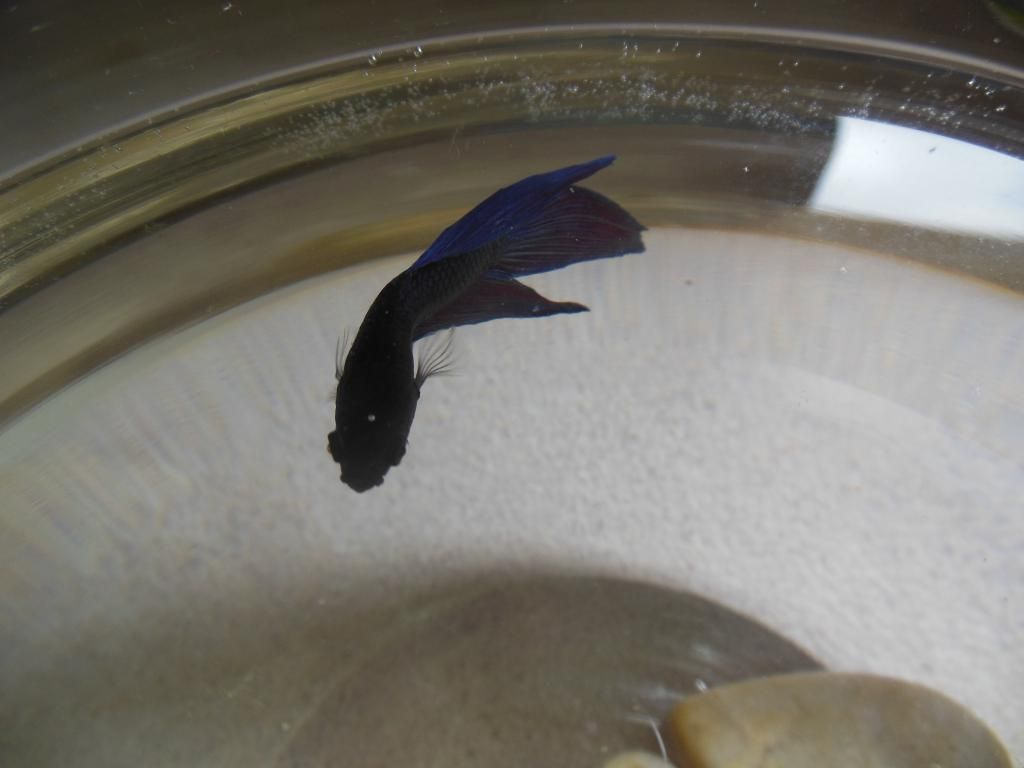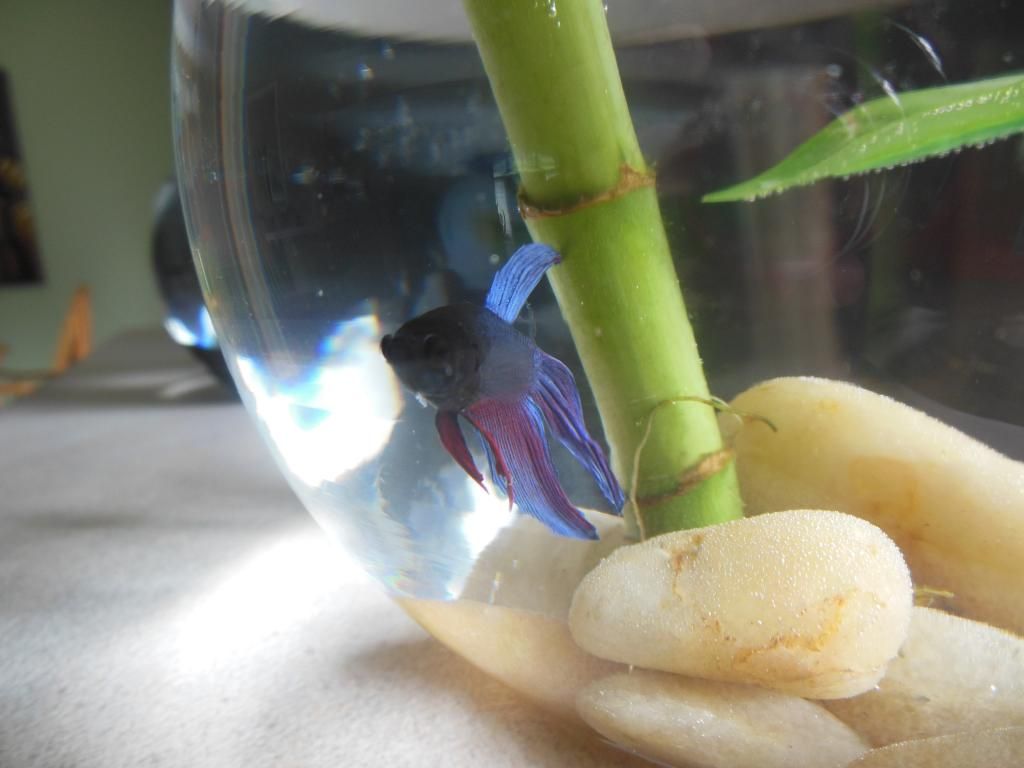 The third rescue was one my friend at the pet store pointed out to me and said that he would give me him for free because he wasn't in that good of shape. I was surprised the little betta was still alive. He looked dead when the employee took him off the shelf to show me. I didn't even think twice before taking this guy home. He was in rough shape. The little betta still has no name, all i've been calling him is "little fishy". I haven't really found the right name for him yet.
"Little Fishy" came to me on deaths door. I'm not exactly sure if he has a disease/illness. I'm not even sure if he does. I do know that he was emaciated. Poor guy had very sticky fins and it made him hard to swim around. He was also weak the first day. I plopped him in warm water and added a bit of aq salt to his water. I wasn't sure if he was going to make it through the night. But he did. And he is still alive today. I got "Little Fishy" on August 10, right before Tye left for his new home. Even in the past two days, he has perked right up, although his fins are still clamped and sticky. His appetite isn't too big either. I've only been feeding him little bits at a time since he's so skinny, I don't want his stomach to explode. He only eats a little then swims off and rests. His appetite is slowly growing which is good. Here are some crappy photos.
August 10, first day home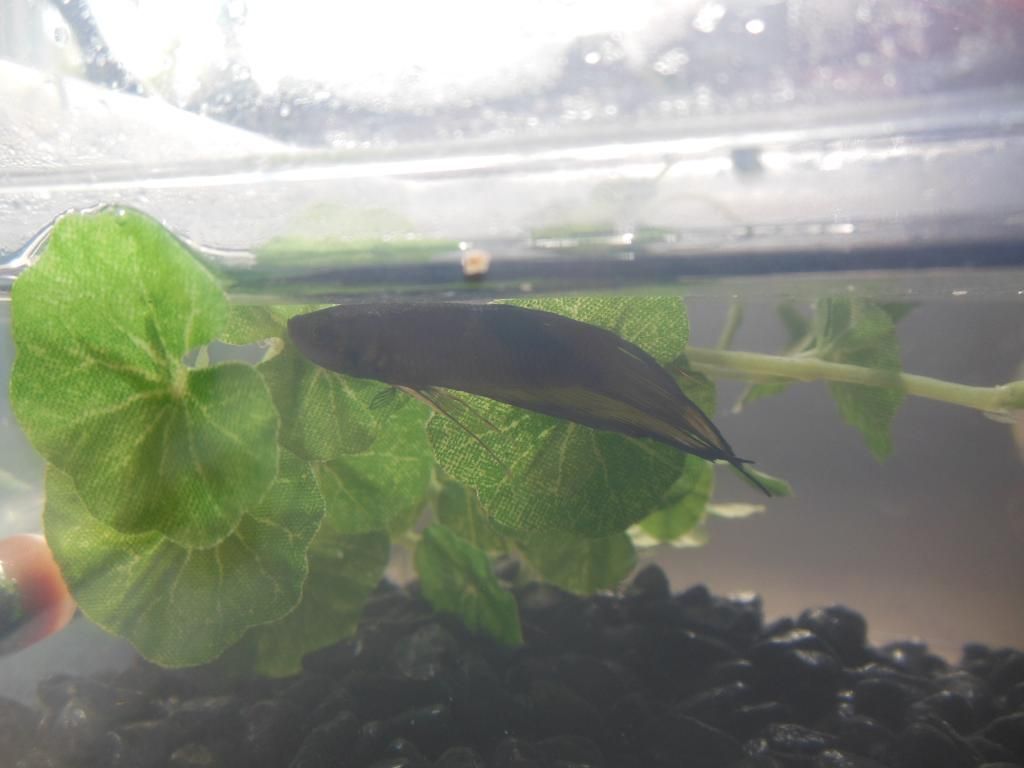 August 11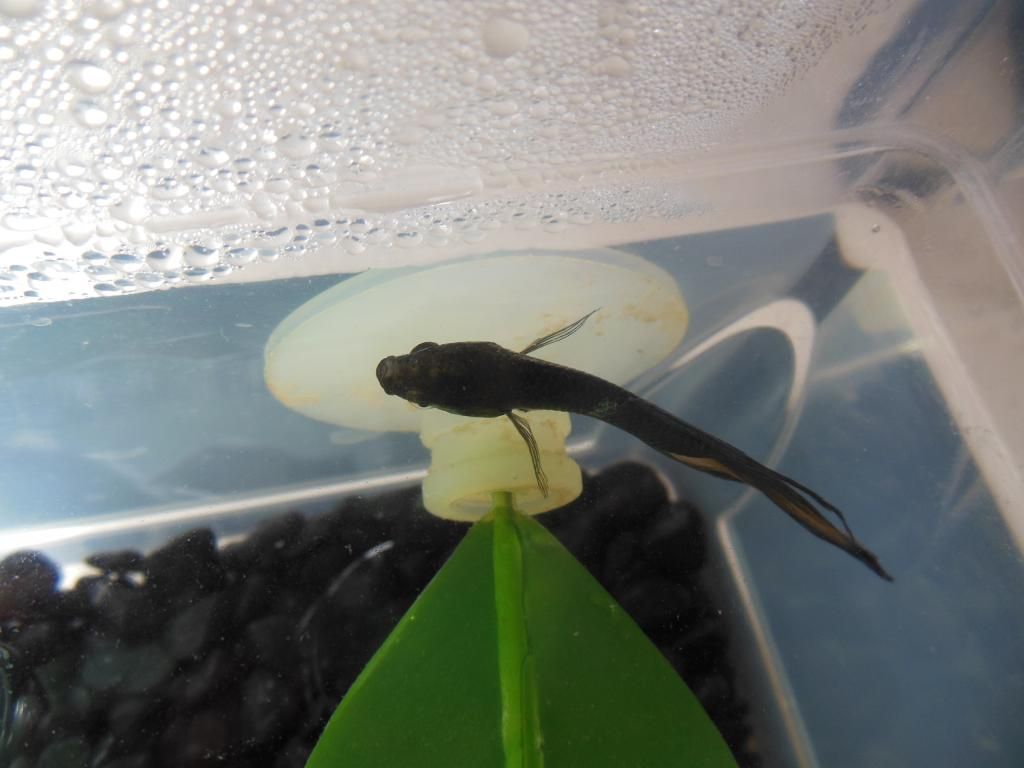 August 12 (waters low because I was slowly changing his water)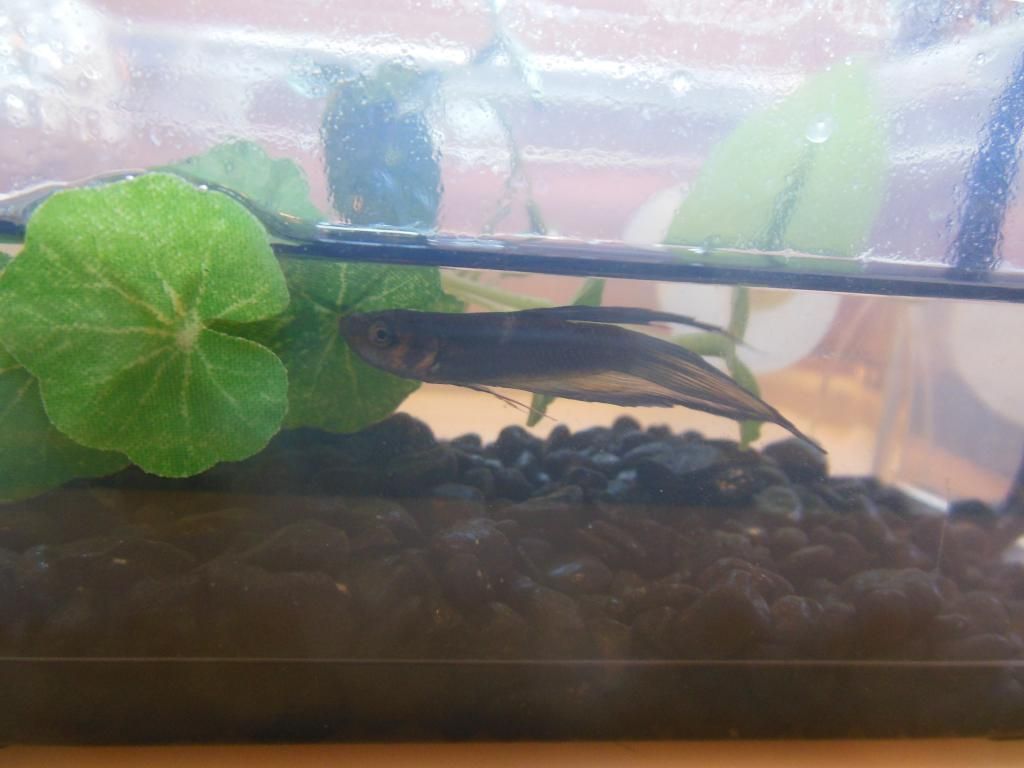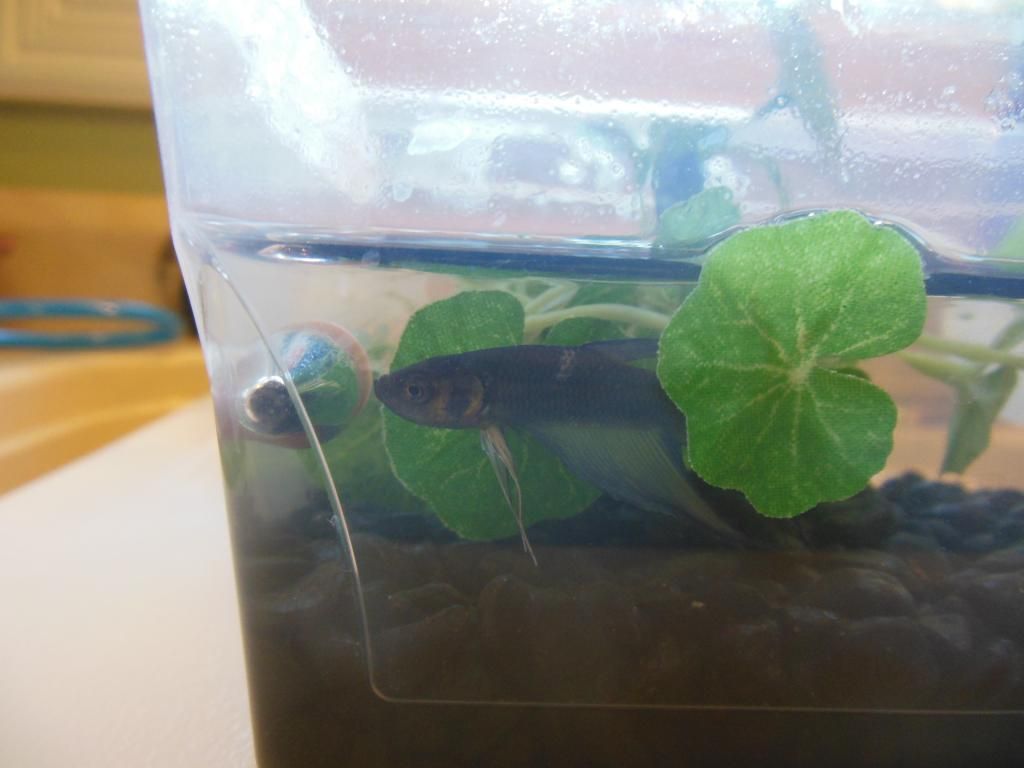 whew! Writing betta bios is a lot of work. Okay here we go again!
On August 10 I brought home another rescue that came with "Little Fishy". Robin has some SBD and is a bit stressed but the SBD has seemed to have cleared up and he should be ready for his new home soon.
I named him Robin after the tragic and shocking death of Robin Williams. I am so shocked to hear that he committed suicide. :( Depression is the silent and evil killer. He will always be one of my favorite actors. Rest in peace Robin Williams.
August 10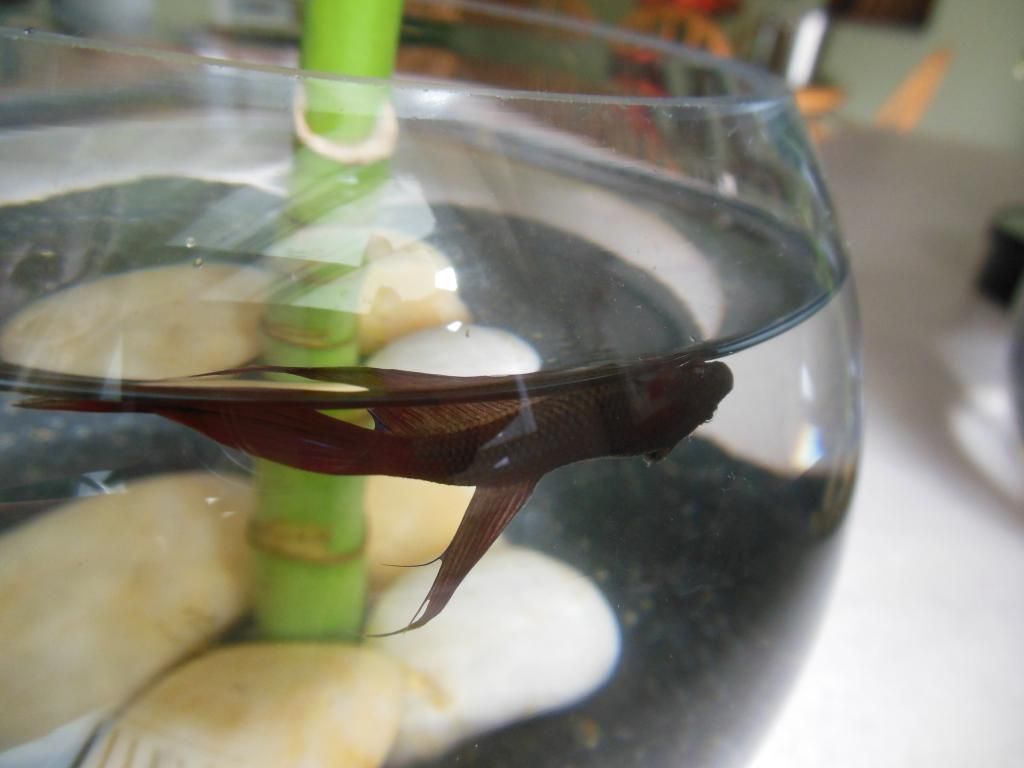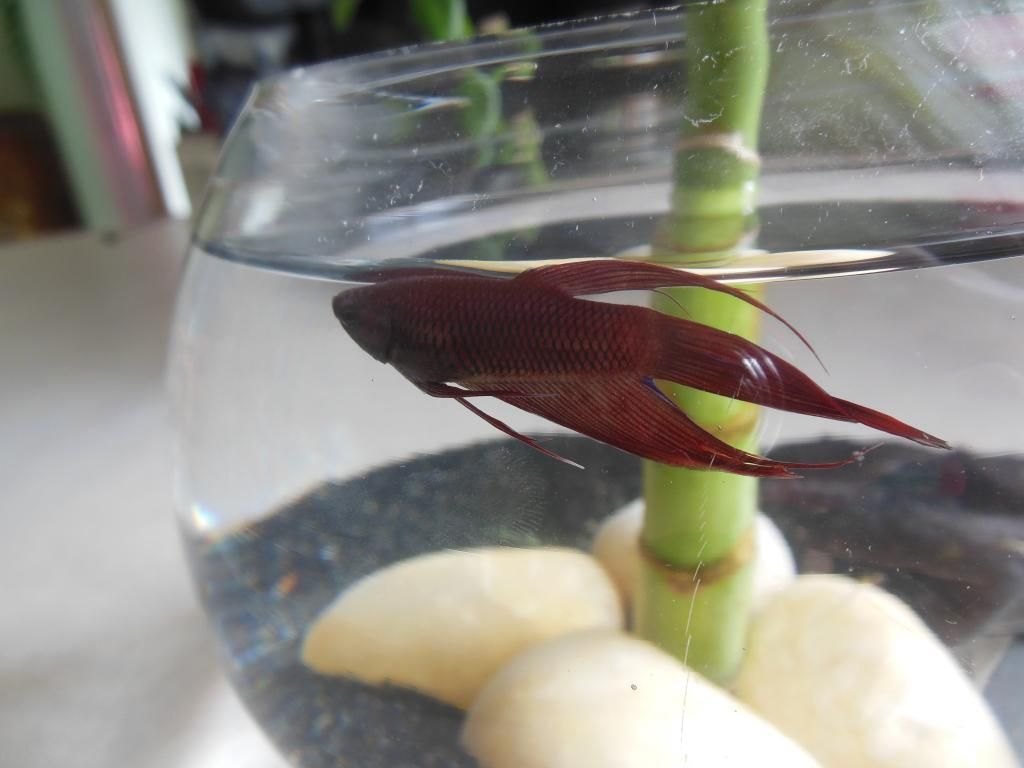 August 12
he's cute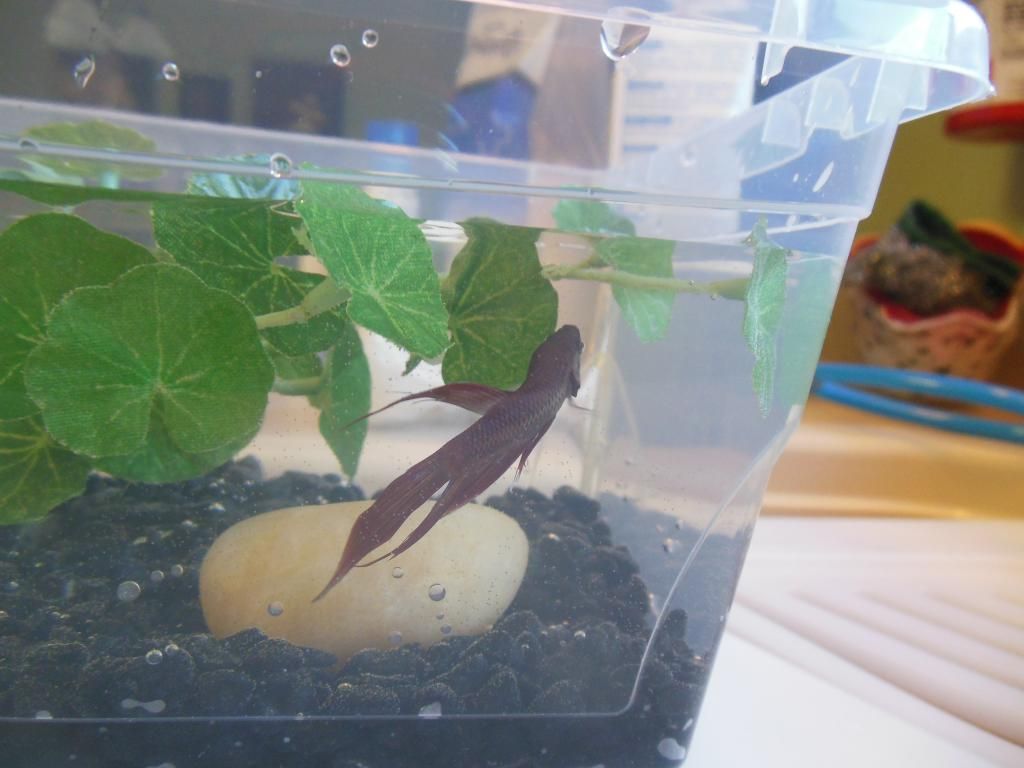 Brb going for a run than i'll write the last bio for my newest rescue!
Okay so I got back from my run and sat down at the kitchen table and ate some chips............................................. ...................
I ran hard I decided I needed a treat for myself
Anywho, one more bio on a new rescue.
This rescue I got on August 11. I go to the pet store quite often if you haven't noticed lol. All of my rescues that I have posted on this thread have came from the same pet store. This guy was given to me for a discount which I am fine with. He is clamped and a bit skinny. He is quite nervous too. Here he is.