BettaSplendid's journal
---
Hello! I have 5 little betta friends and I will be sharing some about each of them.
First I will tell you about Antigua- since he is my favorite (but only by a smidge because I love all of them and they are each unique).

I first saw Antigua in a Petco near my mom's house in May 2015. We had gone in "just to look" at the bettas. There were many, many beautiful ones. This little white plakat with turquoise trimmed fins stood out to me the most. We left without any fish though, amazingly. It was hard. 3 weeks later we went to "look" again. He was still there! I was shocked. He was still amazing. He was labeled a "halfmoon plakat" but with his thick white scales I *think* he is a dragon scale. Fine with me if he was mislabeled, made him cheaper! This particular Petco does water changes every other day and he was nice and plump. He looked the same as he had the first time I saw him. And I had an empty 10 gallon at home. Soooooo... I got him! It was a long 1.5 hour ride home for him. It took him a few days to really adjust. He would swim quickly up to the surface and then go hide in an ornament. Once he realized this was "his territory" he really began to own it. He cruised around and checked everything out and just happily kept busy. Built his first bubble nest. Then. Then I decided to pull the big 30 gallon tank out of the barn and put him in that! He had to readjust all over again! Poor guy! He loves it now though and is quite confident.

Attempting to attach a picture of his tank. Can you find him? The plants are still young. He has a rosette sword, an amazon sword, water wisteria, dwarf hairgrass, scarlet temple, anubias and a marimo "cave".
This is how Antigua looked when I first got him. He has since gotten more red on his fins- and spots! I love the spots. He has also gotten more green/turquoise shimmer on his body. I already had 3 bettas, but once I got Antigua I had started really researching tail types (had never heard of plakats before) and then learned plastic plants were bad. I took them out and began getting live plants...so that blue thing is gone. No worries. ;)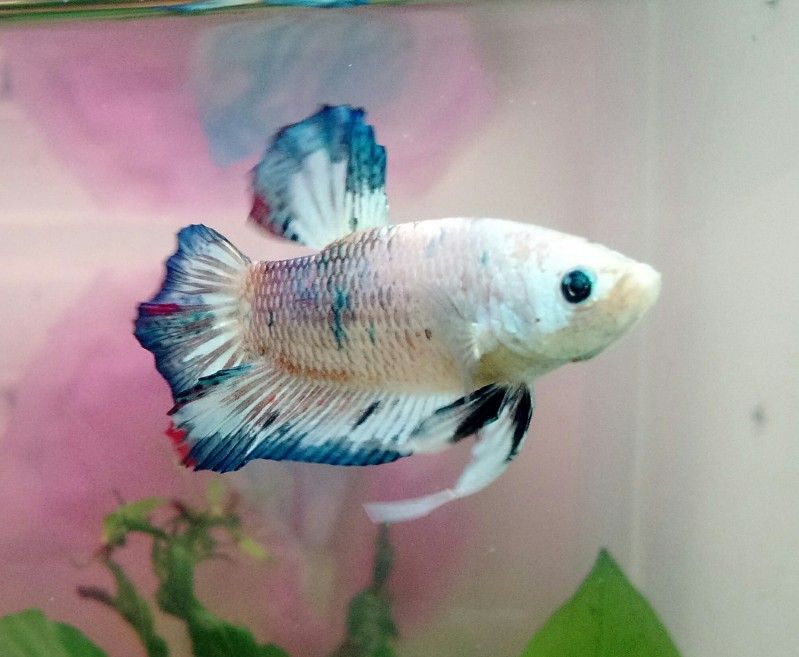 Here is a more recent picture. He seems to be getting darker? I would love to hear opinions on what color he is really called.and how he might continue to change.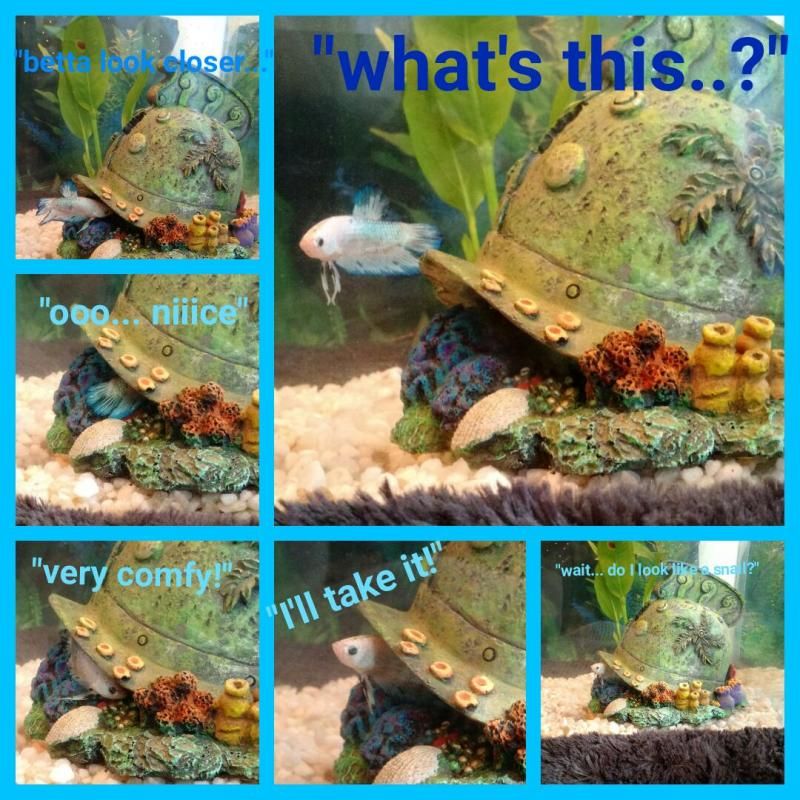 I started making comics about him. He was constantly doing funny things and he loved to sit under the brim of this helmet ornament (which he no longer has because it doesn't look like riverbed theme).
I will tell you about Hatzalla.
I do not normally shop at WalMart. I prefer to support "real" grocery stores. But eh, on this fateful day I decided to see what WalMart grocerystores had. I think I needed some other things like socks, office supplies, whatever. I parked at the garden entrance because I do like plants and I gravitate towards them and animals. I noticed fish tanks. Went to look. At this time in my life we had 2 bettas in our household and I thought that was a lot. One is my daughter's, the other my son's. But I take care of them. Anyways, so I was going to breeze through the fish and dog stuff and then be on my way. Most of the fish looked fine, actually...surprisingly. All except for this one betta... This one most pitiful one... He was so pale. Absolutely no color, just pale. His head was down, laying in the gunk, his tail (what was left of it) floated upwards. His water was filthy. How long had he been here? Waiting for a human? Hungry, cold, alone, bored, hurting? Was he dead..? My heart hurt...he was alive. He stared blankly. I was shocked. I stood staring at him for a long time. I was sure he was going to die any moment. I contemplated bringing him home. I thought about what my husband would say... "look, I spent the grocery money on a dying fish!" I reluctantly left him. I fought back tears as I gathered the things on my list. I stuck to that list. I had a lump in my throat. I paid for my things and left. I cried half of the drive home. When I got home I stood by the trunk, staring at the bags of groceries and cried. DH came to help carry bags and said, "What is wrong? What happened?!" and I just bawled. I tried to tell him about the little betta I saw, choking on words, "he is going to die! So pale... So pitiful, he will die, they aren't feeding him..." He finally was able to make sense of what I was saying, somehow. He told me to go back, to get the fish. I said, "no, I can't, he is going to die. He will never make it. The poor thing!" Now, I am usually a calm person, but I was very upset. I was sure it would be better to just let him die on the shelf than to jostle his cup and stress him and he die on the car trip.
I woke up upset in the morning. I was upset all night. I couldn't get that image out of my head. As soon as my children woke, we drove back to walmart. We went in, and there he was! He looked the same. But he was alive. I was truly amazed. When I picked up his cup, he moved! He righted himself so he wasn't head down. I paid for him- a crowntail?! So he was more expensive than I was expecting. I just wanted to get him out of there. In the parking lot I put him in clean water and fed him. He ate! He could barely swim and it took effort, but he found his food and ate. His body was crooked and paperthin. His head looked huge compared to his body which was as thin as his tail. I thought I was buying him so he could at least die in clean water and have a human....but here he was eating!
Well, he made it!
He recovered amazingly well. It took a few days for his brain to really turn back on, where you could *see* that he was thinking. His body eventually straightened out. I have really enjoyed watching his crown points grow! His body has remained small, stunted, but his fins are magnificent. His color is...I do not know what color he is. He looks different in every picture. He is ferocious. He has a big black beard and I joke that he "can turn his head inside out" because he puts his gills out so far. He will flare at anything, which amuses me to no end.
He is living in a 10 gallon, right on my table in my "fishroom" as my mom calls it, a sunroom off the kitchen.
Here he is, from shrimp to betta:
A few days ago:
And a Hatzie comic:
(kinda hard to see, but I had put a little black plastic snake down in the water and that is what he was gilling.) I like to say that he is so tough he can vaporize things just by putting out his gills. Or explode things and leave a smouldering ash pile behind.
Hatzie is quite the Bubble Expert. He makes some impressive nests and guards them vigilantly.
I uploaded this pic too and forgot to add it in the post above. It really shows how different he can look. He can be slate blue, then lavender, then pink, he can have a red tail or a blue tail. Is this a metallic? I would love to know. His crown points each end in double points now. I am curious about the dark markings on his head too. He looks different every morning. I never know what to expect.
Let me introduce you to Simeon.
Everytime I went to Petsmart to pick up some supplies and things to pamper my now FOUR bettas (and that seemed crazy, who has FOUR bettas?! That is excessive! Haha.) I would see this same pretty betta each visit. He was labeled halfmoon dumbo. He was so gorgeous I figured someone would buy him and that would be that. I was surprised, each week I went into Petsmart I would look for him and there he would be! After week 4 he started to lose color and his fins looked shorter each time I came in. What was a beautiful fish with a hope and a future was quickly fading. His water always looked clean at least. After he had been there well over a month, I took a picture of him. I left. But I kept looking at his picture. I decided I had to get him. I really liked him anyways, I was just hoping someone else without a houseful of bettas already would get him!
I named him Simeon ("hearing", for his big ears).
I am happy to have him. He is loads of cute. And way spoiled.
Here he is, after weeks of waiting for me to give in/ come to my senses:
And his awesome home:
Simeon's tank is by far my favorite. I love how it looks. The plants don't seem impressed with the LED lights however. I am going to have to do something different. He loves that Topfin root. This is the only tank I have bought, all others were given to me. This one is a 20 gallon Topfin "kit" from Petsmart. I like all of it except the lighting...what to do, what to do. I have Flora-Max substrate with Seachem's root tabs in there. Oh, and that red fabric is a "curtain". I put curtains up on all their tanks at night and take them down in the morning. Don't laugh.
And a closeup: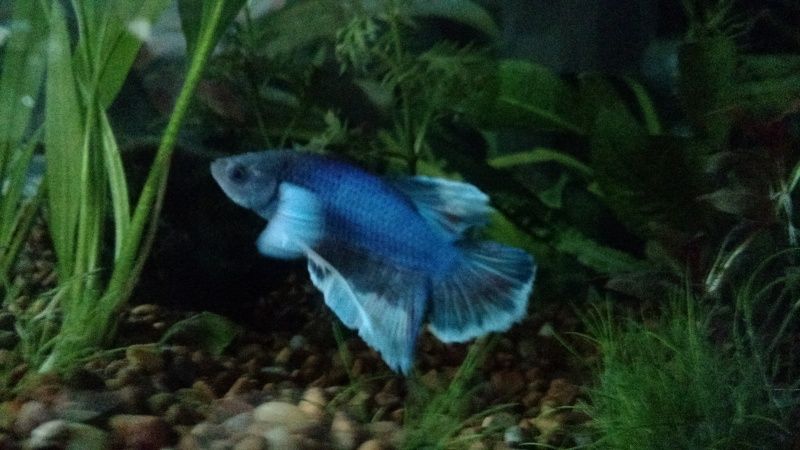 Now, he was labeled as a "halfmoon" and I think his tail was pretty long and full when he first arrived at Petsmart. But it hasn't grown much or any since I have had him. ?? I was expecting him to recover like Hatzie did (and he was nowheres NEAR as bad off as poor Hatzalla was, I was just expecting Simeon's tail to grow I mean). But even if Simeon's tail stays short I am totally fine with that. I really like plakats.
So, that is Simeon! My 5th and last betta. I got him July 27th and managed not to buy anymore bettas since then. Heh. I think it is safe to say once you have 5, anything is possible...
TWINKIE!!
Twinkie is the first betta to come into our family. We have had him a year and a half. My husband and daughter had gone to WalMart and came home with him. And a 1 gallon bowl, some rainbow gravel, a rainbow "castle" and some flakes.
I didn't know anything about fish keeping, but somehow kept him alive. I hated that bowl from the get-go. I actually moved him outside in the summer and he was in an actual pool, like an above ground pool. Just with like half a foot of water in it, well water. It was probably 10 feet across. He ruled that thing all summer. When fall came I brought Twinkie back in the house and had him in a big plastic tub with a heater and lots and lots of toys. He was our only betta and got ALL the attention. Now Twinkie is in a 10 gallon glass aquarium. We just love him. I had no idea fish could be so amazing! He loves human interaction. He loves mosquito larva. And he absolutely loves playing in the bubble stream from his airstone! He will put the tip of his tail in the bubbles and get "sucked" into it, do twists as he is floating up and then ride the current as fast as he can. Or he will enter the bubbles from the top and swim down. He loves his bubbles and is in them constantly. None of my other bettas play with the air stones!
Twinkie!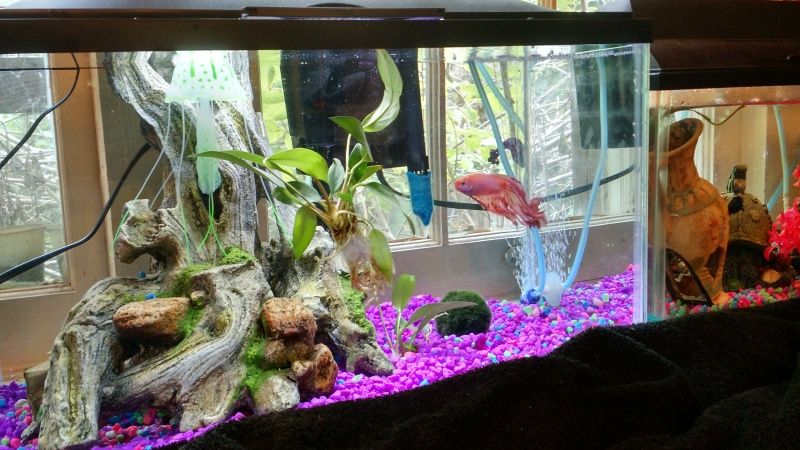 So technically Twinkie is my daughter's betta. She wanted a pink fish- she got one! And purple gravel. Twinkie was all pink but he developed purple/plum spots on his fins at around 1 year old. He has beautiful blue eyes. His tail got sucked into his filter so I cut a glove up and put the finger over the filter intake. So far so good. I think I am going to give that "driftwood" ornament to Hatzallah and get a colorful coral Topfin ornament (fake) for Twinkie. He gets all the girly bright stuff. That is the life of a pink betta.
---
Last edited by BettaSplendid; 09-06-2015 at

06:44 PM

.
I found an older picture of Twinkie. When he first started to develop purple spots. He did not like this mermaid I made out of a clothespin! You can see the Imaginext buildings I made for him. He had rooms and rooms to explore, like a deserted ghost town...a pirate ship, gazebos, caves. Each water change I would take the town apart and redesign it. He really liked swimming through the jail bars and filling the rooms with bubblenests. Never bored! I kept him entertained.
And I found this drawing my daughter (5 years old) drew of Twinkie "marrying a girl betta and blowing a bubble nest with a bubble pipe". LOL.
Your daughter's drawing is so cute! It's great that you've shown her how to house a Betta properly
Member
Join Date: Mar 2015
Location: Texas
Posts: 3,023
I love your Bettas!! Those comics are adorable!!
---
My Current Boys: Ike, Ra, Ralphie
In Loving Memory Of: Dangerous (my baby), Chili, Oscar, Eclipse, Kip, Storm, Chloe, Snowy, Onyx, Speckles, Jasper, Oliver, Buttons, Stella, Xena, Zanzibar, Kai, Loki, Merlin, Jedi, Mullen Topaz, Ollie, Amethyst, Jericho, Igneel, Lil' Specks, Prince Onyx II, Caspian, Louie, Napoleon, Jinx, Jeremiah, Kronos, Nash,
Tadashi, Nova
Thank you, adlemsi and Dangerous. :) I enjoy reading about your bettas too.
Twinkie's coral was on sale! Picked that up. I think it looks really good in his tank. He has enjoyed exploring it.
After having Twinkie for a year, we were walking through Petsmart which had just opened in our town (so exciting!). There were female bettas! We never saw females before in a store. I texted my husband "they have feeeeeeemales bettas!" and he returned "get one". Well, okay! He probably didn't realize I would keep getting them...ah hem. So! We picked out a turquoise one. She was sooooo small. My son claimed her on the way home and my daughter started crying. Then they were both upset. In the end, my son won and the betta became officially "his pet". He named her Stormy. I think this was back in...April? She is much bigger now. Probably tripled in size. Still small compared to the boys though.


Stormy's tank is right next to Twinkie. They can see each other quite well but for the most part just ignore each other. Occasionally she will tease him and he will put his gills out.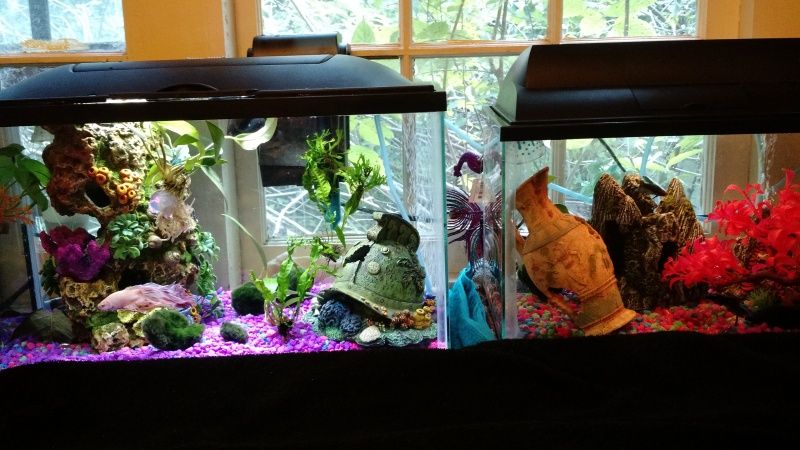 She is extremely difficult to photograph. She is constantly zipping around.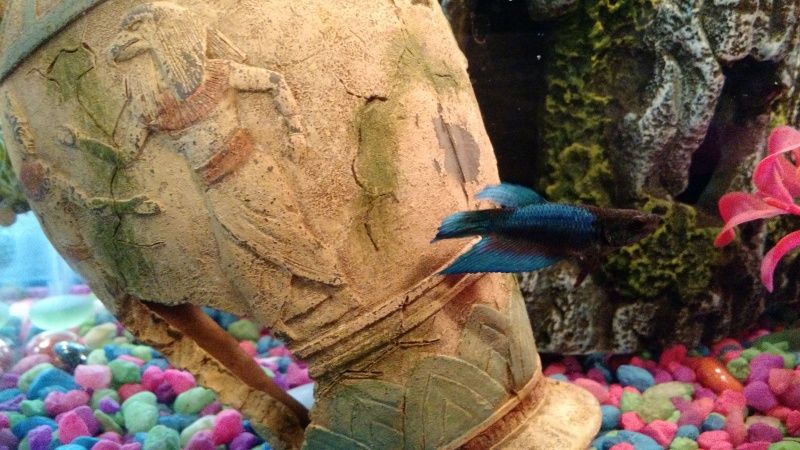 And her pretty tail:
And now you have met everyone! Twinkie, Stormy, Hatzallah, Antigua and Simeon.
Something noteworthy to mention about Stormy's tank is that volcano. I tried making it into a filter and I am pretty sure it is working. 0 ammonia, 0 nitrites and 20ish nitrates by around day 11 is usually when I do water change for her. I filled the volcano with media balls and the bottom with filter foam/pad thing. The airstone pulls water through. I think the shape of the volcano is what makes it work so well. Oh, it is hard to see in the picture, it is behind the cherry blossom tree...