Quote:
I am very thrilled to see you! Tesla is AMAZING. Wow. I love his dorsal. And the new guy looks like my Shema.

I am very sorry for your losses. Especially Firework. Their lives are too short. :(
Thanks! I am so sorry about yours, too. :( *sniff* And your poor daughter... losing Twinkie. Her eyes broke my heart.
I have been catching up on your journal this week and I'm currently on page 82, so I have a ways to go. My computer keeps giving me issues on loading pages, so it's slow going. I have missed it very much!
Congrats on your new baby!!!!!!!!!!!!!!!! I won't ask any questions, since I'm not done reading yet. Perhaps they will get answered somewhere in your journal. :D
Quote:
Tesla looks like a monster, he's so cool! Cooler than that awesome car, alas ;)
Now
that
is quite the compliment!!! :D
Actually, he's fairly normal sized... maybe the larger end of normal. But he
thinks
he's the biggest thing out there...
LOL yes, I didn't mean for size, I meant for appearance. That's a fierce color pattern!
Member
Join Date: Jan 2016
Location: North Dakota
Posts: 3,462
Egg spots are not a good way of determining sex. :P Do you have a few side shots of her/him?
---
The Males~
Lucifer, Gabriel, Titan, King, Finnegan, Fin-again & Ricky.
Lucifer & Gabriel are my only non-rescues...

The Females~
Karma
Member
Join Date: Jan 2016
Location: North Dakota
Posts: 3,462
After further studying & help from Lil, it seems as if Firework is a girl. >.< I couldn't see her Ovaries in that pic until Lil pointed them out.

Sorry! >.< Still looking forward to your journal.
---
The Males~
Lucifer, Gabriel, Titan, King, Finnegan, Fin-again & Ricky.
Lucifer & Gabriel are my only non-rescues...

The Females~
Karma
Quote:
Originally Posted by
ThatFishThough
View Post
After further studying & help from Lil, it seems as if Firework is a girl. >.< I couldn't see her Ovaries in that pic until Lil pointed them out.

Sorry! >.< Still looking forward to your journal.
LOL, no need to apologize! :)
8.22.16
The new guy arrived today! Despite the fact he got a bad first impression of his new people, (I'm not even going there.) he seems pretty happy. Most of the time fish seem pretty rattled over getting unpacked and being thrown into another planet, but nothing fazed him. At all.
I released him into the Q tank and he just swam around, like, Awesome! This is mine?! It made me smile, because that Q tank is only a gallon and completely bare, so what is he going to think of the planted 20?!
He is very playful. He'd only been in the tank for a couple minutes when he starting playing with a peice of IAL floating. He'd nudge it, and tail slap it. (seriously! Do any of y'all have a betta that tail slaps stuff?! Must see it if you do!)
I stuck my finger in there, and he barely acknowledged it. My finger generally freaks newbies out, but he was totally cool with me even touching him. !!!! I am hoping this means he will like to be pet. Ivana used to want me to pet her every morning, and I miss that routine. Get bit by Firework, pet Ivana. Pretty good plan.
I ordered some gup gups. Red-eyed blue albinos. I've wanted to so badly ever since I lost the last batch to the six-year-old-meant-well-but-fried-them-with-a-heater incident.
I used a different seller, since they were cheaper by the fish, and the seller I used before only had two left. I wanted four. I got four.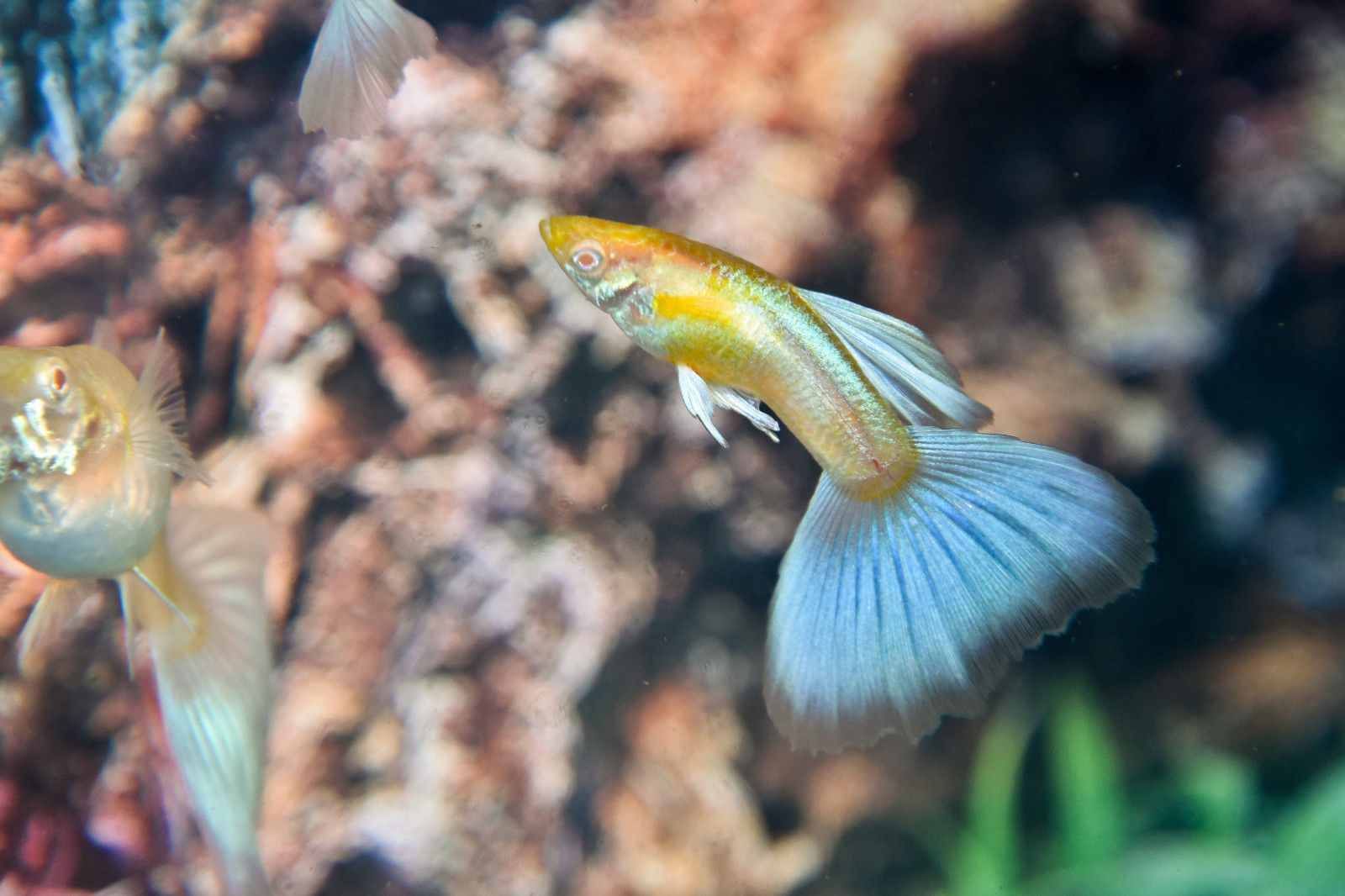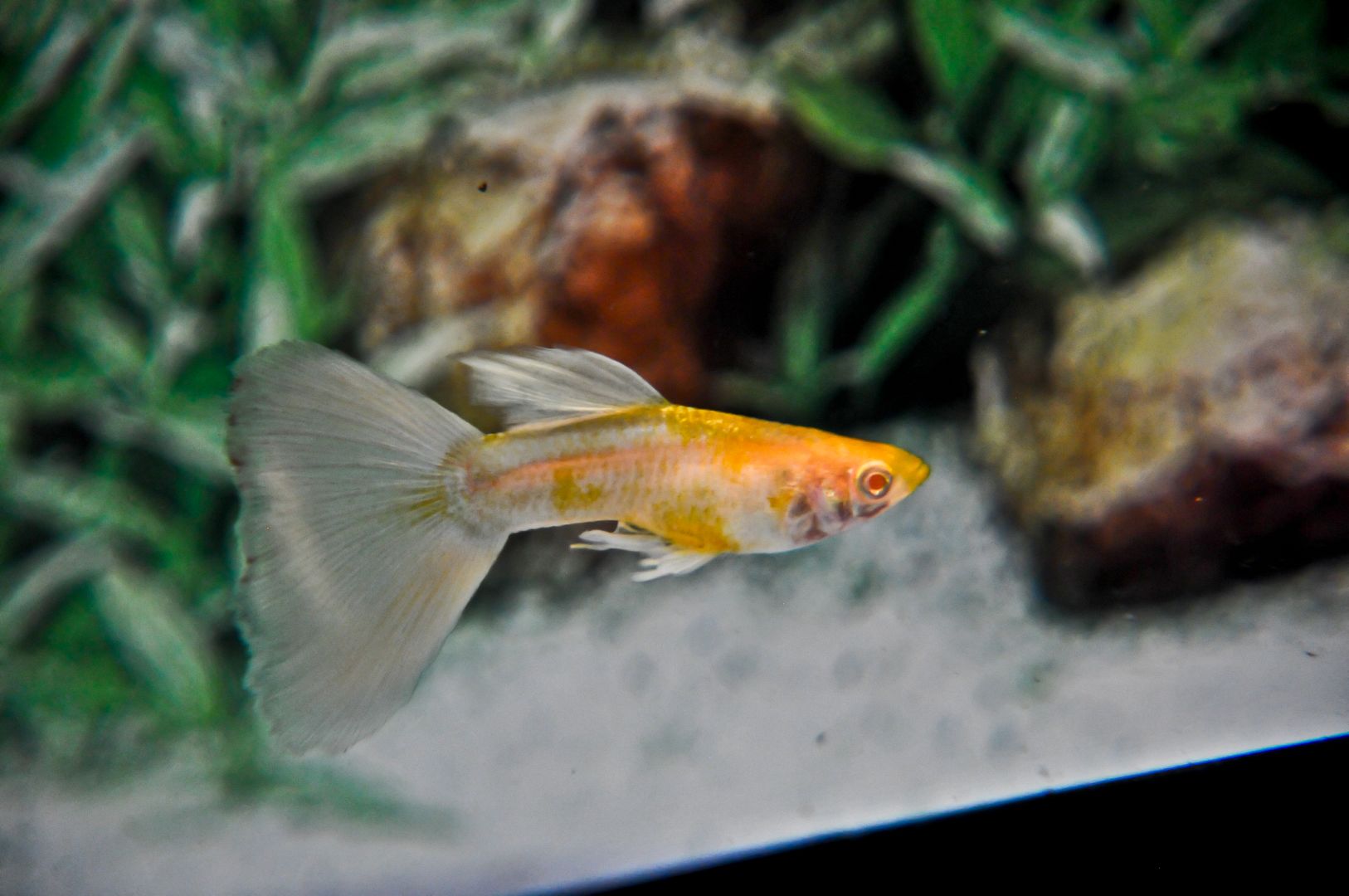 I am hoping to see lots of babies out of them. This will be a learning expierence for me, so if you see me doing something wrong, give me a shout-out. I may glare at you, but inevitably I will heed your advice.
I have some old glass soda bottles. I am contemplating covering one in epoxy, (since I don't know what's in the paint or whatever on the front) and putting it in the fish tank. I think it would complete the whole exotic river bottom look.
Better yet, I would like to look for something that looks like a large dragon/alligator tail... would that not look cool poking out of plants and roots?
I have my doubts there is one out there though, (but if you know of something similar, I'd love to give it a look!) and I'm not ambitious enough to make one. Our local stores don't carry clay, anyway. And my design would take a butt-load.
The boys have been after me to get dinosaur bones for the fish tank. I may do that.
8.22.16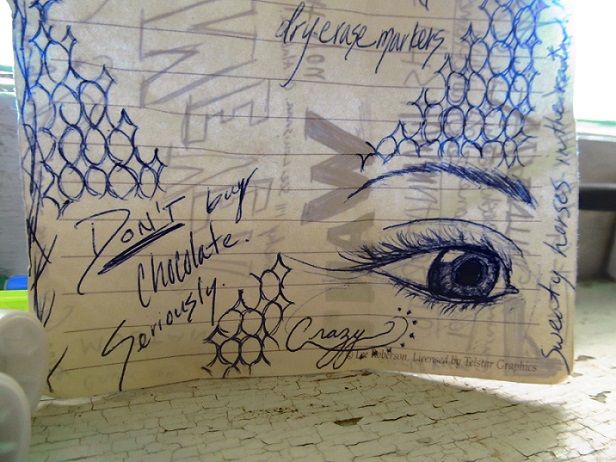 On an off-topic note... I dug this shopping list out of the bottom of my handbag (I had to tug it away from the tissue-dirt-penny-gum monster that lives in the darkest corner) and paused when it was time to toss it. I normally doodle on my lists, but that day I went a little crazy. This is the bottom half. I kind of like the pattern I came up with, and I'm doing well enough on eyes I think I'll move on to noses. I am a little scared of trying to do a betta.
Isn't that ridiculous?! Scared of drawing a betta. But I am. I have attempted it in the past... I managed to put the pen on the paper, but that's as far as it went.
Now that I've aired my dirty laundry, perhaps it will give me the courage to wash it.
I've got a picture in my mind's eye... Beautiful, angry Betta flaring, with a glint in his eye that says he has a softie heart he has put walls around. For background, broken glass and ink splotches.
Keep in mind- it's art. I don't put Bettas in broken tanks. ;)
8.24
Get ready... I've had plenty of coffee and it's loosened my tounge and removed my filter.
Completely dismantled the 20g last night. It's had some weird algae growing in it, so I took the plants out and washed them as good as I could. I certaintly didn't get it all, but I'm hoping the other measures I'm taking will help.
Anyway, it's completely re-scaped now. I had pulled the blue hygro out, since it was driving me nuts, but then regretted it. Now it's back in there. We'll see how I cope with the dead leaves, nightmare roots, and constant trimmings. ;) I gave them their own half of the tank, so hopefully it won't be so bad. It's going to be the dark, mysterious forrest side.
The other side is going to be brighter and 'beachy.' Complete with sand. Only, I ran out of sand, so now I have to make a trip into town before I can plant everything on that side. That's okay, because I have decided I need a sword plant and more vesuvious (sp?) sword, anyway.
I have fallen in love with the new guy. If fish could be kissed, he would seriously be considering shades and a ball cap to avoid his new pathogen-sharing stalker.
And yet, he still doesn't have a name. Nothing seems to be good enough. The boys and I are making a list, and we've been very deeply contemplating what his name should be. Any names concerning his color seem kind of degrading to his personality.
He is so crazy curious about everything! He loves watching other species. I dropped some snails in his tank while I was cleaning their own, and he followed them all over the place. If they started munching on something, his showy tail and pecs would flutter like an exited puppy. "What are you doing?! Oh. My. Gosh. Is that your mouth?! Awesome!!! And these little wiggly things on your head... are those like pectoral fins?!"
At the moment, he's in the kitchen. And every time we walk by he excitedly flutters to the front of his tank, just curious, not begging for food.
So far the leading vote in names is Declan. I'm still not sure about it. I *think* I'm leaning towards Ruan or Ruar. Our list of names is kind of long... one of them that was on the list is Grass. J chose that one. I was utterly confused so I asked him why. "Because grass makes me happy. Grass is a good name."
Hmm. While amazingly cute, none of the rest of us really thought the fish looks like a Grass. J tried the name out on him, and told us it didn't really fit after all. He decided to save the name for something else that makes him happy. ;)
Here's some pictures of him in his methylene blue dip. It makes him look weird, but it's better than his very-brown IAL water.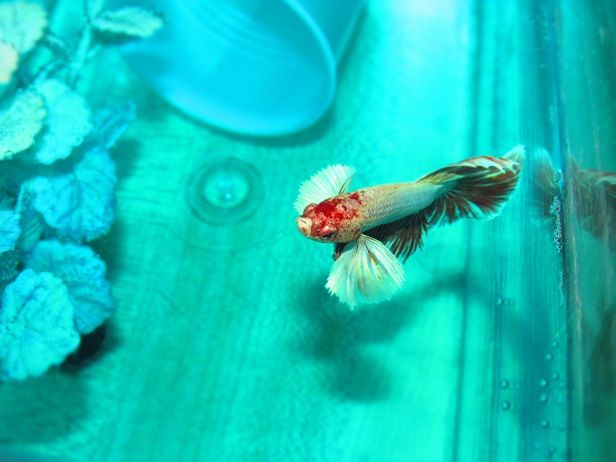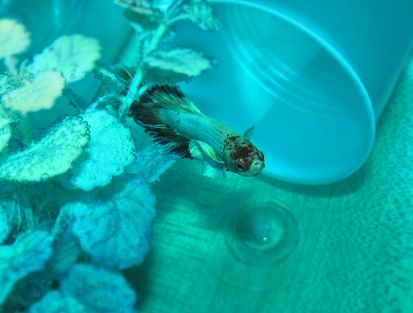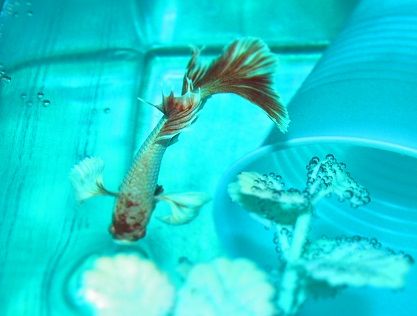 His best Count [Sesame Street] impression: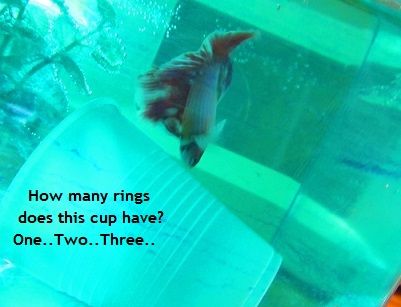 Today is happily sunny. My boys are having fun in mud puddles. They like to position J's bike in it so that the training wheels are on boy-made mounds, holding the bike stationary when the peddles are pushed. The back wheel sits in a rut in the puddle, so as they peddle, muddy water goes flying. They are covered in it and grinning like the cheshire cat. What more can a boy ask of life?
I wish we could hook that bike up to power the house, because with as long as they love to run it, we'd never pay another electric bill. (although that would be just another reason to get new fish tank....)
On a slightly weird note... I bought some Bill Nye the Science Guy episodes to play on our Kindle. C is a huge science fan, (yay!) so I am excited to see what he will think. Anyway.... I watched one last night and got hit with the long-forgotten memory that as a kindergartner, I wanted to marry Bill Nye. That was after I wanted to marry Keith from the Partridge Family, and before I got the whim to say vows to Bo Duke. I should not have been allowed to watch television!!!!!
I have been reading BettaSplendid's journal by loading the pages and looking at them through the week offline. (since we don't have internet at our house.) I thoroughly enjoy reading about her life and everything everyone else on the forum contributes on her journal.
I am contemplating printing them off and making a book of it to glance at when I need something encoraging and entertaining to read. Something to quote and get weird looks from the people I am quoting to.
"And who said that?" Faceless, nameless, random person says, in awe of the quirky wisdom they were hit with.
"BettaSplendid." I say, with a matter-of-fact tone that implies her name is as obvious as Einstein, Ben Franklin, or Cheif Joseph.
"Wh-who?" They ask, feeling a little sheepish at needing to ask.
"Nevermind, anyway..." I say, redirecting the conversation artfully. (yeah, right. But being socially awkward, I'm entitled to my daydreams.)
I'm just kidding, Splendid. I won't be your paparazzi or make you famous... ;) So... can I borrow one of your 'pacas?
While I am quoting people....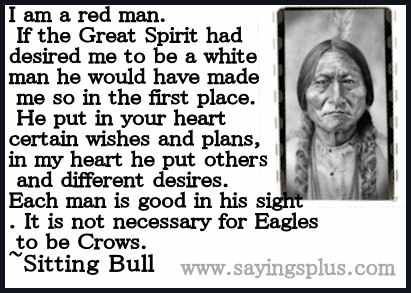 8.26.16
Sid the Science Kid is kind of creepy. (I'm being nice, here.) Especially his friend, Gerald. What is with all the voices? They sound hopped up on crack. And WHO wrote the songs?! They have no real tune, and the words don't even try to ryhme. It's like those little chants that you try to get kids to stop doing.
BUT, son loves this show and actually retains the science lessons, so.... I suffer out of love with a stupid-happy smile plastered on my face.
Wal-Mart is no longer carrying play sand. No sand in the fish isle, either. Phht. Saturday I am going to check our farm supply store. I'm betting they'll have it.
The guppies arrived today!! When I opened the box, they looked translucent. But seconds after putting them in the hospital tank, they started coloring up before our eyes. A half hour later, they were predominately white & yellow with blue sheen. A couple of them are very spotted. (yay!)
J was so excited he almost peed his pants, (I had not told them that I ordered gups) and started singing a song about loving guppies. C simply smiled, and examining the guppies, said:
"This is a very good thing."
Their color reminds me of this photo I found on Google: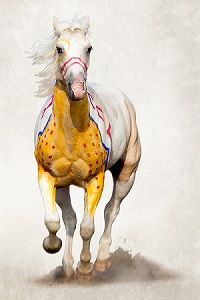 Have yet to find the courage to draw a betta. Doodled on my shopping list last night, and *almost* drew a betta behind the Ludwigia Repens. But the Repens mocked me, and I lost my nerve.
Had trouble falling asleep last night. Partly because the ceiling fan was on, and I was experiencing the irrational fear that it would fall on me in my sleep. Arrgg. I could've just turned it off, but it was pretty warm in the house. Husband would've woke up from getting too hot, and then not been able to go back to sleep. (he's not programmed to wake up every two hours to check on children by testing the air for "
not right
" vibes like the nun on Madeline and then zonk back asleep like me) Why didn't I sleep on the couch, you ask? Two reasons.
1.
I refuse to run scared from a ceiling fan.
2.
Husband would wake up, finding me gone. He would want to know why I'm sleeping on a couch. I would either have to say my back hurts, or tell the truth. The truth would get me a, "Really?! It's not going to fall. There's no logical reason why it would. Stop being ridiculous." Well, duh. It's a phobia. An illogical fear. I know that, but it doesn't change how I feel. And hey, this coming from a guy who's scared of spiders?!
Anyway, once finding me on the couch, he would not be able to go back to sleep but would insist I sleep in bed with the fan off. It would be hot and we would both just lay there arguing about whether the fan should be on or off. Ironically, I would the one saying, "on," with him in mind, and he would be saying, "off," for me. Can you see the can of rabid worms this would open?!?!
It could seriously end in a divorce. In the courtroom, we would be shaking our fists at each other and shouting "I just want you to be happy!!!"
So, yeah. I toughed it out and have circles under my eyes to prove it. Yay, me. I slept in my bed all night.
I find it very annoying that my entire life, I have not been scared of anything 'normal,' but of stupid things nobody else even thinks about. (Nor cares, once I bring it to their attention.)
I have had people make comments such as, "You're always so relaxed." or, "Nothing fazes you." To which, I smile, but inwardly I'm going: "Hah! Just get in a vehicle with me when there's over four people in it. Or worse yet, three. The balance is ALL off, then. Unless the person in the backseat sits in the middle..." Don't even get me started on how much everyone in the car weighs and where they should sit.
End of coffee-induced confessions.
Oh, wait- One more. The dryer keeps eating my expensive underwear. I'm not sure if I should be flattered or angry.
Now I'm done. ;)
---
Last edited by Innerbeauty; 08-28-2016 at

10:50 AM

.
Similar Threads
Thread
Thread Starter
Forum
Replies
Last Post
Don't know what to do

1fish2fish

The Lounge

21

09-17-2010

09:45 PM