Pico!
---
Hey everyone!
So my little sister's baby betta died last week
so we had an empty (about 2 gallon) bowl...in the past she had the black grave with the few colored stones if you know what I'm talking about, that barrel decoration, and some fake plants...but then I found some extra fluval plant substrate! So you all know what that means! That's right, we swapped out the substrate, stole a piece of wood from the 5.5 gallon, and stole some plants from my ten gallon (which was overly FULL of plants
)
And we just stopped by petco today, saw a sweet king male that has been there for more than a month or two
but the first one she saw was a HMDBPK male...and he looks rainbow...he is beautiful..but she also wanted him because when he wasn't looking at her and following her around (when she left), he floated on his side. And his fins are a bit torn up...but other than that, I think he is healable...
Anyway, I think the bowl looks pretty decent, it just has an anubia, some hornwort, something I don't know (maybe I can post a picture and you guys can help me out...they are just little clippings from my ten gallon) and some frog bit.
The tank is about 2 gallons
The substrate is extra fluval plant substrate I had laying around the house
I am dosing some liquid co2
I am dosing some fertilizer (nothing extreme) but I forgot the name of it
I am planning on some natural sunlight...think that will work? I chose some pretty easy going plants. If nit, I might be able to buy a lamp.
Iwill try to post some pictures tomorrow
Thanks for looking!
Meg
Sounds nice! I wanna see what it looks like now lol!
---
15 Gallon NPT
1g no tech bowl in the making
Just an update with some pictures:
Johnny Dazzle has been doing great! We woke up the day after we put him in to find a nice little bubble nest. His fins still need improvement, but he already looks loads better than he did the first day. He didn't get fed anything other than live food the first 3 days because, well, he couldn't figure out that he had to come to the top for pellets...so of course I fed him bloodworms and brine shrimp through one of those medicine syringes. Smart fish. Oh and he has a white lining on the edge of all of his fins, but it comes up blue in the flash.
The bowl sits in front of the window (with a little bit of shade, but not a whole lot) and soaks up what sun it can get (as it is monsoon season and has been cloudy the last few days...woohoo!). Anyway, the plants seem to be doing okay so far. The tempurature in the bowl stays a good 78-80 degrees, usually 80 degrees though.
Anyway, enough talk, here are a few pictures I snapped of it! (I figured out that it is somewhat difficult to take pictures of a BOWL >.<) So this is Johnny Dazzle (with his blue lipstick) and his home!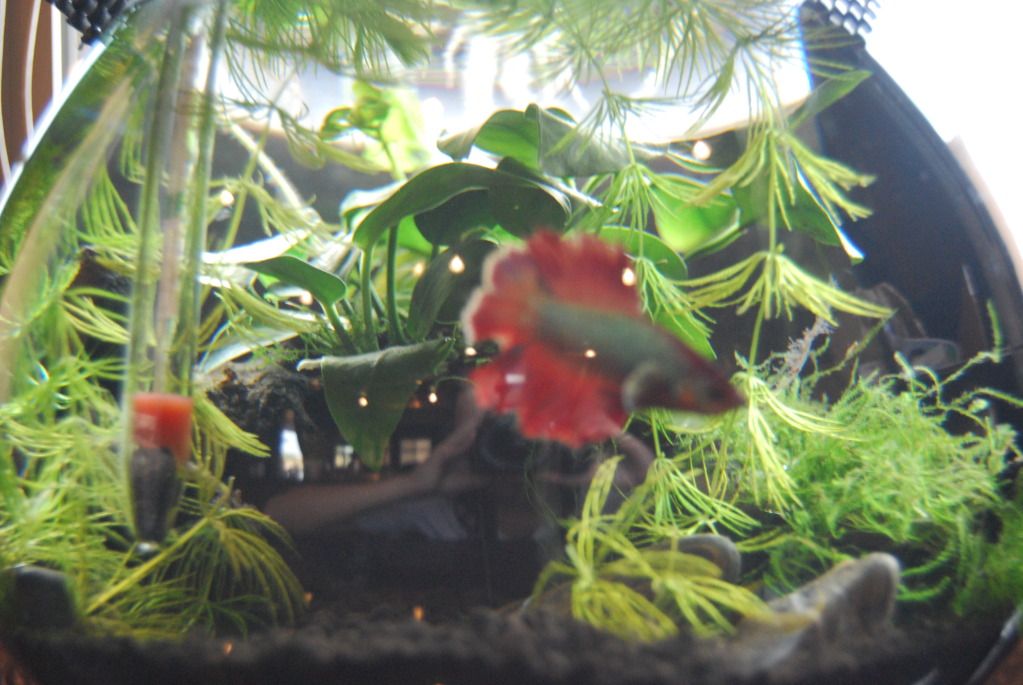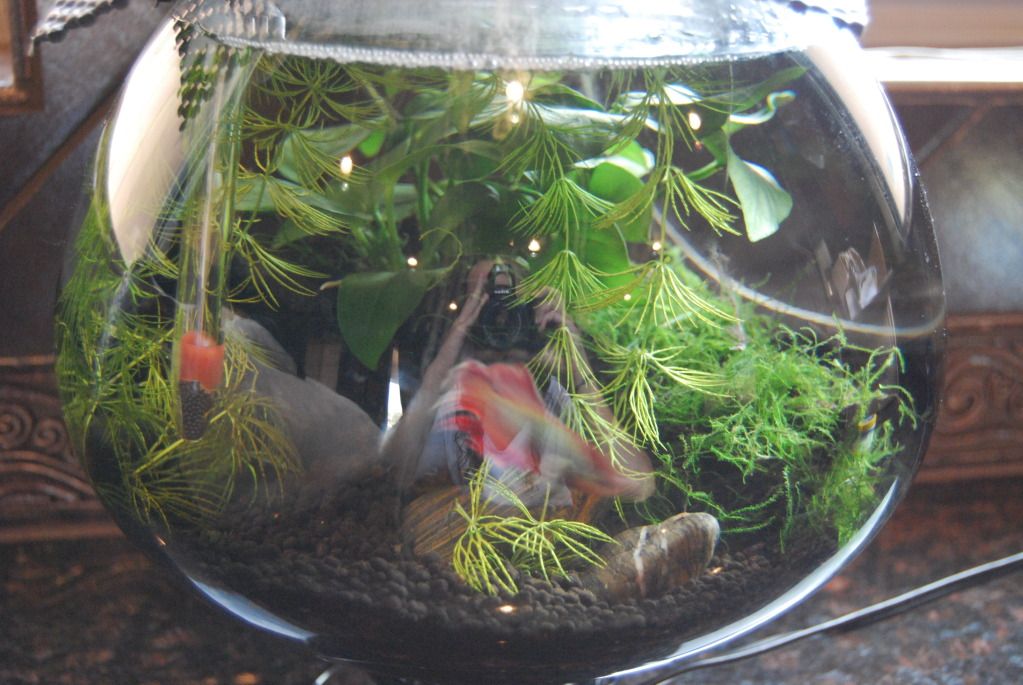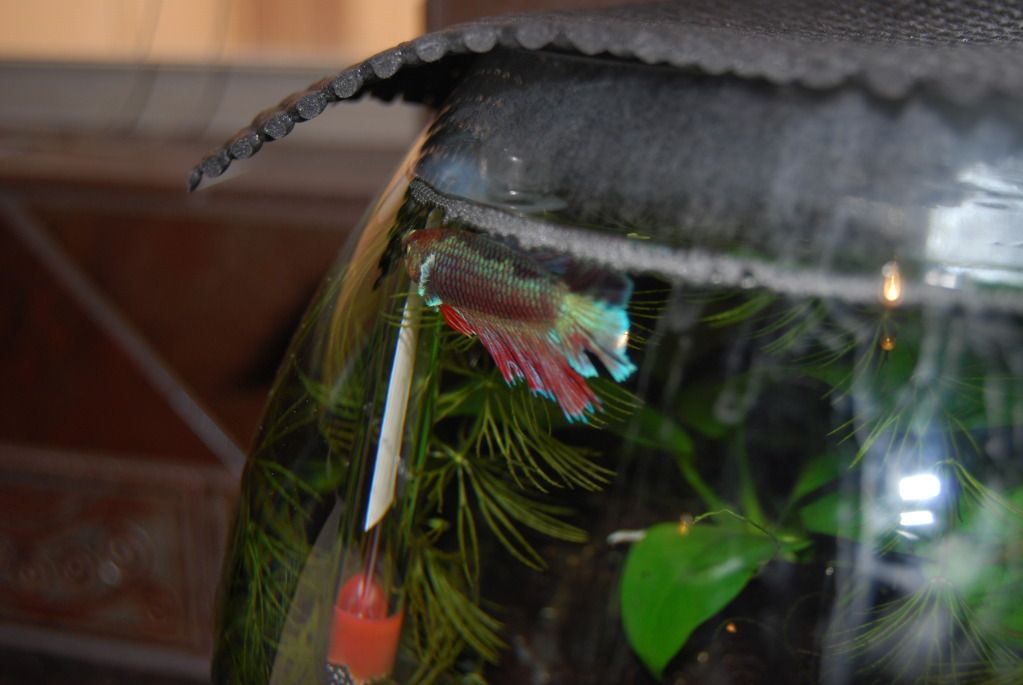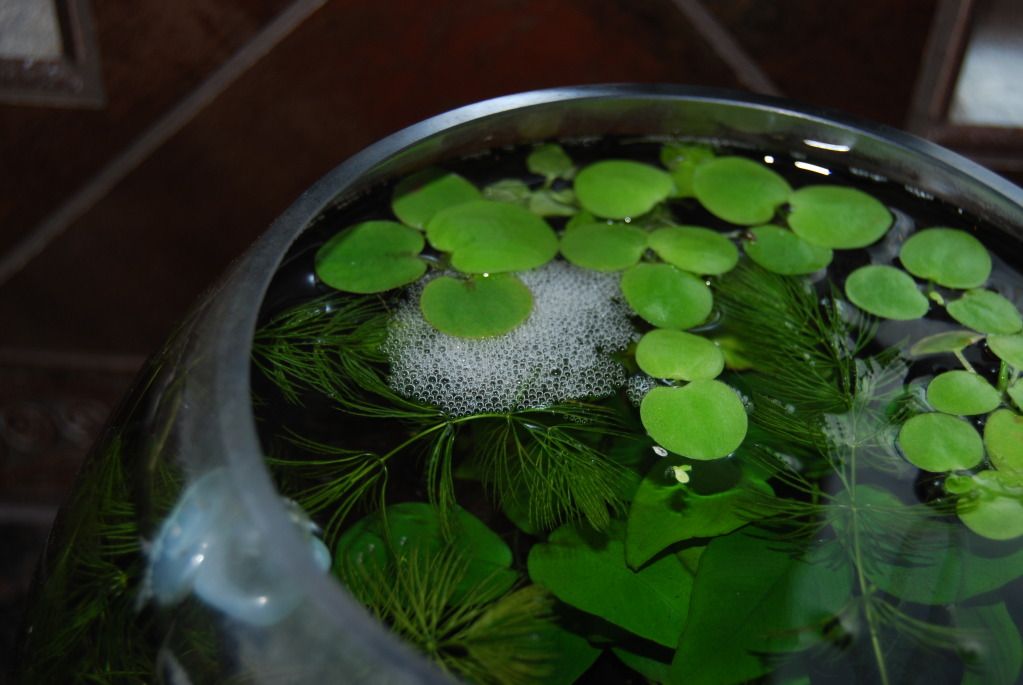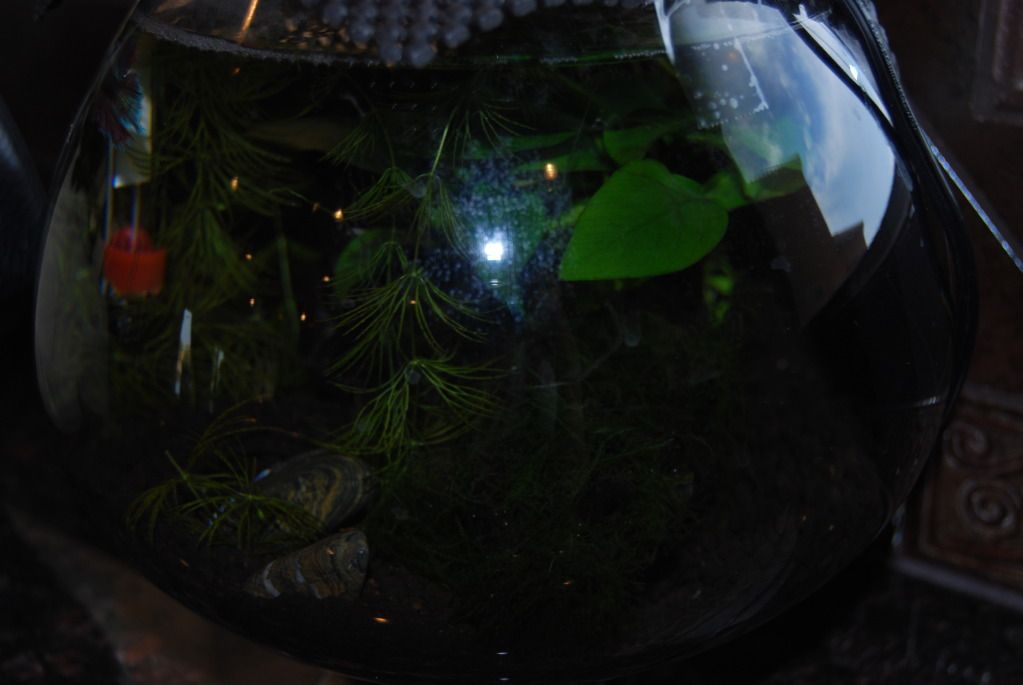 You can see the pretty good tear in his fins in this one...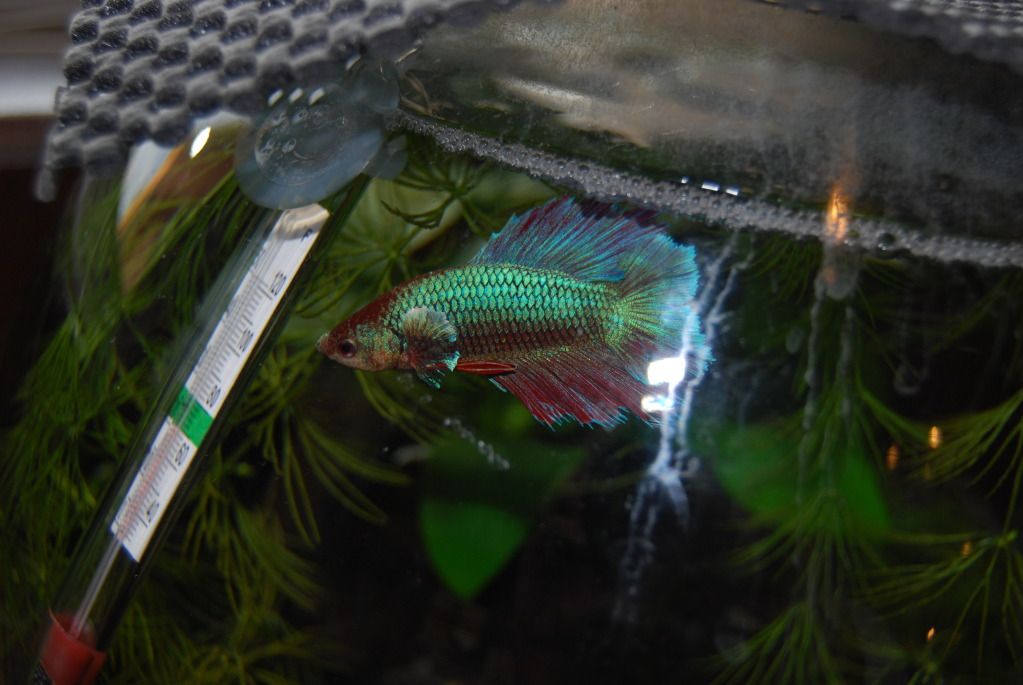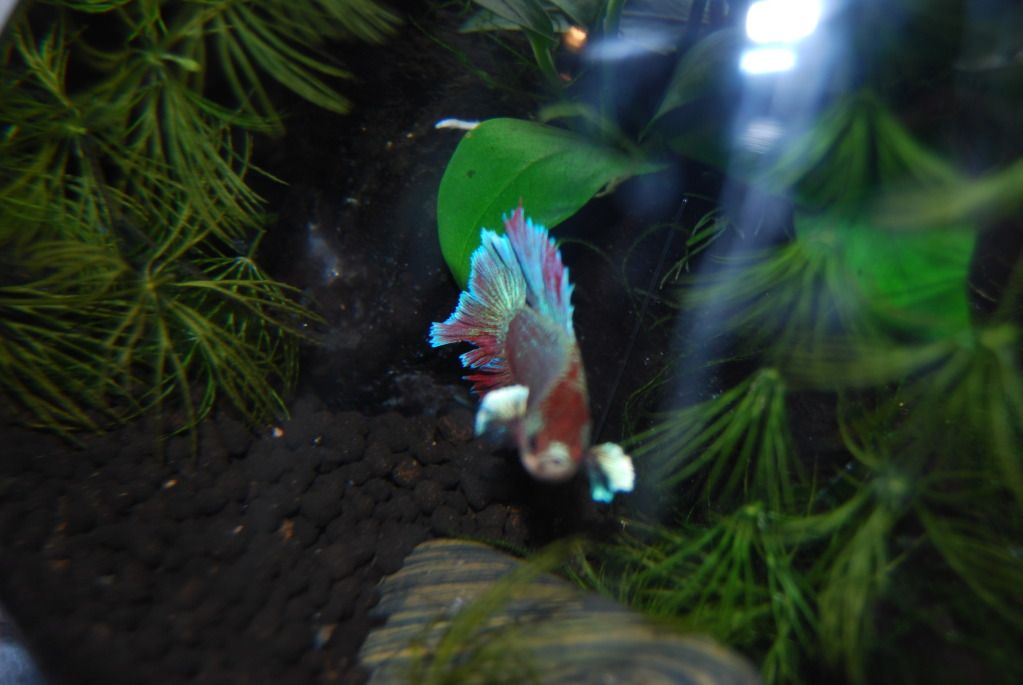 Here you can see the bit of white lining on his caudal fin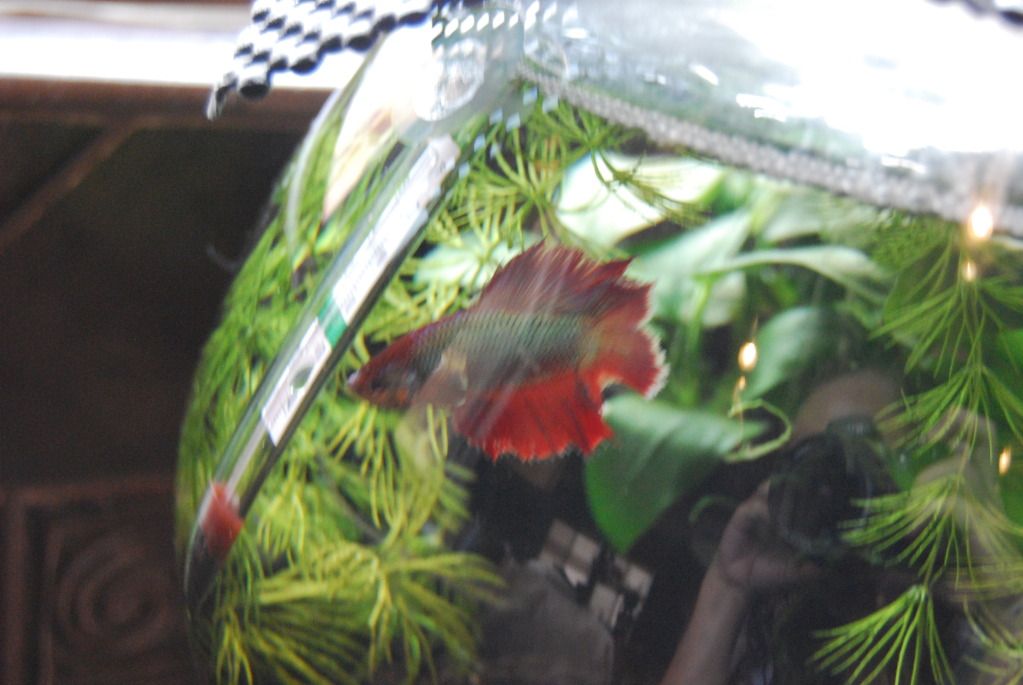 A second bubble nest we woke up to THIS morning..along with the first one that he still maintains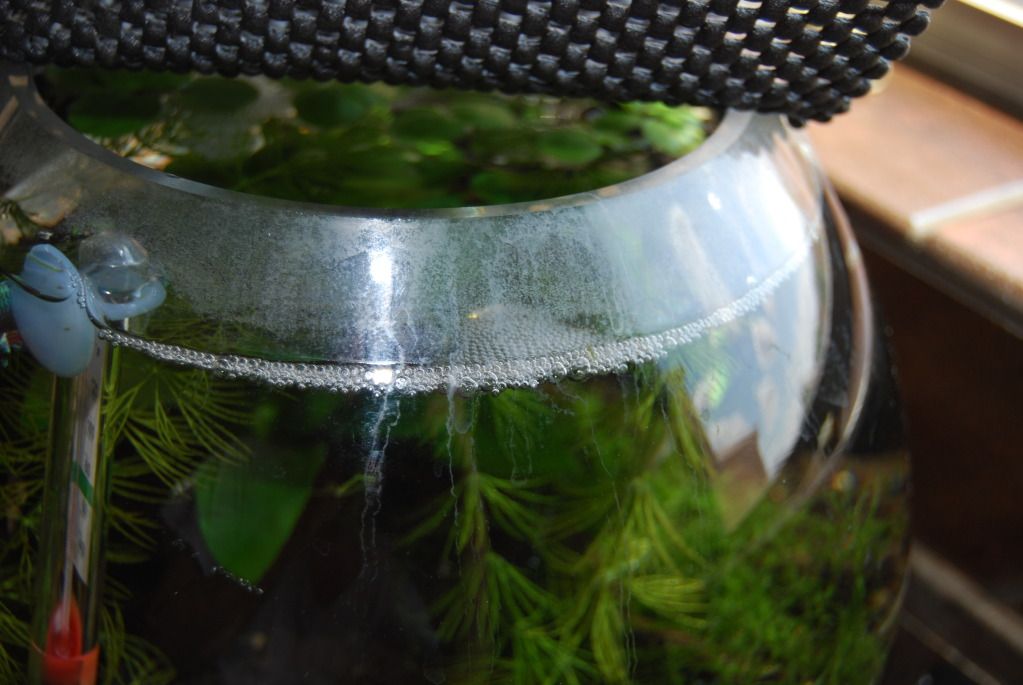 Sorry for the picture overload!
Any comments/suggestions welcomed!
Thanks for looking!
Meg
What a cute guy! He's certainly got a nice home too.
---
Puck (Yellow koi HM king) / Scar (White HM) / Salt 'n Pepper (Silver HMPK) / 'That fish' (Copper butterfly HM) / No name (White DT) / No name 2 (Turquoise/white marble HM) / No name 3 (Lilac HM)

Bo Peep (Cambodian VT) / Goldilocks (Yellow VT) / Joie de Vivre (Multicolour VT) / Lil' Peep (Blue VT) / No name (Dalmatian VT) / No name 2
It looks very nice love all the plants !
---
Remember the Light at the end of the tunnel may be You.
Thank you! The horwort doubled in size since I planted it! I didn't think the sun would work that well! Might have to move my new TANK in front of the window now, too! :-O