The mystery plant looks like some kind of crypt. Theres lots of varieties so you will probably have to do a search & match the picture. Im not an expert on plants but im ptetty sure most crypts can handle low light & do need to be planted in the substrate. Make sure to only plant them to the top of the roots, dont cover the base or they will rot.
There are lots of varieties of anubius as well so you might just have 2 different types. Hope that helps.
Pretty set up!

As for the unknown 'anubias'.. could it be anubias nana? It's hard to see from the picture but it's a thought. I have one myself and it's one of my favorites~
Here's a close up on the mystery plant: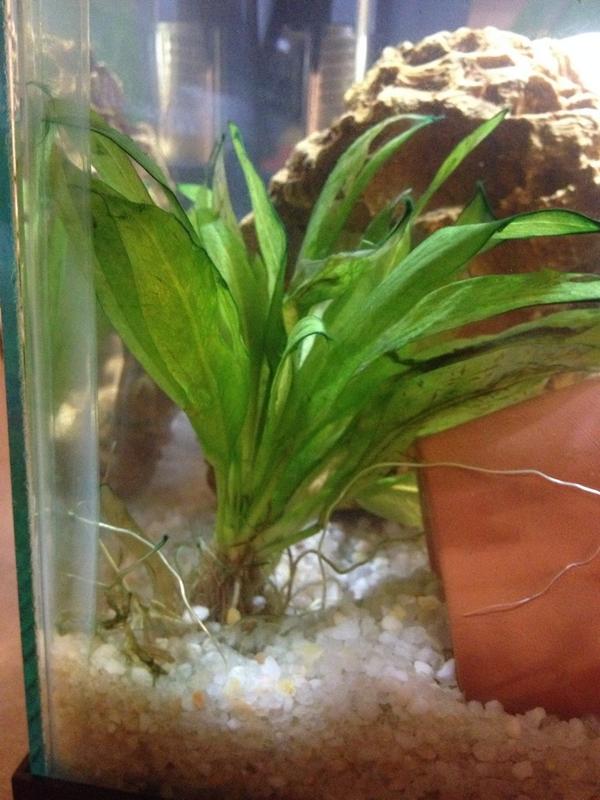 ---
Toby - SIP
Jess
Quote:
That's a awesome idea.
thanks =) I'm sure you can do this with any type of plant, but Anubias works well with the thick stems and large leaves.
teeandtoby, Looks like a type of sword plant. I am sketchy on my plant types. XD
---
15 gallon: 1 Pea puffer, 5 harlequin rasboras, 5 neon green Rasboras, Clown pleco, Shrimp.
10 gallon: 2 betta's and a snail
10 gallon: 1 Pea puffer, two Guppies and 6 Panda loaches and shrimp.
5 gallon: Red Cherry Shrimp and snails
5 gallon tank: WIP tank
37 gallon: 2 F8 Puffers 7 bumblebee gobies.
My journal:
https://www.bettafish.com/144-journa...ournal-46.html
Hmmm well if it's a sword then I need to get root tabs >,< but my lps are all closed today for Labour Day >,<

Also, how do I keep algae in check? There's a dark green fuzz starting along the edge of my terra cotta pot (and on the tips of the leaves of the mystery plant???)
---
Toby - SIP
Jess
Member
Join Date: Jul 2014
Posts: 302
Swords in my limited experience will survive quite a while without root fert. Just don't expect them to grow or thrive.
The "mystery" plant doesn't really look like an anubias at all... It doesn't even look like any submersed plant I have. Are you sure it isn't terrestrial?
---
No longer active.
Member
Join Date: Jun 2014
Location: Hockley, Texas
Posts: 1,275
---
||Kydoimos||
Visit my
Betta Blog
to see my finned friends in higher resolution!
Similar Threads
Thread
Thread Starter
Forum
Replies
Last Post
Newbie to planted tanks.

phoenix2013

Planted Betta Tanks

17

08-14-2013

12:21 AM