Member
Join Date: Mar 2010
Location: USA
Posts: 10,971
Quote:
That's an inspiration! What is that floating plant you use? I really want some.
That is water lettuce...great floating plant some roots will grow near 6-8in long and this plant reproduces like mad.....I love it in fry tanks too....
So i'm looking to build a 10g tank like this. What would you recommend as a starting spot? i have filters, heaters, tanks, lights ect... i'm looking mainly to have plants and my betta in it. I've been researching different plants but I know very little over all about them.

My usual approach is to jump in after reading a little bit and figure it out from there, but i figured it wouldn't hurt to ask!

i'd eventually like to build one of my larger tanks up like this, but i want a little practice first..
Member
Join Date: Mar 2010
Location: USA
Posts: 10,971
A good starting point is...lights...often failures with planted tanks are due to the wrong light bulbs, too old light bulbs and the wrong photoperiod....

With NPT-good dirt is important since this is your nutrient base for the plants

The right plants-3-4 different species of stem plants, 2-3 different species of rosette type plants and floating plants to start out with...

When setting up a NPT it is important to start out with enough of the right plants.....the active plant growth is what keeps the livestock safe until the soil starts its life underwater....

Balance....




Tanks looking great as always OFL! I recently set up a 29 gallon... finally starting to see some good growth happening. I don't know about you, but I also get to a point where I notice how clear and good the water looks. I hit that point the other day...
I would love to know what NPT means....
I'm also wondering where or what you use as soil for your bottom layer ??
what lighting do you have ? GOrgeous.
Member
Join Date: Mar 2010
Location: USA
Posts: 10,971
Thank you....usually mine are clear the first day...I rarely have cloudy problems...but I do on occasion especially in some of the unfilted NPTs

NPT-Natural planted tank....my soil is from the side of my hill in my pasture...black gold with a little sand and red clay added in this tank...I also use potting soil and top soil with a mix of kitty litter in a couple of the NPT's I keep

Lights are shop light from wal mart ($10.00) with 2-6500k 40w Daylight bulbs (2/$7.00) on a 12h/d-PP-light bulbs will be changed out every 12mo.-
I have the shop light hanging from a rod on hooks with chains so I can lower and raise the lights as needed




Thanks so much for the info. YOu are obviously an expert and know waht you are doing ! wonderful
Member
Join Date: Mar 2010
Location: USA
Posts: 10,971
Photo update
---
Updated pic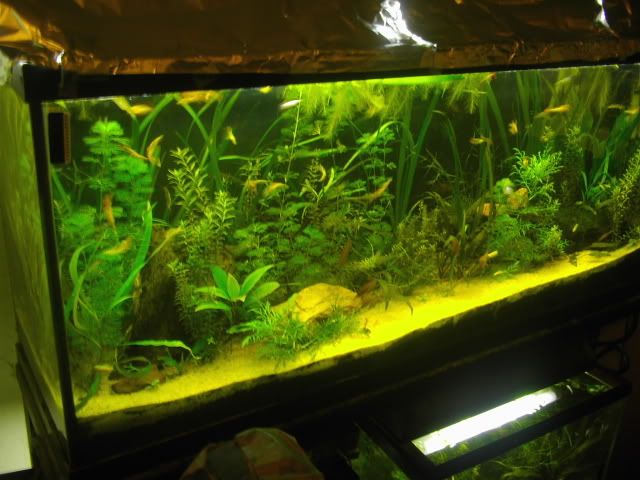 Plants growing like mad...have pinched most of the stems back and replanted-water lettuce roots are getting longer-I love that look and reproduced to the point that I can't keep up...lol...... and topped off with water a couple of times...no water changes...prams all at zero and most likely will be for at least a year or longer...often with heavy planted tanks you never get nitrate like you do with regular tanks....the plants use the ammonia first for food and you may not see conversion....water stay perfectly clear....
I have got to get a new camera....lol.....out of about 50 shot only 2 came out clear enough to see....but maybe its me...lol.....
New Member
Join Date: Nov 2011
Posts: 24
I find it really hard to take
correct
pictures with 6500K bulbs. My camera just doesnt seem to have the right white-balance/color-balance.
Nice tank.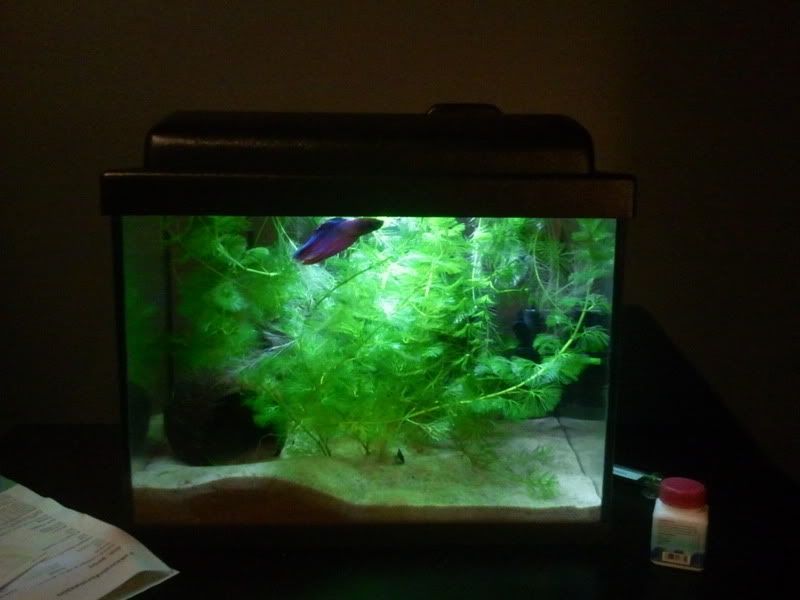 Looking lovely! Are these pants all from your own trimmings or did you purchase some from somewhere?
---
....Just keep swimming...