White EE HM x White EE HM
---
A friend of mine had a nice pair of aquastar imports that were not cooperating in the spawn tub so she left them with me while she went on a holiday to give them a try. After a couple fails finally some success 3 weeks ago. We have a nice tub of very white fry. After a reconditioning we tried again last night and yahoo they are already wrapping and doing a fine job. They are getting good at this finally! We may get 2 spawns from them now and this makes me really excited
The boy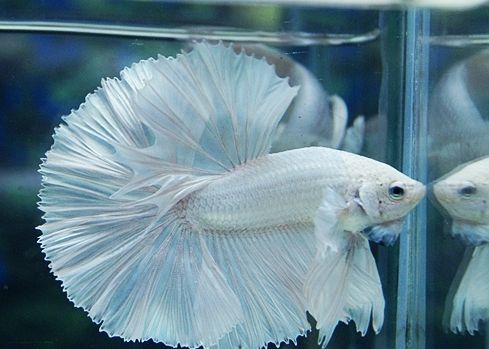 The girl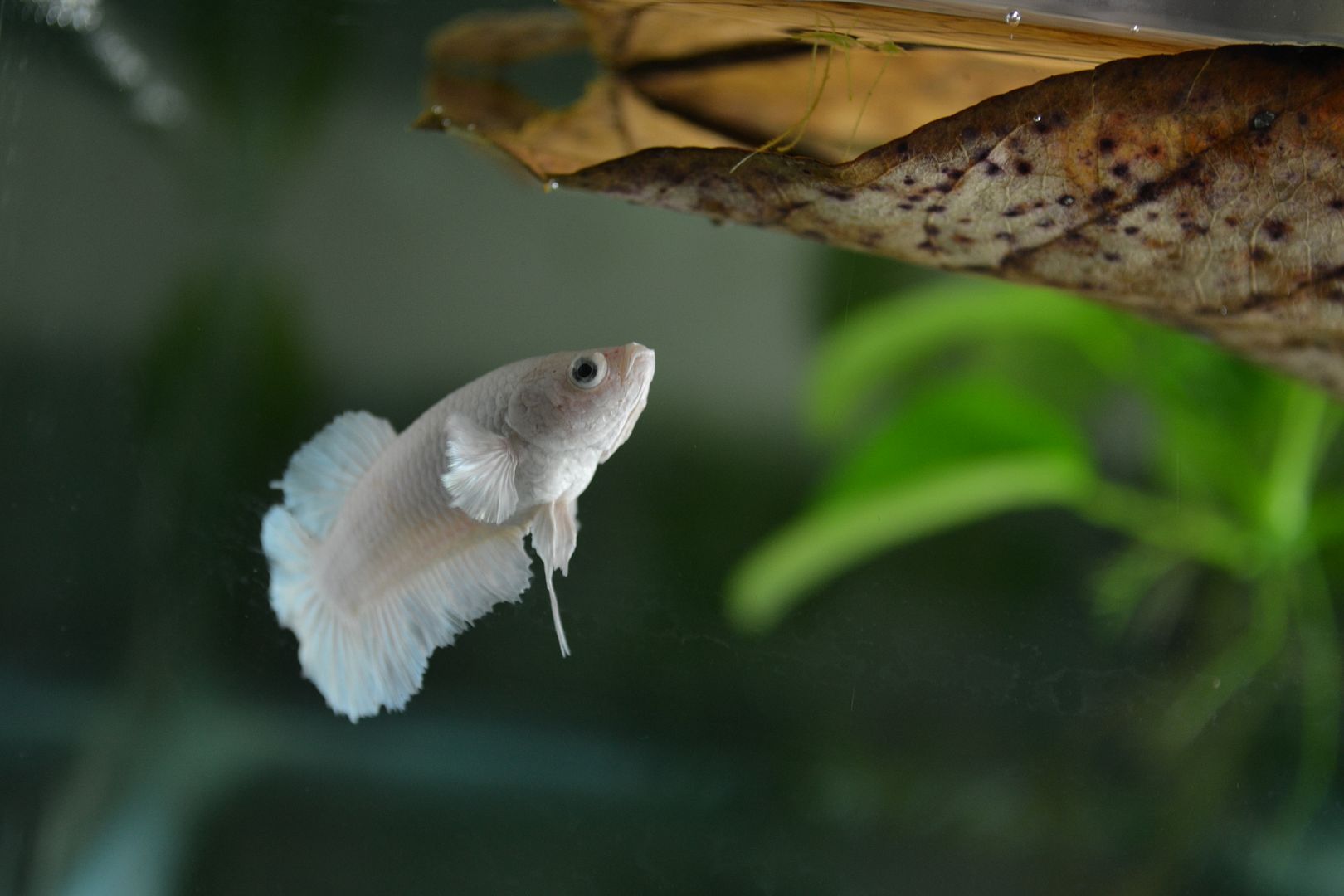 The pair working on spawn 2 Hard to get a good pic...they don't like me lifting the card. Ok you get privacy I will be back.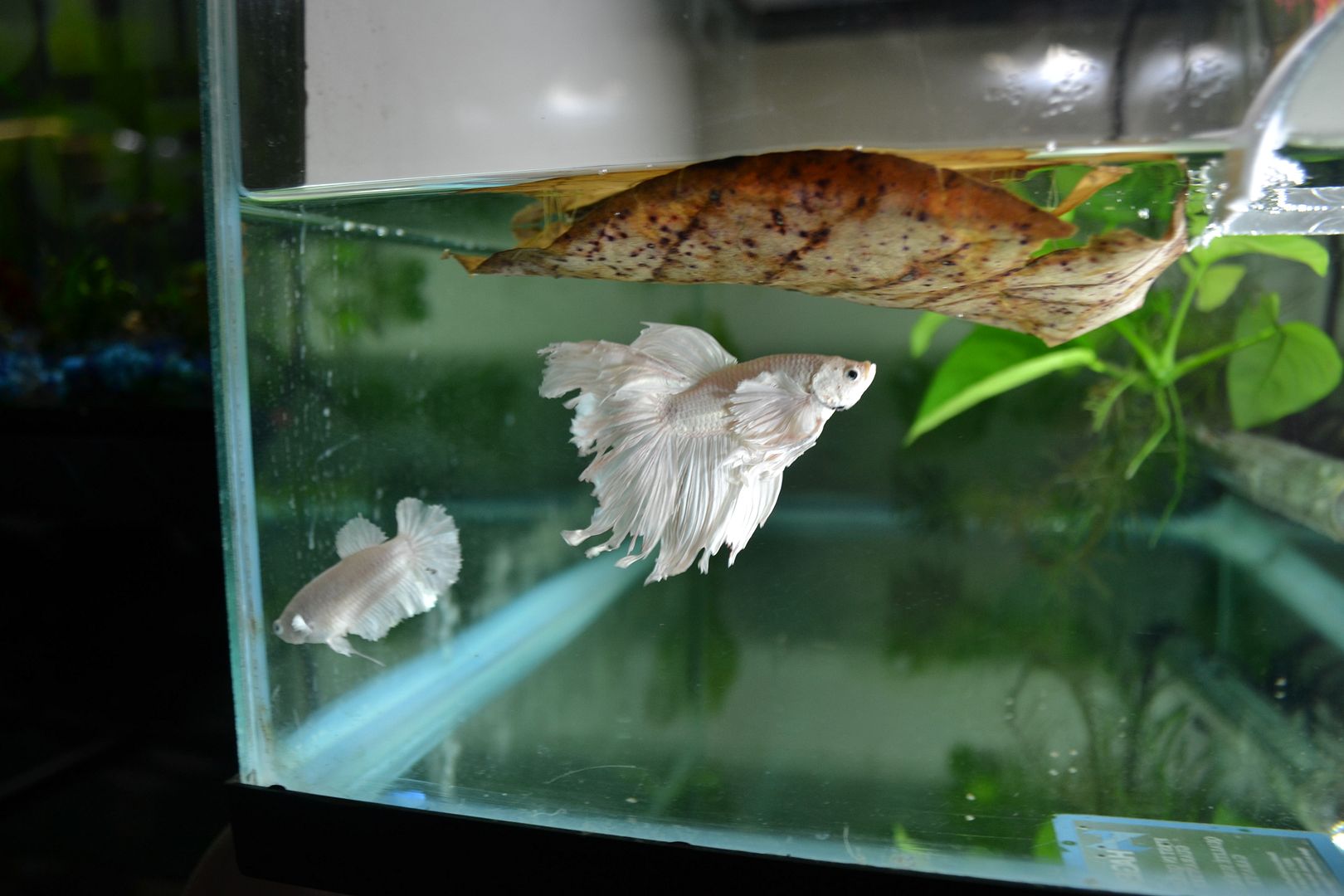 The 1st spawn tub when they were 5 days old.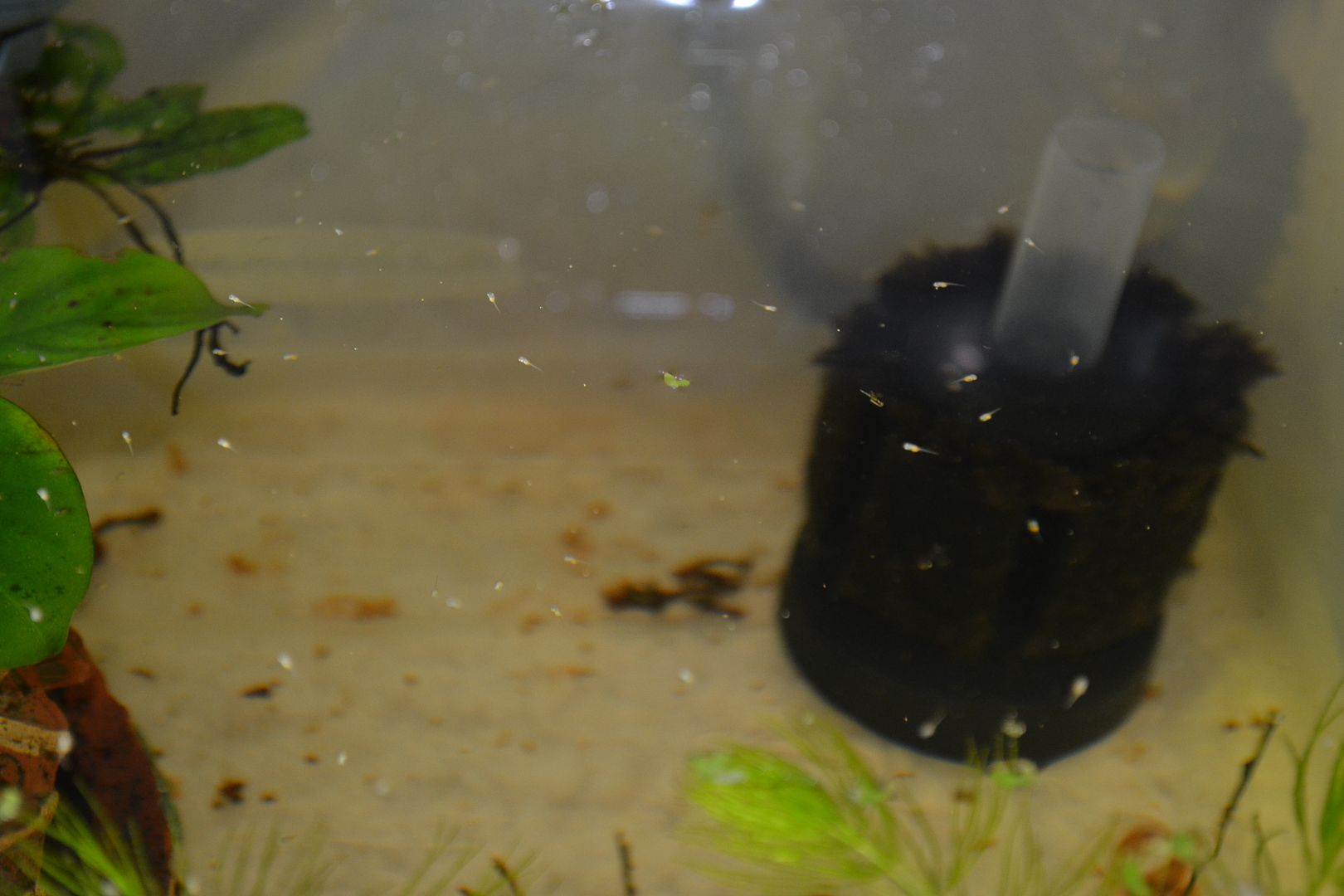 ---
Proud IBC member
So pretty!
---
Swimming Beneath the Rainbow Bridge:
Coho: 2-26-2014; Enceladus: 6-5-2014; Callisto: 5-19-2015; Deimos: 12-30-2016; Phobos: 12-30-2016
Gorgeous! Cant wait to see more baby pics when their a little bigger. They are going to stunners!
Subscribe. I cannot wait to see how these babies turn out! :D
---
Fish mom to: Miss Mira (female blue VT) and Bugs (male grey butterfly dumbo)

SIP Tycho Constantius, Esmeralda Iriel, Gadreal Tyraneous Limerick v.1 and v.2, Elije Sivith, Sherlock Phoenix, The Duchess
SIP Rowan Alexis, Cassini Icarus, Phaedra Li
My Journal
*heavy breathing* that is literally the fish we want. A white EE halfmoon. *drools* Oh why do you have to be in Canada. Shipping would be killer if I could even get the fish. Cause if those fry are anything like their parents I would have loved to buy one.

Subscribing. At least I can watch them grow.
---
Home to three males named Typhoon , Independence , &Jericho.

Also my two cats Nikko and Andy. (Cause fishies are friends not food) And one cockatiel named Buddy.

I've been waiting for this thread ;)! Yup, yes, uh huh, I would like all the fry including mom and dad, that's an order! ;)

Can't wait too see the fry when thy grow!!

But seriously? Why in Canada >:(
---
You can call me Blu for short!
Beautiful <3 Those babies are going to be gorgeous!!!
---
Would you be selling any of the babies when they're old enough? They are gorgeous I'd love to buy one if possible...
Oh yeah there should be lots for sale. Because.....the second spawn just hatched!

The Dad was removed, he did a terrific job and just ate a pile of bloodworms he was so hungry. It took awhile for this pair to get the mating process all figured out. The parents came out in good shape, Iam so happy with them right now.
---
Proud IBC member
Glad they are doing good! The Parents are so beautiful~<3
---
My Beauties
Kaze~ Male EE
S.I.P: Rocket, Penny, Misty, Comet, Iris, and Katie