Discussion Starter
•
#1
•
So made a trip to petsmart today to pick up my new 10gallon... of course I went ahead and bought a new plant... my BF had a nice story to tell me about why AQ plants are DANGEROUS.... lmao
BF: What did you get from Petsmart?
Me: A new AQ plant
BF: Why would you do that?
Me: I like live plants, I plan to switch over to all... (he cut me off)
BF: Have you LOOKED at your tank (sorority)... the one you have in there has TAKEN OVER... it like the girls were just swimming and POOF... it was a jungle... now they are all scared because they are fish and they think they are in the wild!
Me: Um... I don't think it really works that way... they actually really like the live plants better than the fake ones... (cut off again)
BF: Your just blind... they were just swimming with their nice stationary plants and all of a sudden they were in a jungle and running into trees and SCARED
Me: There are no trees in my tank
BF: there might as well be with that MONSTER thing
Me: I'm going to start removing the fake ones once I get more live ones
BF: NO! Your stealing their ownly stability, they don't want to live in a jungle with other animals
Me: What other animals?
BF: Jungle animals!
Me: (BF) seriously.... it looks nice, they like it, and its better for them, there are NO wild animals in there and they don't think its a jungle... its more natural
BF: There is nothing natural about trees in a tank
and he turned on the music so end of conversation... lmao... he loves the bettas... but I think the live plants creep them out (they seem to REALLY like our water....)
Live plants: 1 thing of Hornwort, random baby moss balls (I think 3-4)
Day one: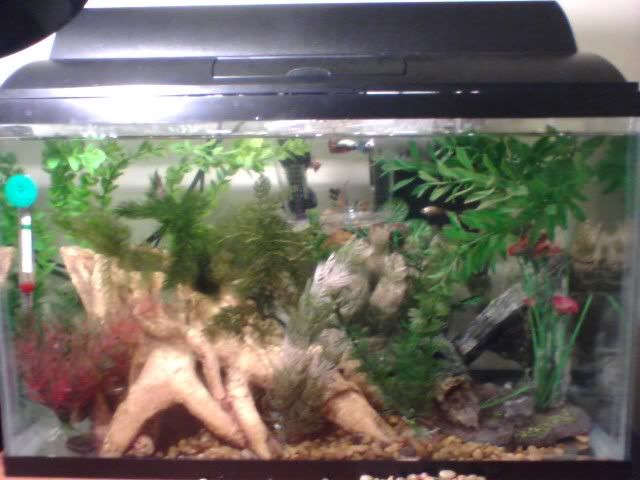 Now: