Discussion Starter
•
#1
•
This guy came into my job on shipment day. As I was looking for a betta to fill my last tank, I had two in my hands trying to decide between them, and I saw something weird at the back. Lifted his cup, and there was a very pretty boy, missing an eye. I asked my manager if she'd be willing to discount him, and she did. He only came out to $1 and he was marked as a DS, which is.. $9? I think. She said she couldn't give him away, but I was okay with $1 for him. I wasn't expecting her to say yes to the discount at all.
Anyway, here he is. He's very feisty. He was flaring with his good side earlier. It kind of looks like he was born without it.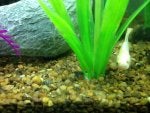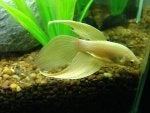 Not sure what to name him. Any suggestions?