Discussion Starter
·
#1
·
Hey Everyone!
You guys might of seen me around the tropical fishes side of things. If not, well hello!
I'm an australian - incase you didn't guess - and I happily go by the name aussie (it's what a lot of people call me)...
Of course, I am a proud owner of a beautiful betta!
My backstory begins when my beautiful 7g shrimp tank begins to leak. Of course, family just wanted to "patch it up" with some silicone but I was all, why not by a new tank? (And upgrade in the progress!) Obviously the fish gods where looking out for me as an awesome 25g tank (31/80 x 16/40 x 12/30 inch/cm) comes across my feed in FB. Some plants, gravel and MTS included. So of course I had to snatch it up!
And then as I was at the pet store (buying a filter pad for a hamburg matten filter) they had a new shipment in. And of course, they were opening the betta box right in front of the counter where I happened to be buying my goods.
As a long time betta lover, I had to stop and look!
Then the one caught my eye. A beautiful angry blue betta with a white face that seemed to shine under the aquarium lighting. Without even thinking about it, I quickly pounced on the poor employee! :lol: So I left with my foam, betta (as well as a few supplies for the betta including a box filter, heater and air pump.)
Pretty much running/speed walking back home (30 mins in 27c/80F) I quickly set him up in my "spare" hermit crab water bowl. (which is around 2.5g... it's really a rubbermaid container). Of course, I seeded the filter with some from my current tank(s)... Just in case you thought I was clueless about cycling.
Once I finished setting up the 25g (3 days after getting my betta) he moved in (seeding that with my current tanks as well!).
So far the tank includes:
- 1 betta (called Marbles after his genetics... He is a "fancy" plakat)
- 1 baby bristlenose (most likely going to be "swapped" with a bunch of oto's)
- 2 cherry shrimp that hitchhiked
- MTS
Plants include:
- Java moss
- Creasted java fern
- mini java fern
- java fern
- needle leaf java fern
- anubias nana
- anubias nana petite
- cryptocoryne (thinking wendtii)
- val
- duckweed (I love this stuff, all my other tanks kill it :| )
- water sprite
(So quite a list)
Pics (sorry for the fuzziness, he constantly paces around the tank... Is that normal?)
Tank pics (and some fuzzy betta)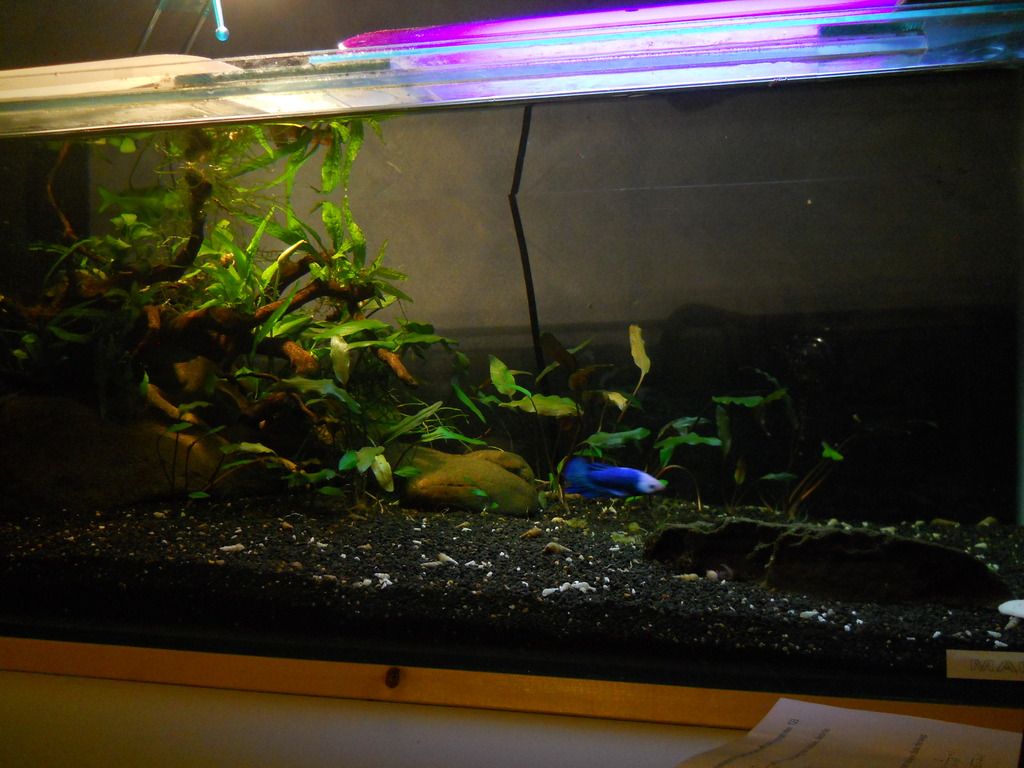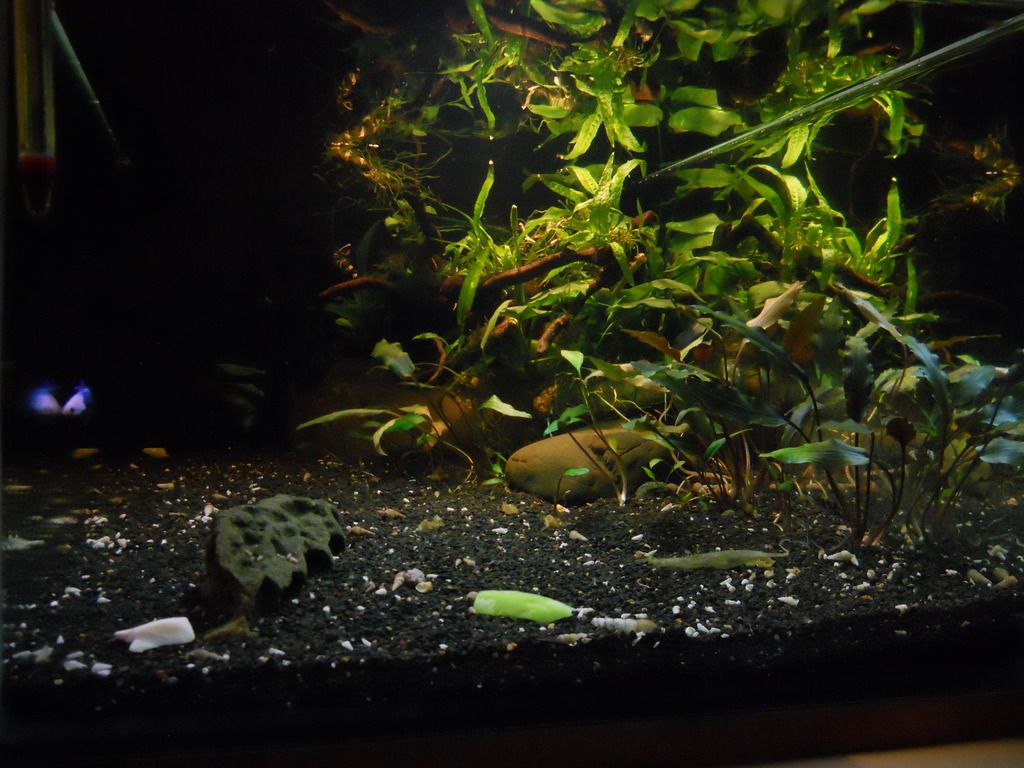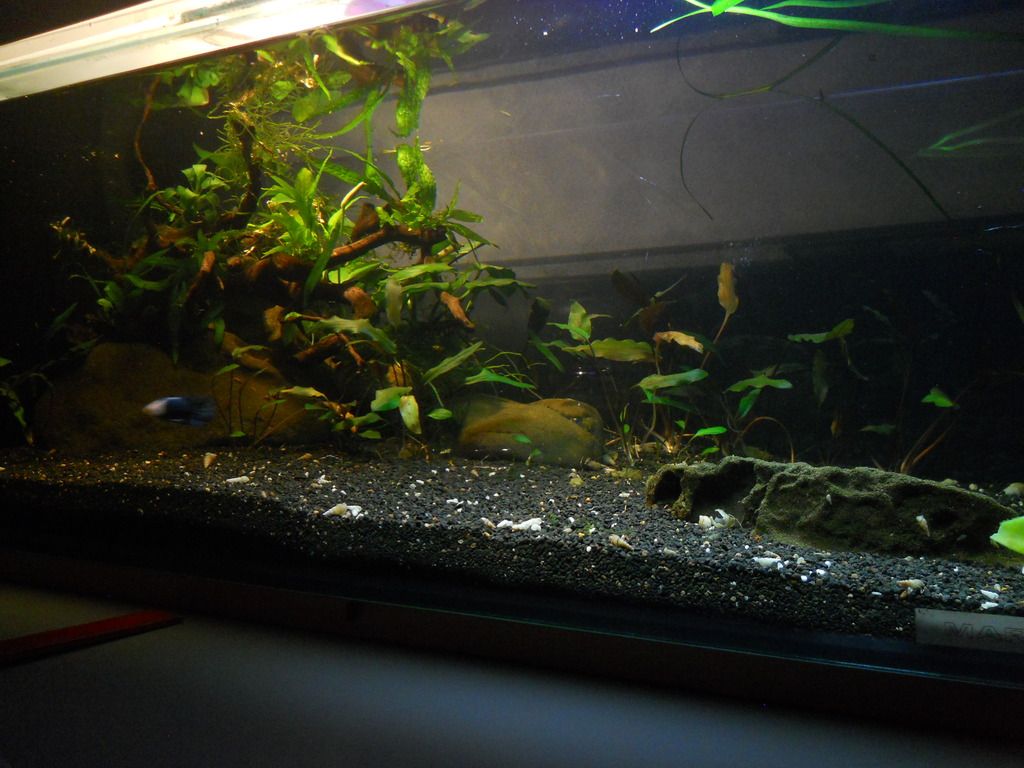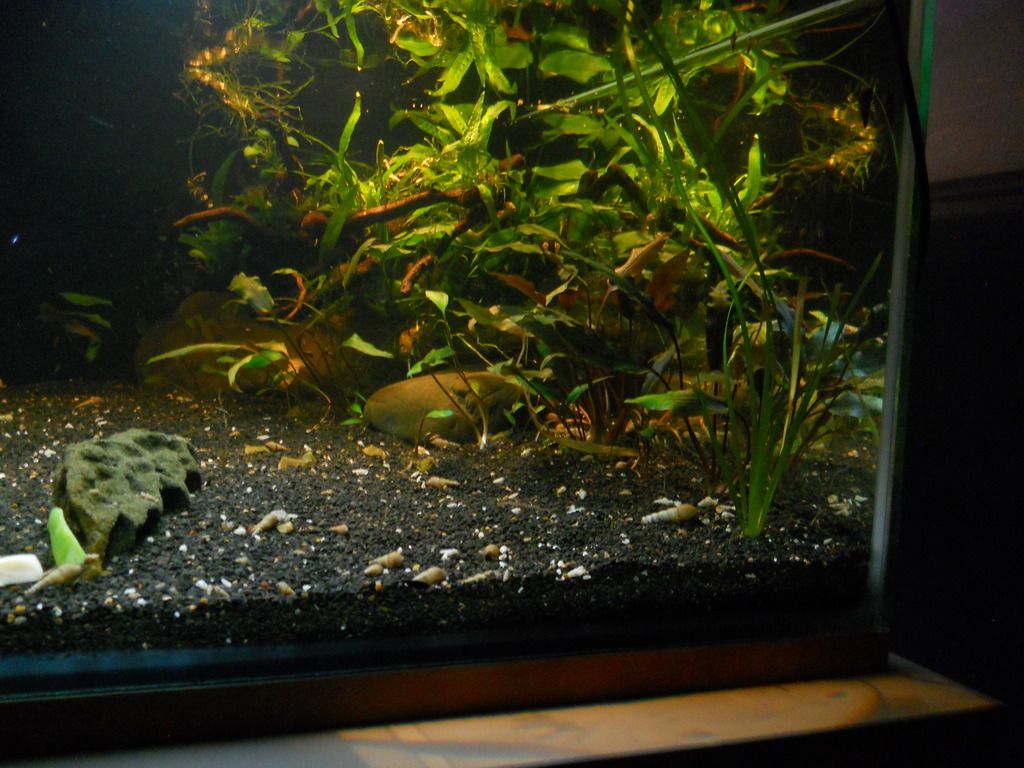 And fuzzy fish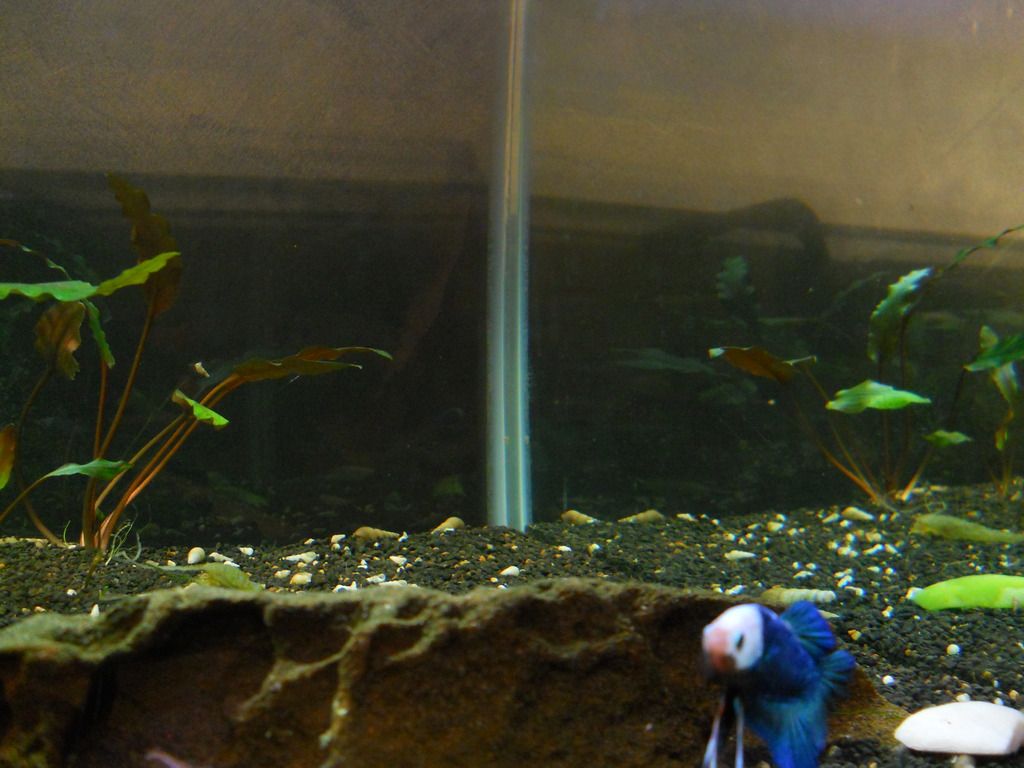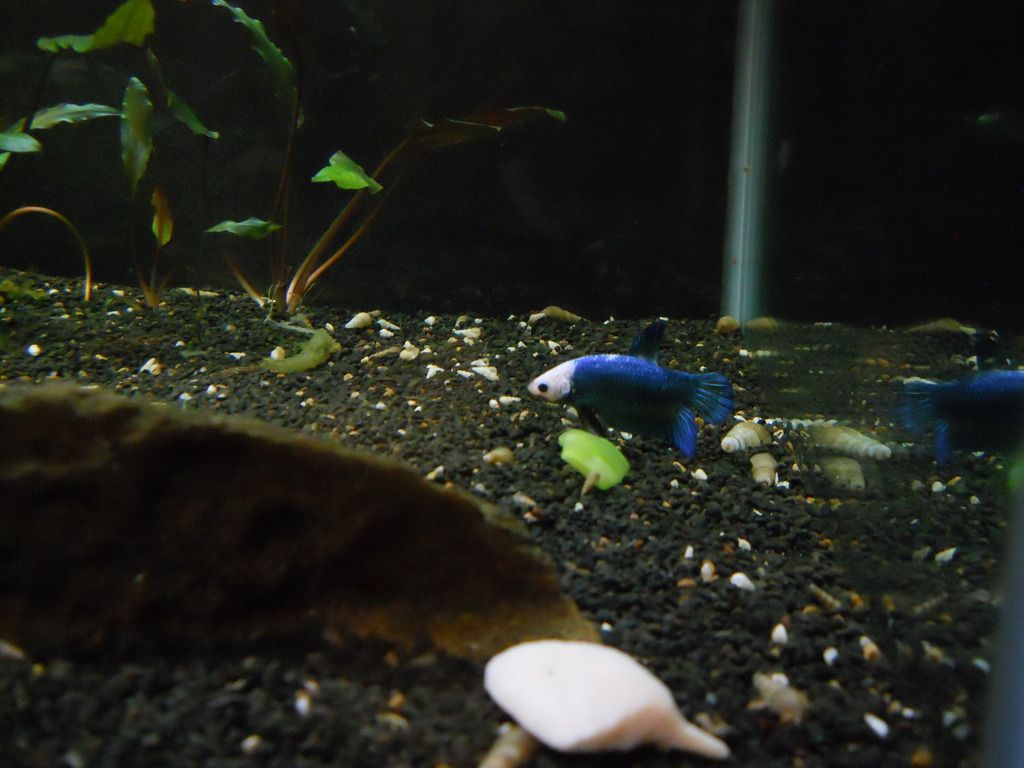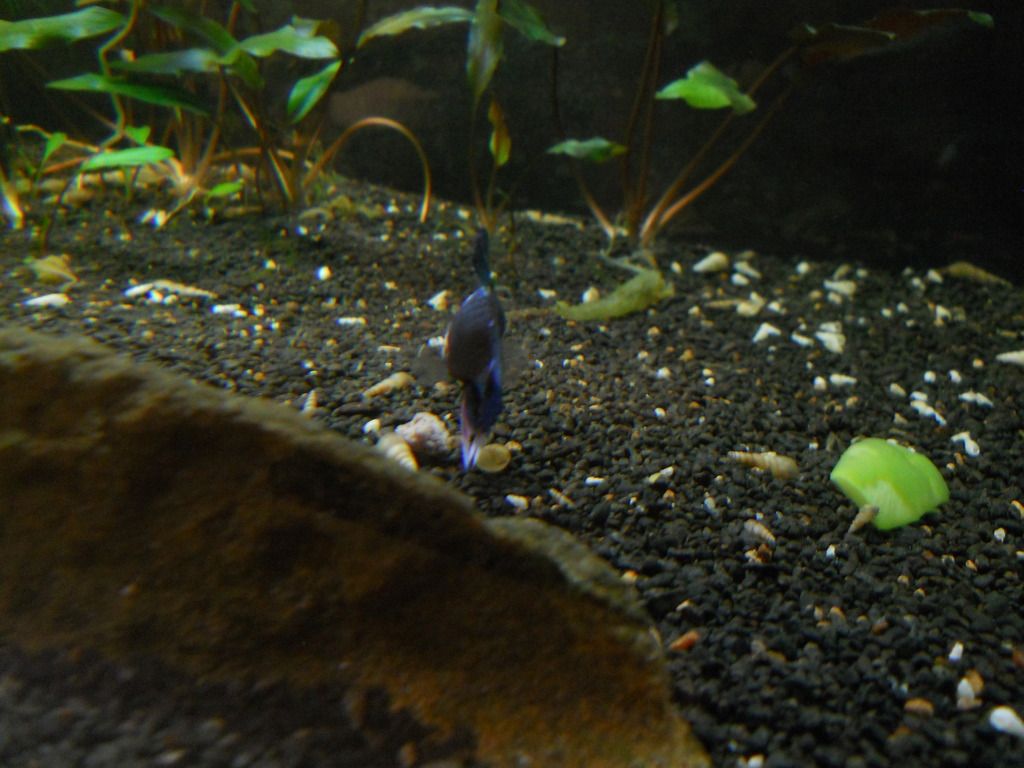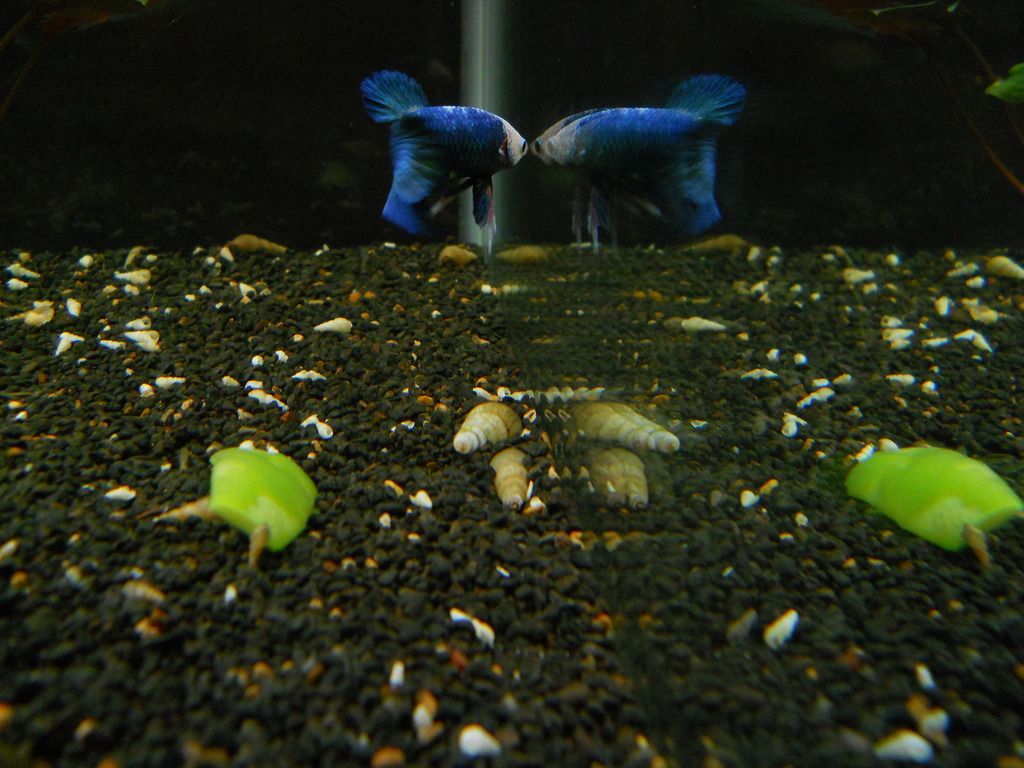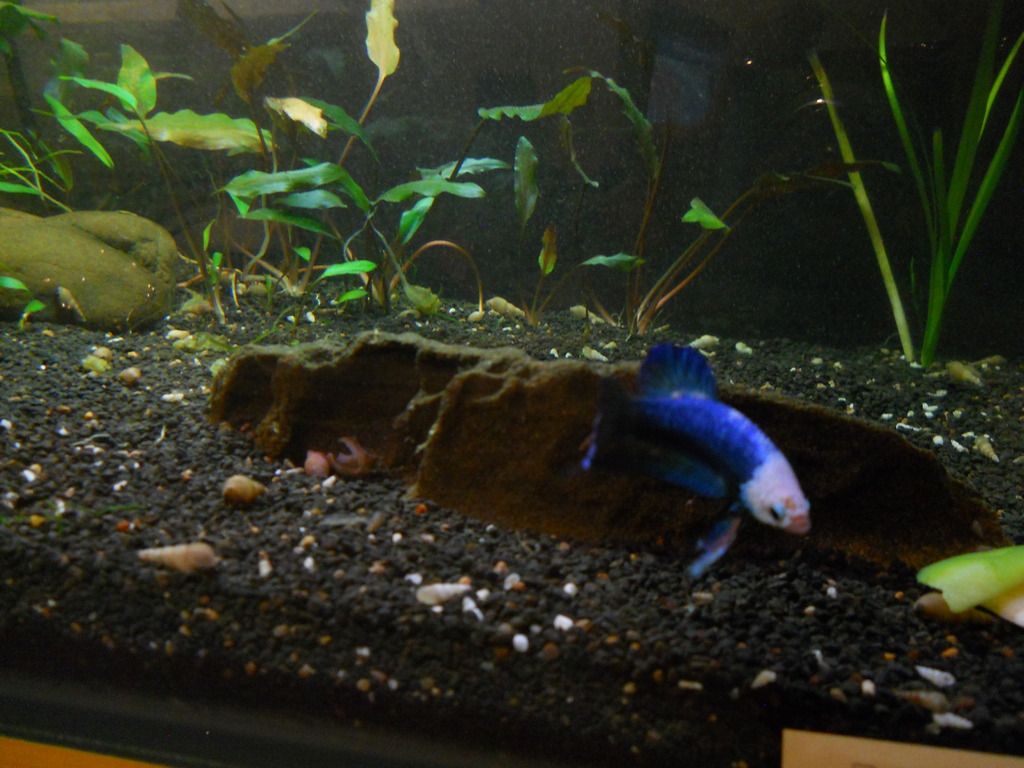 Questions:
- I've noticed that near his nose he is missing a patch of scales (is visible in pics)... I assumed that he might of scraped it at the pet store (found out when "we" were at home)
- He hasn't built a bubble nest yet? My tank conditions are perfect (ammonia 0ppm, nitrate 0pmm nitrite 10ppm... Ph around 7, temp 26c/78F) when I checked last friday... If needed, I will check again, but I pretty sure it's still ok.
- He managed to bash a ramshorn that I placed with him (eyestalks and chunks of the foot gone). Is that a sign to keep him alone as he might not be fish safe?