Discussion Starter
·
#1
·
I gave my friend a fish for her Bat Mitzvah four days ago. Here is his picture from that day (with a little contrast):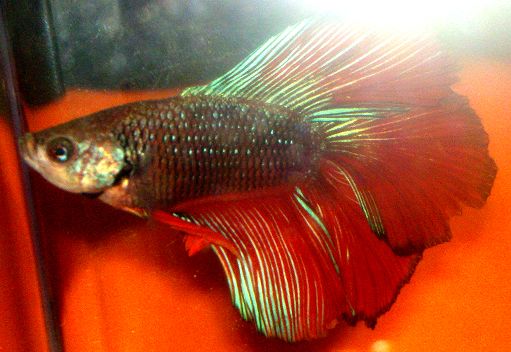 Now he is very ill, and I have come over to her house to help her figure out what's wrong and what to do about it. It seems like he could have any variation of diseases. We need help, please!
He lives in a 1gal, heated, using API Stress Coat, four pellets of Hikari Bio Gold a day. Everything is top-shape, I set up the tank myself.
Symptoms:
Inability to stay up straight (having a hard time getting up for air, swimming in general... seems like he CAN'T swim even though he wants to), loss of color, lethargic (won't move from one spot), bloated, breathing very very heavily, black & red and swollen under both gills (both open), possible fin rot? Looks more like biting to me. His tail was already black around the ends so it's hard to tell. I could swear he lost the blue in his eyes too. Possible septicemia, it's hard to tell because of his coloration.
Please help, I don't want this little girl's fish to die once she's already gotten so attached. >: