Discussion Starter
·
#1
·
so this is actually my second attempt at a spawn. other pair I tried after a few days the male eventually let his bubblenest fall apart so he could tear at the female's fins instead. this pair started out much better, first thing Olivia did after being released was check out the nest (first thing my other female had done was to go exploring to check for food). they were put together on the 21st. spawned for a couple of hours on the 26th, and started hatching yesterday. dad's been doing a great job of taking care of them. I'm actually hoping to keep him with them for at least a few days after free swimming since he's been doing such a good job. not sure how many total there are but I can see what looks like at least 20-30 in the small area of the nest that gets enough light to see tails, lol. the nest is pretty good size so not sure if maybe they're mostly condensed in the one spot or spread throughout it. guess I'll find out eventually. anyways, some pics and vids!
here's the parent's AB shots
Errol from Storybettas, his dorsal and anal are now all black. he's the male in my avatar as well.
Olivia from Sirinutbettafarm
blooper reel vid of them trying to figure out wrapping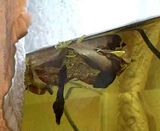 success!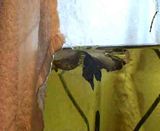 the nest is near the back of the tank so it's hard to get any pics of fry. he doesn't seem to mind my staring at it but trying not to bug him TOO much, lol