Discussion Starter
·
#1
·
I left for vacation about a month ago. I was gone about 3 weeks, and came back to discover that my fishy caretaker just didn't care about my darlings like I thought she would! I've been back for a about 9 days now and have set up a hospital tank with water/air flow (took out the carbon filter), and 2 other sitting tanks.
Housing
What size is your tank? Rico: 1/2 gal, Frances: 1 gal, Draco: 2.75 gal
What temperature is your tank?Rico & Frances: about 76F, Draco: 80 (He was the worst at the time, so he got the only heated tank)
Does your tank have a filter? None have an actual FILTER atm.
Does your tank have an air stone or other type of aeration? One does (Draco's)
Is your tank heated? Draco's is. Not the others.
What tank mates does your betta fish live with? All are single.
Food
What type of food do you feed your betta fish? Was doing Tetra Betta-min, now doing live blood worms.
How often do you feed your betta fish? One (decent sized) worm, twice a day.
Maintenance
How often do you perform a water change? Everyday.
What percentage of the water do you change when you perform a water change? 40-50%
What type of additives do you add to the water when you perform a water change? Added to the water acclimated to room temp the day before: Aqueon Water Conditioner and AQ Salt.
Water Parameters:
Have you tested your water? If so, what are the following parameters? I have not, but with the daily changes (did 100% water change as soon as I got home and saw the poor things!!), I know that the ammonia levels have been kept somewhat lower.
Ammonia:?
Nitrite:?
Nitrate:?
pH:?
Hardness:?
Alkalinity: ?
Now, I tried just 80% water changes on all three and AQ Salt for the first 4 days with NO change at all, and all of them were acting super lethargic. So I did a really good water change and have been keeping them on Marycyn 1 daily doses. I know that they can spike the ammonia and other chemicals, so I've been watching them closely and changing their water 50% daily before adding a new dose. And I was using a little less Marycyn than it recommended, just in case (since I have to be gone 18 hours a day for work at the moment, I felt it was safer than coming home to dead lovelies). So far Draco seems to be doing waaay better. All three of my boys are much more active and are voracious eaters again (even had to limit how much they get, cuz they were getting FAT), and follow me around at feeding times and everything. However, I still worry about their recovery. Frances, I feel the best about. His fins never truly healed up properly from a bad mating fight (she ate most of his tail), but I think it's rolling back up on the ends. I'm more or less worried about preventatives for him.
Rico is the worst off right now. He wasn't so bad, but now I have noticed that he also has a gill issue. One gill will not close properly. I know that's from nitrate/nitrite/ammonia poisoning, most likely from when I was gone since I have been closely monitoring him since I got back, but did not get a good look at him before. Now that he is more lively again, and is swimming around, I have noticed it. Plus, most of his beautiful tail is GONE!!! (Trust me, my sister is NEVER again watching my fish!)
I just want a second opinion on how to handle these poor darlings. I've never played rescue before. Granted they are all acting much happier in the last couple of days, but this isn't going to take a turn for the worst at the last minute on me, is it?
Rico BEFORE I left: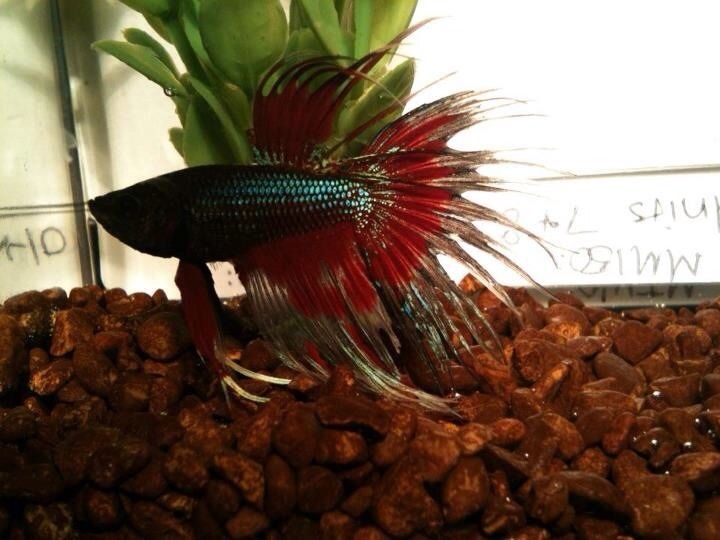 NOW: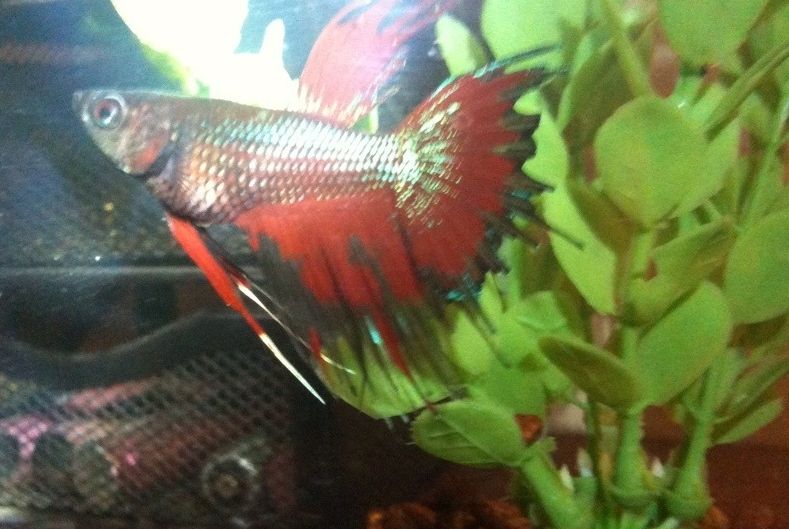 And his poor little gill: (HIS right)