Discussion Starter
·
#1
·
Sorry in advance for the whole biography of the fishy experience... :-D
So I bought my first betta in about 10 years on friday, and everything had been going swimingly until now. I had aged the water in the tank before buying him for ~1 week only adding Prime to the water at the time. When I brought him home, I preformed a 50% water change to remove the cat fur that had mysteriously entered the tank in a way that only fur can. After acclimatizing my fish to the water temp etc. he was acting very active and normal, with no problems what so ever. He likes to play in the current the filter makes, and this pushes him down to the bottom, and I sometimes see him pressed against the tiki head statue in the tank. I only have this decoration and a large silk/fabric plant in the tank. He is eating well and just acting like a normal happy fish.
When I fed him at 5 on Sunday he looked the same as he always did. However when I came back into the room at ~12am, his dorsal fin now looks like it should belong to a crowntail instead of the rosetail/halfmoon looking ones he had before. I can't tell if the edges are dark or red as he is a black betta. Some of the tips of the fin look slightly lighter, but I don't know if this could just be because of the thinner tissue there. I had to take a picture with my phone so sorry for the crappy quality (will take another in the morning with my camera). I don't have a small cup to float him in but I do have access to an old jar if I have to treat him with salt. I also have a small betta keeper (0.7g) that I can use as well.
My theory is that he was being his silly self and rubbed against the deco, or that he played in the too strong current on the filter (which I have sinced turned off). If it is the tiki statue, would it be possible to sand the rough edges off (it is plastic btw), or would that not be feasible? When I bought it it passed the non catching test with fabric...
Any and all help will be greatly appreciated and welcomed! Just help me restore poor Sebastion to his former glory! :-D
Here is a pic of crapy quality and also quite large size (new one soon promise!)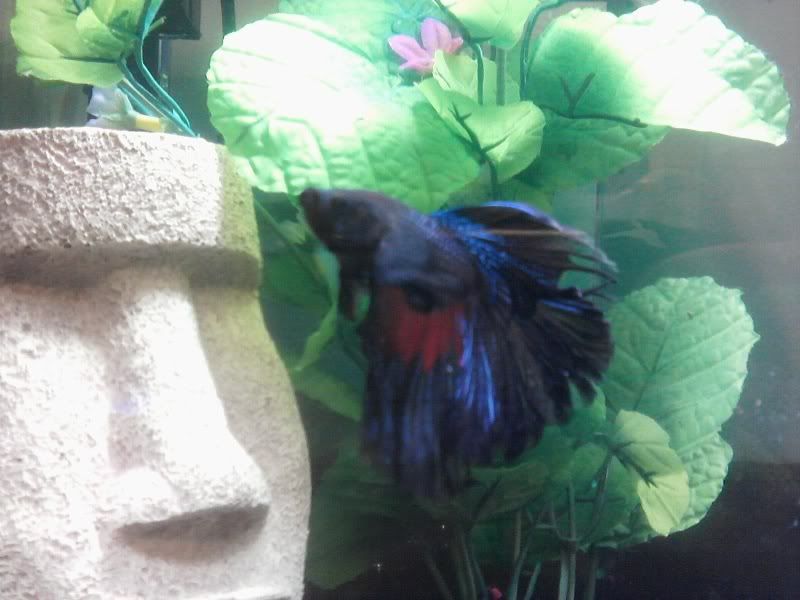 Area effected:
Tip of dorsal fin, turned spikey, slight lightening of tissue (not as light as in pic btw)
What ever caused the damage, will his fin ever heal and be normal again?
Housing
What size is your tank?
5 gallon (Eclipse Hex)
What temperature is your tank?
~76 (room temp, will be more accurate when I get a thermometer)
Does your tank have a filter?
Yes, but turned off for now as soon as I saw the fin damage until I baffle it
Does your tank have an air stone or other type of aeration?
No
Is your tank heated?
Not yet, but will be buying one soon
What tank mates does your betta fish live with?
None
Food
What type of food do you feed your betta fish?
Pellets (Atison's Betta Food)
How often do you feed your betta fish?
3-4 pellets twice a day
Maintenance
How often do you perform a water change?
Will be doing 50% once a week
What percentage of the water do you change when you perform a water change?
50%
What type of additives do you add to the water when you perform a water change?
Prime
Water Parameters:
Have you tested your water? If so, what are the following parameters?
no
Ammonia:
Nitrite:
Nitrate:
pH:
Hardness:
Alkalinity:
Symptoms and Treatment
How has your betta fish's appearance changed?
Dorsal fin looking frayed in the span of a couple hours
How has your betta fish's behavior changed?
None, still active and eating well
When
did you start noticing the symptoms?
June 20, ~12am
Have you started treating your fish?
If so, how? Not yet, but will be buying aquarium salt tomorrow
Does your fish have any history of being ill?
None that I know of (new fishy!)
How old is your fish (approximately)?
Bought him on Friday, and he is quite small, so probably only a few monthes old (~4 months maybe?)