Discussion Starter
·
#1
·
Housing
What size is your tank? 10 Gallons
What temperature is your tank? 79 F
Does your tank have a filter? Yes
Does your tank have an air stone or other type of aeration? No
Is your tank heated? Yes
What tank mates does your betta fish live with? None
Food
What type of food do you feed your betta fish? Tetra Bloodworms
How often do you feed your betta fish? Once a day
Maintenance
Note: This is a new tank, an upgrade from a 2.5g to this 10g
How often do you perform a water change? It will be once a week
What percentage of the water do you change when you perform a water change? it will be 50%
What type of additives do you add to the water when you perform a water change? None aside from Nutrafin Aqua+?
Water Parameters:
Have you tested your water? If so, what are the following parameters?
Ammonia: 0-.25
Nitrite: unknown
Nitrate: unknown
pH: unknown
Hardness: unknown
Alkalinity: unknown
Currently I don't have access to a water testing kit with liquid testers, and the strips I got never changed color so I assume to be as unreliable as everyone suggests they are. I will be getting a Master testing Kit in December when I can go to the city.
Symptoms and Treatment
How has your betta fish's appearance changed? Biting/tearing of fins ever since a month after moving from the pet store cup to his 2.5g.
How has your betta fish's behavior changed? He's active. Burtsts of energy, mostly active exploration of his tank, visiting his cave, slipping through his decorations.
When did you start noticing the symptoms? The tailbiting/tearing as soon as it started. His tail used to be very long, then over night it seemed to be half its original length, and now it's this (see picture). When he was moved to this tank I didn't notice anymore tears or bites, but for the first 3 hours after being introduced he did flare at his reflection. Also since being in this new tank, he disappears for a while then realizes I'm sitting here and does a sort of..fit or dance in the corner nearest me. I talk to him and let him know I'm paying attention.
Have you started treating your fish? Not yet, I want to be sure.
Does your fish have any history of being ill? Not that I know of.
How old is your fish (approximately)? ....Not sure. I've had him since July, and his body length hasn't grown, so I assume he's an adult fish...
Before::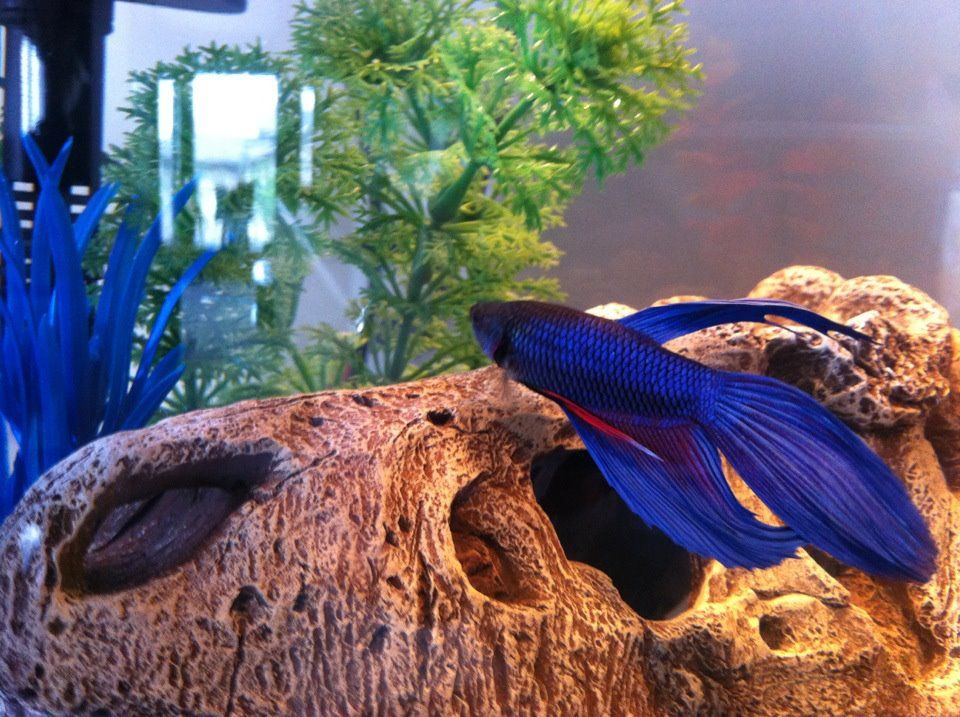 Now::