Discussion Starter
·
#1
·
Housing:
How many gallons is your tank? 4
Does it have a filter?yes
Does it have a heater?yes
What temperature is your tank?78
Does your tank have an air stone or other type of aeration?no
Does your Betta have tank mates? What kind?no
Food:
What food brand do you use?Northfin Betta Bits and Nutrafin Bastix Blood Worms (freese-dried)
Do you feed flakes or pellets?
Freeze-dried?
How often do you feed your Betta? How much? 2x a day 1 pellet maybe 1 worm
Maintenance:
Before your Betta became ill how often did you perform a water change? 1 a week
What percentage of water did you change? 25%
Do you vacuum the substrate or just dip out water? dip
What additives do you use?
Water Parameters:
What are your water parameters? Please give exact numbers. If tested by pet store please get exact numbers. "Fine" or "Safe" won't help us help you.
Ammonia: 0
Nitrite:0
Nitrate: 5-10
pH:7.2
Hardness (GH):?
Alkalinity (KH):?
Symptoms and Treatment:
When did you first notice the symptoms? 1 month noticed bigger belly, 3 day of very lethargic behaviour
How has your Betta's appearance changed? Paler colour
How has your Betta's behavior changed? very lethargic, barely moves, hides, sits on bottom or at the top
Is your Betta still eating? I have fasted him for 2 days (gave him a bit of pea to help in case of constipation)
Have you started treating your Betta? If so, how?
Does your Betta have any history of being ill? No
How long have you owned your Betta? Was he or she a rescue? approx 5 months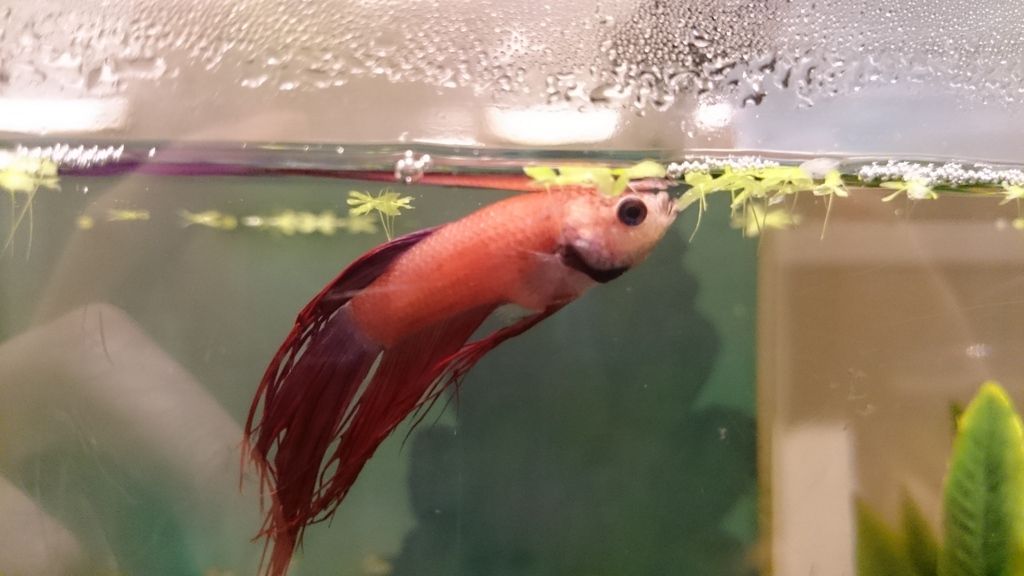 Have had my little fish for about 5 months and the last couple weeks he's started to loose his colour and I noticed his tummy getting big so I thought he was getting fat and really cut down on his feeding (I think we were over feeding - it's hard to tell because my 5 year old twins sometimes want to sneak in extra) Previously, I have had him fasted 1 day a week. 3 days a go he really started acting strangely laying on the bottom of the tanks and not moving when I came to see him. He's very pale and lethargic. I thought he was constipated so I feed him a pea yesterday. He doesn't seem to be getting better. Could it be Dropsy? He has no pineconing that I can tell and he still swims fine he's just wants to hide all day and his fins are so sad a droopy. He's tanks is 4 gallons and 78 degrees. I change his water 25% every week and the water parameters are all normal. I feel awful and I don't know what to do? Any advice is greatly appreciated! I have attached to photos one from the top and one from the profile. My poor little fish has barley moved in 3 days.
I don't know what to do?! Please, please help!