Discussion Starter
·
#1
·
Fin Biting vs. Fin Rot​
Every now and then there is an influx of posts on if my Betta has fin rot and what to do! So here is a thread to explain what you all what to know.
As first time keepers we may read a page on fin rot and then look at our fish and suddenly believe our fish has fin rot! So what do we do? We research and ask around online generally to help your fish because the last thing you want is for your fishes fins to fall off! However, often times we mistake fin rot for fin biting, two very different things for our fish and different approaches are made.
Fin Biting​
First let's take a look at Fin Biting. Fin biting can be caused by a many various things including; stress, boredom and unknown reasons. Stress is usually the biggest factor first, often when a first is brought home from the store they are stressed and sometimes they take it out on their fins. You may see fish at the store with bitten fins because males are constantly in sight of each other, this frustrates them and since they can't get at the other fish, they take it out on their own fins by biting them. Boredom can also effect the fish if they have nothing to do; no plants to swim through, no décor to hide in and play in and little to no human interaction, they can get bored and decide to bite their fins. Another factor, especially for long finned Halfmoon males, if their tails are so large that it drags the fish down and inhibits their swimming that they will give themselves a "haircut" so they can swim easier.
Fin biting will look rugged at times; sometimes little U shape bites are taken out of the fins. It will never look just simply split, that will be from some décor or plants. Fin biting will happen practically overnight or in a split second and most of the time you won't be around to see it happen. Here are some pictures of fish who have bitten their fins:
Notice the Ribbon effect he now has:
Photo credit
Reagan
Photo credit
Reagan
Notice this boy has natural black coloration, that is not fin rot.
Photo credit
anothernewbetta
Treatment: Sometimes you can cure their biting by finding out what their "tick" is. If they are in view of another Betta, perhaps isolate them and see if that helps. It's all trial and error, some fish love their décor moved around while others absolutely hate it. But in all cases the keeper needs to keep their water clean so their fins do not get infected.
Depending on the tank size its generally recommended twice or three times a week to change the water, getting the bad bacteria out of the water and hopefully keep your fish safe. Using tannins will also help since they are natural antibacterial. Where do you get these tannins? They leach from things such as driftwood, IAL (Indian Almond Leaf), Oak Leaves and non-caffeinated tea (such as Rooibos).
You can also use vitamins, I generally like to use Vita-Chem bought online to help keep the fish healthy while they regenerate their fins.
Fin Rot​
Now Fin Rot is different, fin rot happens because water quality declines and an infection sets in the fins. This is a bacterial infection that can infect any fish but fish that live in smaller environments that aren't properly cared for are more susceptible to getting this rot. This will not happen overnight and you will notice a steady decrease in finnage. Fin rot is not only black but comes in a variety of coloration, black is the more common one seen on mostly blue fish from simply the coloration. White, orange, red and yellow fish tend to see reddened edges like they are sore and they recede. And then the fin will look dead and no longer healthy.
Fin rot can set in from the result of fin biting but it doesn't have to have fin biting to set in.
Treatment: in most cases you only need to do a few things to help your Betta fight off the infection. First off is to improve your water quality, do frequent water changes through the week to help balance out electrolytes and promote the fish to fight off the infection. A high quality diet will also help out*. Warm, clean water is ideal and if you can get a tannins source that will also help stop the infection.
Many people believe that Aquarium Salt is the key to fighting off the infection; this is indeed false and doesn't do what most people believe it does. What aquarium salt does is balance out electrolytes which is a nice thing but not necessary, and secondly it aggravates the slime coat. This is why when you use AQ salt you often will notice a stringy substance coming off your fish, this is extra slime coat he has produced and is now shedding the old coat he had as the new one comes in. This is effective for helping to get rid of Ich, the old slime coat knocks off the parasite which helps to kill off the parasite.
You will notice that in the two major things that salt does, it does not cure fin rot. What it does do is it can sterilize an open wound. This is helpful when your fish does bite his fins; this creates an open wound on the fin for a day or so until it closes up. Fin Rot is not an open wound, think of it as a nasty scab, you wouldn't pour salt on a scab since it doesn't do anything! Now if you opened that scab, then you can use a saline solution to keep it clean until it heals.
So in most cases of fin rot you can; do frequent water changes, use a tannin source for antibacterial properties and make sure his water is warm (80-84*F).
In very bad cases of fin rot medications will be needed, skip the salt and head right for an antibacterial medication such as Triple Sulfa, Erythromycin, Tetracycline, General Cure or KanaPlex. KanaPlex is the best to get if the fin rot is aggressive, you may use a combination of medications but further diagnosis will be needed to tell that.
This boy has obvious fin deterioration on top of being emaciated. Notice the reddened edges that look sore.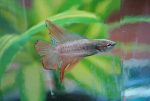 Again, this boy has obvious deterioration.
This poor boy has gotten so far as body rot as well, notice the fin he does have left just looks sort of dead and just hanging onto him.
Regrowth is often mistaken for more fin rot but there are easy ways to tell if it is regrowth. Regenerating fins will appear white or clear in nature, sometimes a little grey-ish depending on the color of the fish. Most of the time though it comes out as white and colors up as normal as it grows out. Sometimes you won't even notice it. Often on dark or black fishes you will see little clear dots at the end of the tail that seemed to appear overnight, this is regrowth which is good!
Also there is natural black coloration. Here is one of my old boys who had a natural black band around his fins, notice how even it looks. Sometimes a fish won't always have an even band around their fins like Jarvis did here but you see that in some parts of the black you can actually see through it and it seems thin. Fin Rot will look much more black than that.
Photo credit
lilnaugrim
The same boy from earlier, notice the clear spots that look like holes? Well those aren't holes but in fact they are regrowth of his fin!
Photo credit
anothernewbetta
This one also has the clear regrowth, that is what you are aiming for!
It takes time for Betta's to regrow their fins, be patient with them and they will soon flourish. Sometimes it can take months to regrow their fins depending on the damage, sometimes only a few days or a few weeks. As long as you keep their water quality good, you shouldn't have issues with fin rot.
**Note on food quality** for those who are wondering if their food is good enough or not: not all foods are created equal. Many companies use something in their foods called Fillers, they exist simply to do that; fill the food so they don't have to use all the expensive product in their food; cheaper for them to make it. These fillers consist of Wheat, Corn and Soybean which are things that fish cannot digest, same goes for cat and dog foods. Whole Wheat however is often used as a food binder to hold the pellet together so that one is fine, you just don't want it to be the top ingredient.
Take a look at your food ingredients and list the top three, what do they say? In a quality food you are looking for no fillers in the top three ingredients, you want something like Whole Krill, Whole Halibut, Whole Salmon even, these are good products. You don't want Soybean Meal or Corn there. One out of three ingredients as a filler is okay, not the best but it is much better than having all three ingredients as fillers.
New Life Spectrum is currently one of the leading brands along with Atisons Pro Betta (however, I don't believe that food is still being made but I do know some people still sell it online from overstock and whatnot). Omega One comes in second and Aqueon around third or fourth. Foods like TopFin, Tetra and Hikari are no good, again, take a look at the ingredients and tell me what you find.
NLS does have Whole Wheat in it's first three but it is the third food listed and it is a binder in this case, much better than if it were corn or soybean. Another reason I love NLS is because the Thera A formulas have garlic in their food, this is a natural anti-parasitic food which will help ward off internal parasites. Also Betta's loooooove the taste of garlic, I have yet to see a healthy fish turn down NLS. And since NLS is a high quality food, it is easily digestible for your fish, making them healthier. Healthy fish produces healthy fins, a healthy diet will also encourage fin regeneration.
**Note on Pictures** All pictures are from google unless otherwise noted and I do not take credit.
I believe I have covered everything, let me know if you all have any questions and I will do my best to answer them.