Discussion Starter
·
#1
·
So, my mom recently lost a male betta, and so a couple weeks ago I let her have a girl she loved out of my sorority to go in her 5g in her office. Up until yesterday she was mostly fine, it was just the poop hanging.
Eating well, curious, all that. Buuuut, mum noticed her poop was hanging out of her and she was at the top with a swollen tummy and stress stripes. "SBD?" I thought. Nope! Because she can swim down/up with her own control. So, now she's in a 1g filled halfway. Here are the stats, pictures at the end:
Housing
What size is your tank?
5g

What temperature is your tank?
84
Does your tank have a filter?
Yes
Does your tank have an air stone or other type of aeration?
No

Is your tank heated?
Indeed!
What tank mates does your betta fish live with?
Red Ramhorn Snails
Food
What type of food do you feed your betta fish?
Betta flakes/pellets and rare occasion some freeze-dried bloodworm. I thought it could be the flakes causing it, so I had my mom not feed her for a couple days, but to no avail, her tummy is still big.
How often do you feed your betta fish?
Before all this, it was once a day.
Maintenance
How often do you perform a water change?
Once a week.

What percentage of the water do you change when you perform a water change?
50-60%
What type of additives do you add to the water when you perform a water change?
Prime since I'm out of Nutrafin.
Water Parameters:
Have you tested your water? If so, what are the following parameters?
No test kit, can't afford to cough up the $30.
Ammonia:
Nitrite:
Nitrate:
pH:
7

Hardness:
Alkalinity:
Symptoms and Treatment
How has your betta fish's appearance changed?
Tummy is swollen and pale, poop hanging out of her, but poop is normal-ish color. Not white or anything, just thin at parts. Also, her fins are getting choppy, but it could be the filter, I'm not sure. Her fins were never this bad even when she was in the sorority.
How has your betta fish's behavior changed?
It
hasn't changed much, but she isn't as active.
When did you start noticing the symptoms?
Day before yesterday.
Have you started treating your fish? If so, how?
Yes!
I have her in epsom salt 2 tsp/gal.

Does your fish have any history of being ill?
No.
How old is your fish (approximately)?
About a year.
Pictures: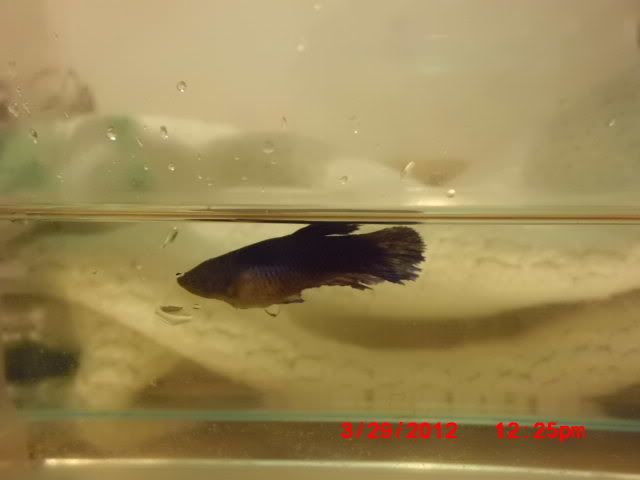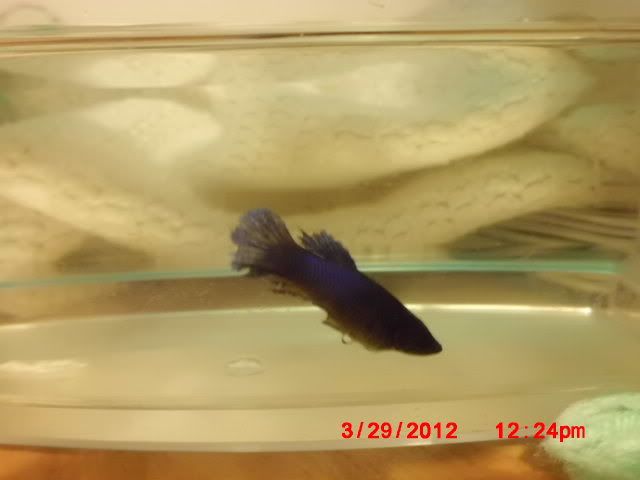 This is her normally, when she was healthy and before I moved her out of the sorority: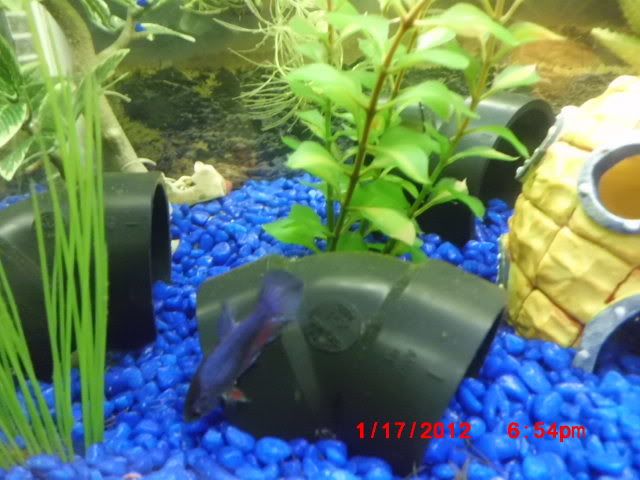 PLEASE HELP! My mom is ready to give up on fish since they keep dying on her :/ She thinks her tank might be cursed D: