I hope he makes it okay!!!
Thanks, Blu. I am stalking the tracking and he apparently arrived in Utah yesterday evening and is out for delivery today. So fingers crossed everything goes well!
I am looking at females for Kaveh. You know. Brainstorming and stuff. And I think I want something like this girl as far as color/pattern goes:
http://m.ebay.com/itm/Live-Betta-Tropical-Fish-Imported-Black-Copper-Dragon-HM-Female-1-3-days-/311725431058?nav=SEARCH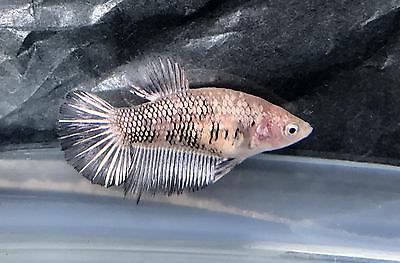 I think I can get away with a female with lesser finnage since his fins are excessively branched as it is and he is a DT but I need to find a match with a spectacular topline.
I am really partial to black and partial dragons (if you couldn't tell, almost all my favorite females in the past have been some variation of black marble or black marble dragon). This female is definitely right up that alley, but she is definitely HMPK.
http://m.ebay.com/itm/1009-14-DRAGON-MARBLE-HMPK-FEMALE-BRED-IN-THE-USA-/282231830409?nav=SEARCH