Discussion Starter
·
#1
·
Hi all! I am a new user, aswell as a first-time Betta owner. :-D
I had found this little fella at our local Wal-mart, hidden behind the usual reds and blues I always saw on my routine of checking their Betta stock.
My sister has owned two Bettas for a few months now, so she helped me with my setup, and food. Making sure the water was safe for him and whatnot. I currently only had a gallon bowl for him to be in, but I'm certain it's alot better then the grimy little cup he came in.
I'd like to comment that our Wal-mart isn't very good with their fish-care, the water the bettas are in is usually nasty from sitting there for so long. Not to even BEGIN on how sometimes I find starving ones, that have passed.
A month before I found my little fella, I had found this gorgeous female; she was a irridescent white with little blue spots, ADORIBLE. But sadly, she had long since passed before I came along.
----
More onto the point;
I have a, what I assume to be, a black butterfly veiltail. The water in his cup, when we tested it with a strip, it had been on lethal levels. Would that hurt him in the long-run even if he is okay right now?
His back fin is quite a bit torn, whether he bit it himself or got into fights with other fish I'm not sure. We've used some "Bettafix" in his bowl, so hopefully that'll heal it right up.
I've had him home for a few hours now, he seems for the most part, healthy. He likes swimming around his bowl, and swimming into his plants.
Is it normal for him to sometimes just run into them (Like quite literally, he swims into them and scares himself)? He also tries to swim through the glass.. Hehe, he's a curious little guy so far.
I took a total of three pictures of him, one right after we switched him to his new bowl (He was stressed and his colors light), and the other two are a few minutes ago, when I coaxed him to sort of flare with a hand-mirror.
(I apologize if the images are a bit big.
)
When he first got home:
After being home for a few hours: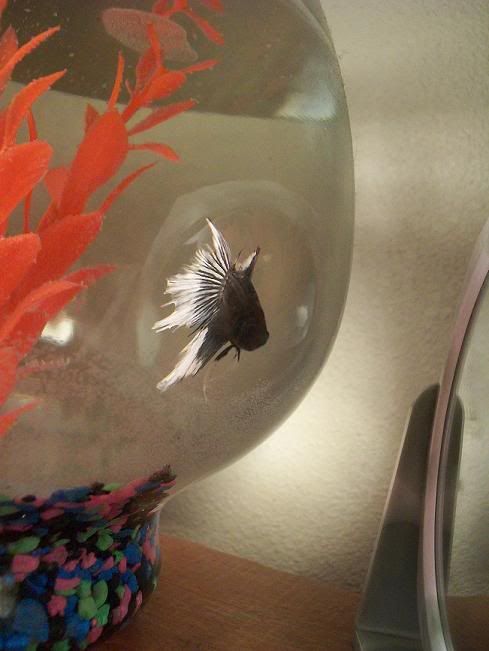 ----
I have yet to think of a name for him; waiting to see more of his personality before I fully decide.
I love him tons though! I think he's so beautiful, even if his tail is screwed up right now. Sorry that the post got a bit long, I rambled a bit. :lol: