Discussion Starter
·
#1
·
Hi,
I am new to this website and up until this point I've just been an observer, but I'm hoping some of you could give me insight into my particular situation.
I got a betta fish today. He's a butterfly betta and I initially found his coloring to be very beautiful. When I brought him home, as I was waiting for him to adjust to the tank temperature before releasing him, I started to think that maybe his coloring was not his natural colors- but rather due to stress or illness.
He is mostly white, with some faded blue and red (very minimal amounts).
I'm sure you can see why I became concerned, after searching for similar colored bettas online, only to see that the ones that matched him most, were those that were fading in color rather than naturally white.
His coloring has nothing to do with his current setup, as I just brought him home today and he has not changed within the time I brought him home and now.
My question is:
is faded coloring bad/can it be signs of something fatal? Is it possible to get his coloring back? And, what should I do from here on out to ensure that he is happy and healthy, if he is already run down and faded.
I will add some pictures so you can see what I am talking about, in terms of his coloring.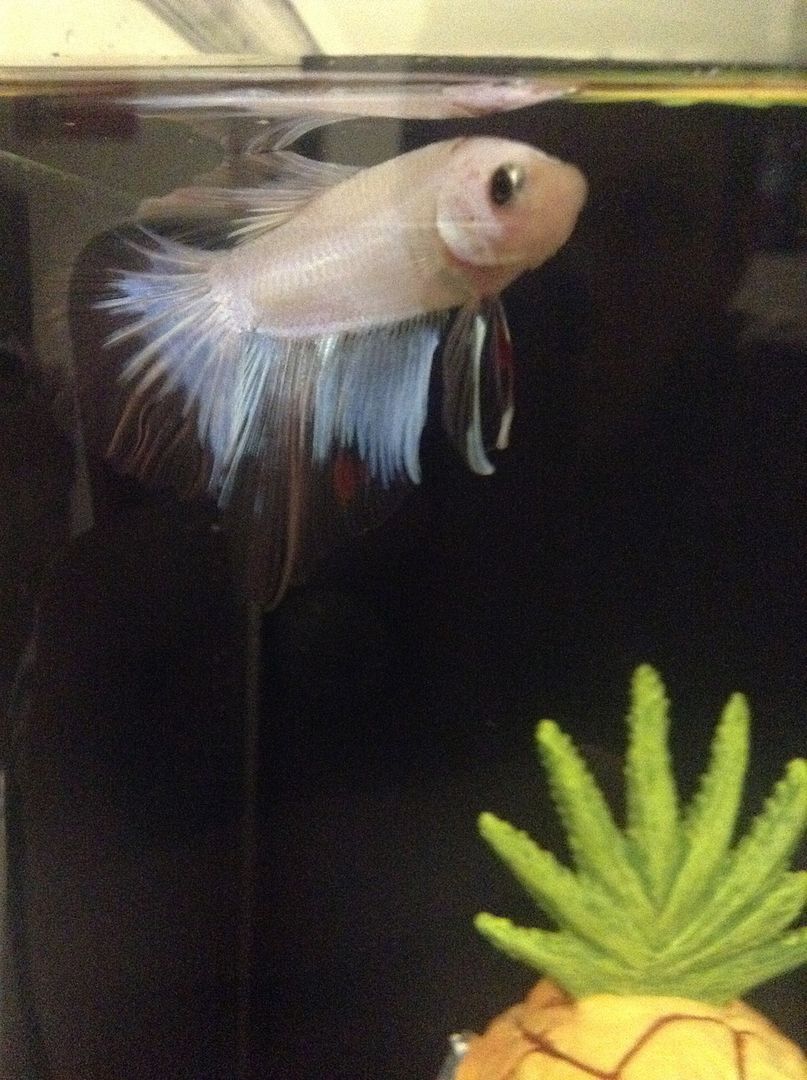 I also have some questions regarding his behavior. As I've mentioned, I just added him to a tank today. It is 3.7 gallons, although only about 2/3 of that accounts for swimming space as the filter takes up about one third of the tank and is included in the measurments. So for all intensive purposes, his living space is about 2.5 gallons.
As I mentioned this tank has a filter, and when I initially put him in I felt he had, what I percieved to be, trouble swimming. I turned down the filter speed as I know bettas do not like currents, and it is now on the lowest speed possible. The filter is located on the upper left hand corner of the tank, and that is where he has been staying to swim despite seemingly having trouble. There is plenty of space on the right hand side of the tank without a current but he chooses to swim into the current and clings to the left hand wall of the tank rather than exploring all of the other space. Could this be normal behavior for him or problematic? :shock: