Discussion Starter
·
#1
·
Hi everyone! I have been a member of Bettafish.com for a little while now. I joined due to my little guy, Zo, becoming extremely ill and eventually passing. I would not have been able to care for him as well as I did without the help of the members here.
It has been a little while since Zo's passing, and I have been back and forth with wondering if I was ready to bring another betta home. After a trip to Walmart on Friday, I came home with two guys.
I was not anticipating getting any so soon and didn't even have any tanks set up, but I always check out the fish section when I go shopping, and these little guys were in about an inch of water and one had a crack in his cup. I just couldn't bear leaving them like that.
So, with that being said, I would like to introduce Braunie and Clyde!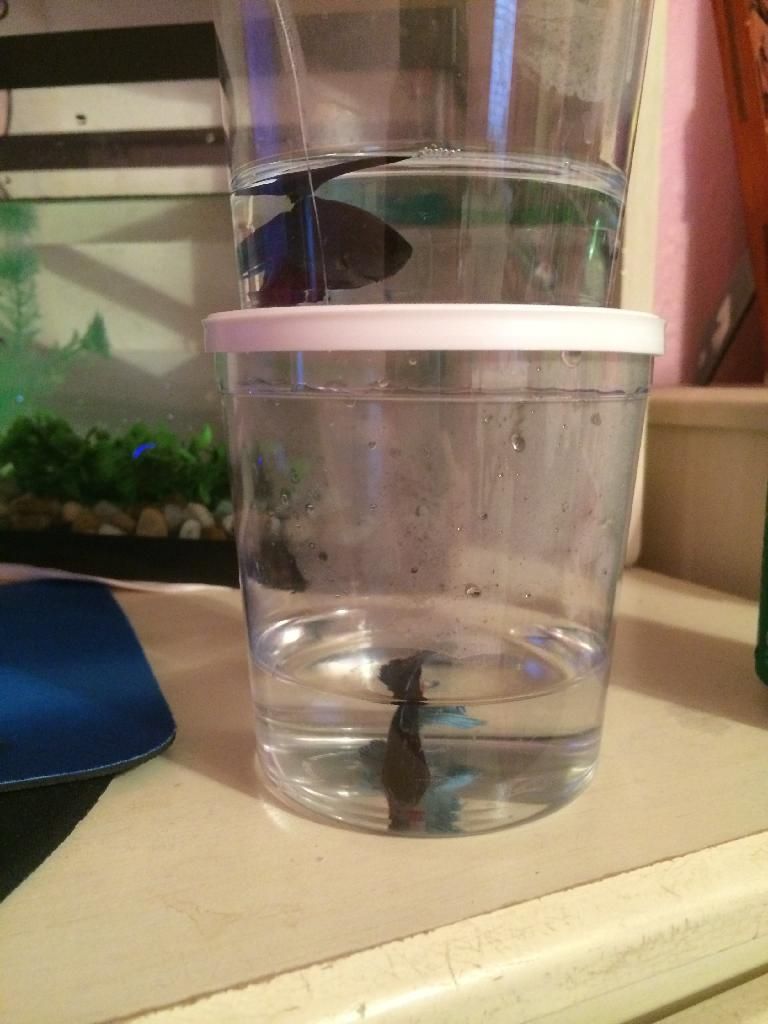 (see that huge crack?)
These are their current set ups. Clyde's tank is the cylinder shaped one, which has began to get murky, so I've set him up a spare tank to hang out in until I can get his tank clean and going again. Braunie's tank is the rectangular one. He still needs a heater, (currently sitting on a heating pad at the moment) and he also needs a thermometer. Most of the set ups are Zo's old things, which I boiled multiple times and washed off really well to make sure nothing was transferred over.
(Clyde's home)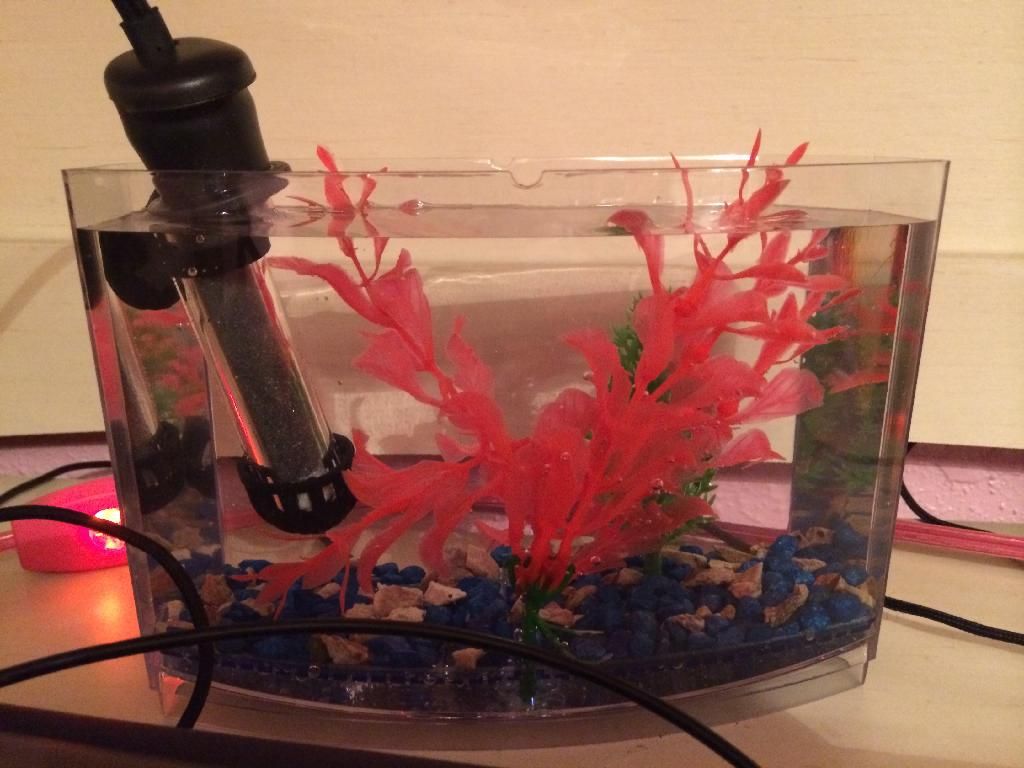 (Clyde's temporary home, including his beloved heater)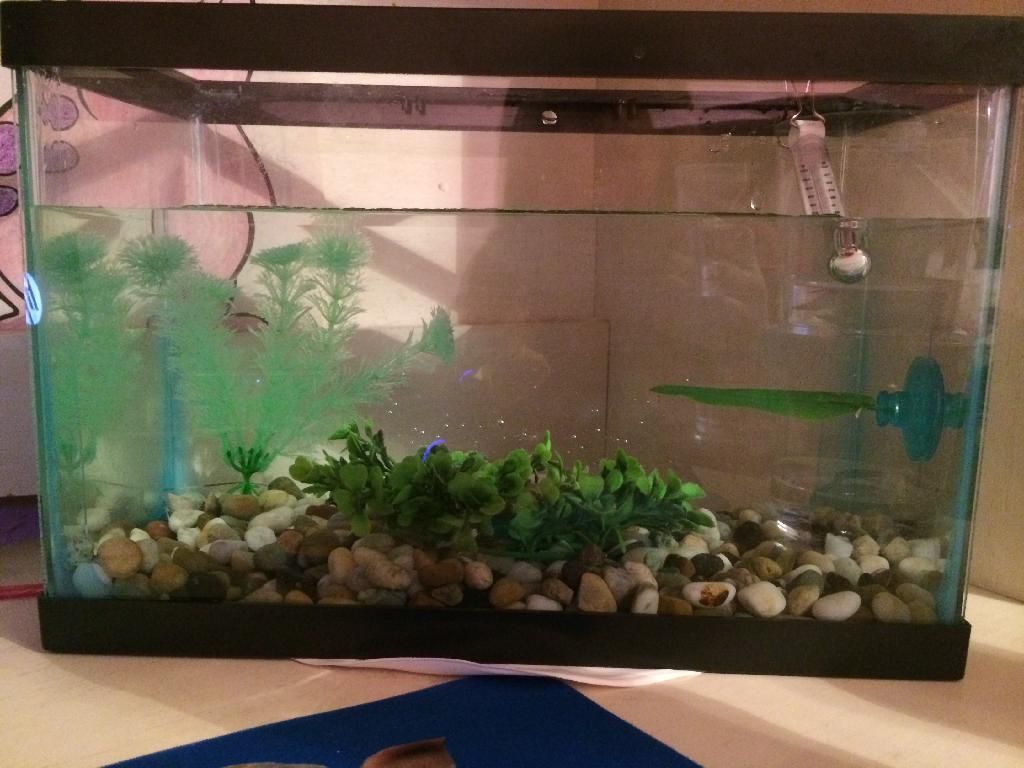 (Braunie's home)
This is Braunie. He is an active little guy and loves to explore. He's already made a huge bubble nest. However, I've caught him biting his tail (which I have never had experience with. It is SO frustrating!!!), and his beautiful little tail is beginning to look ragged. I gave both boys ping pong balls to try to entertain them, they were a little freaked out, but it seems to have distracted Braunie for the time being. I've also added a tiny bit of AQ salt to try and avoid fin rot from setting in. I haven't noticed a very "melty" appearance on his tail, so I haven't started to worry about him yet. He still seems very happy and healthy. I'm open to suggestions if anyone has any for his bad habit!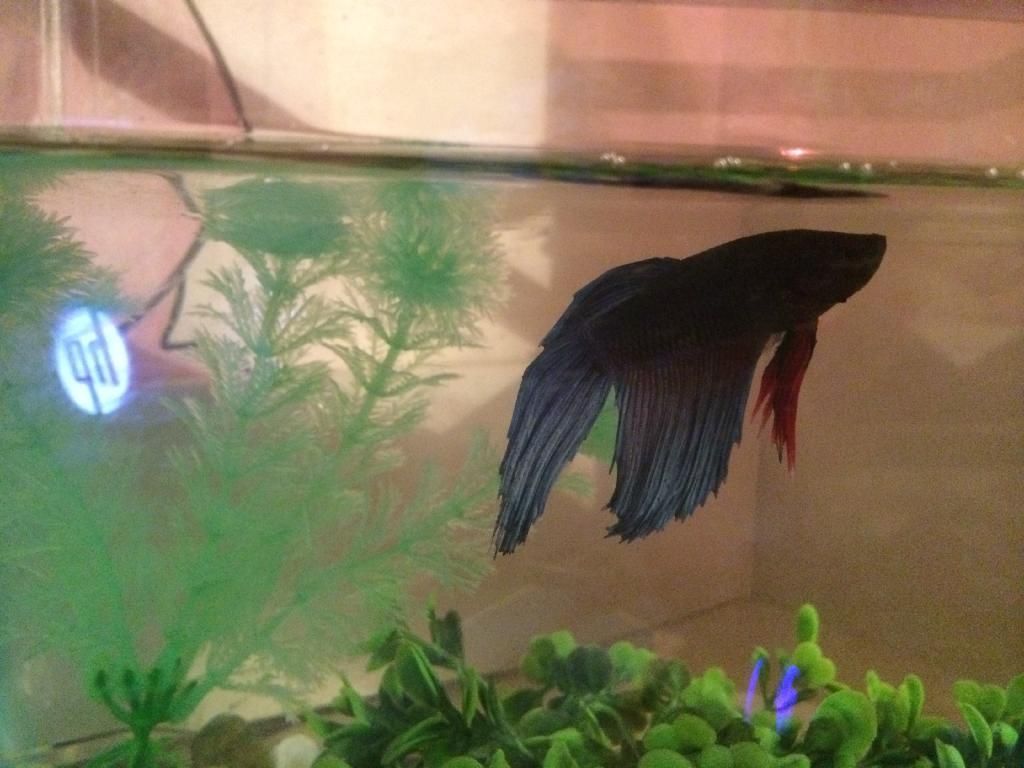 (his poor little tail)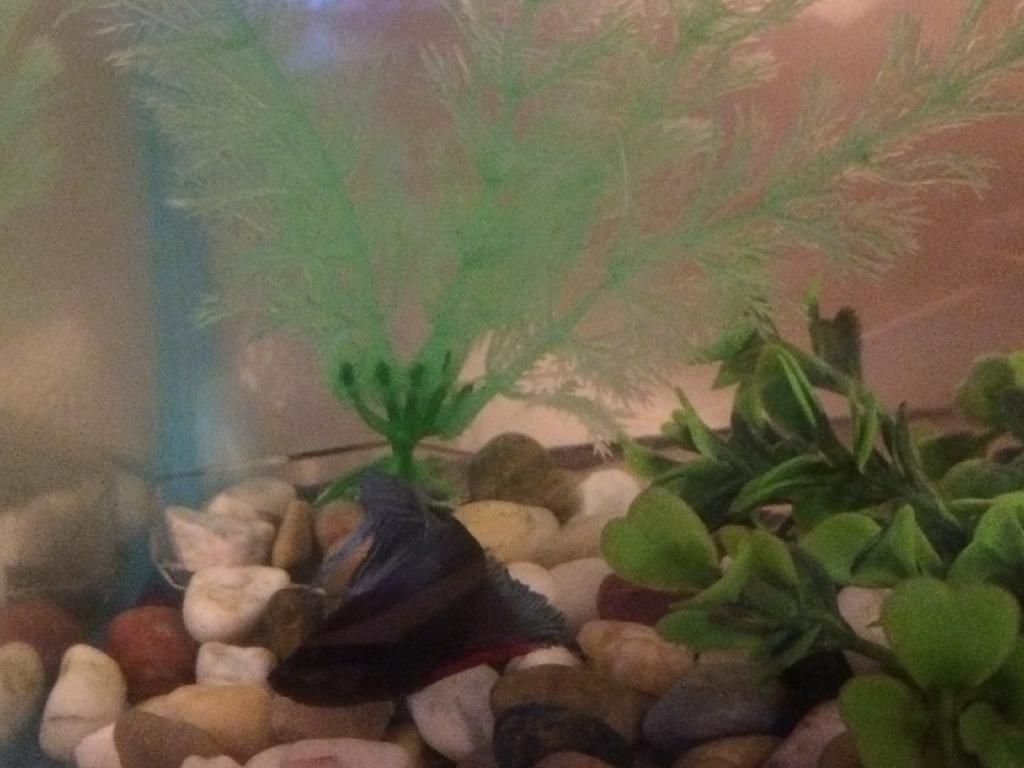 (caught the sneaky guy chasing his tail)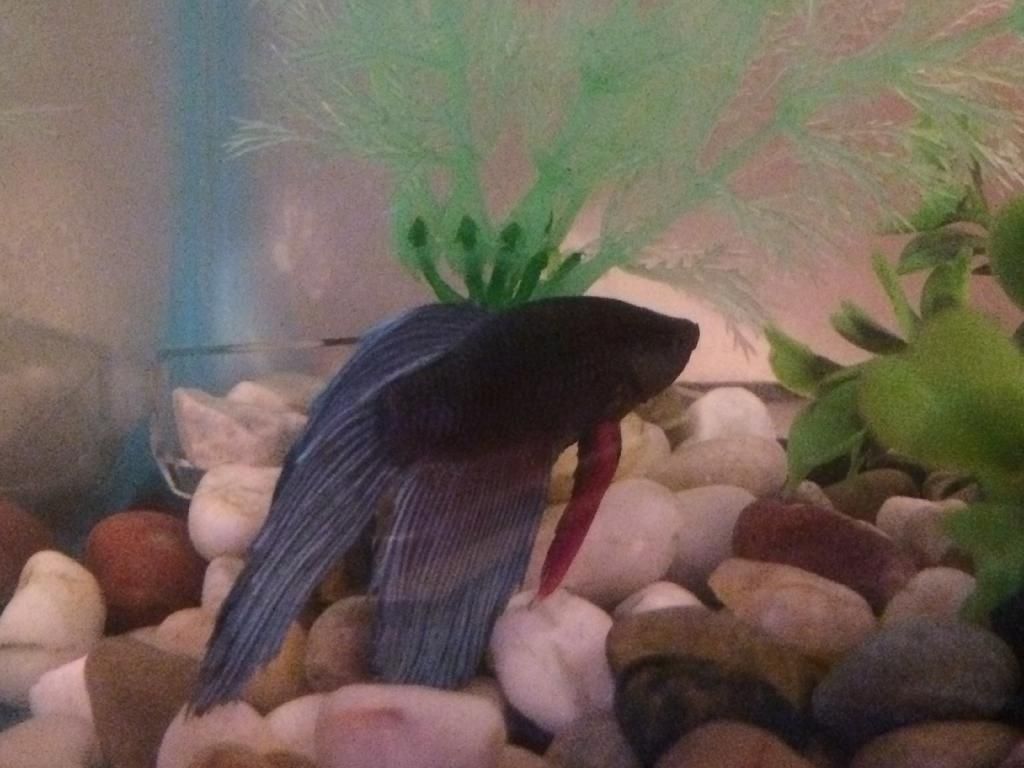 This is Clyde. He was the one with the crack in his cup. The water had dripped out all over the shelf he was sitting on, and continued to drip in the shopping cart, in my car, and on my counter when I was setting up his home. I was so furious with how they could leave him in a cup like that. He's shy, but very territorial. He likes to flare and follow my finger. He's obsessed with his heater, which I removed for a little while to heat up a spare tank, so he's been exploring a little more since then.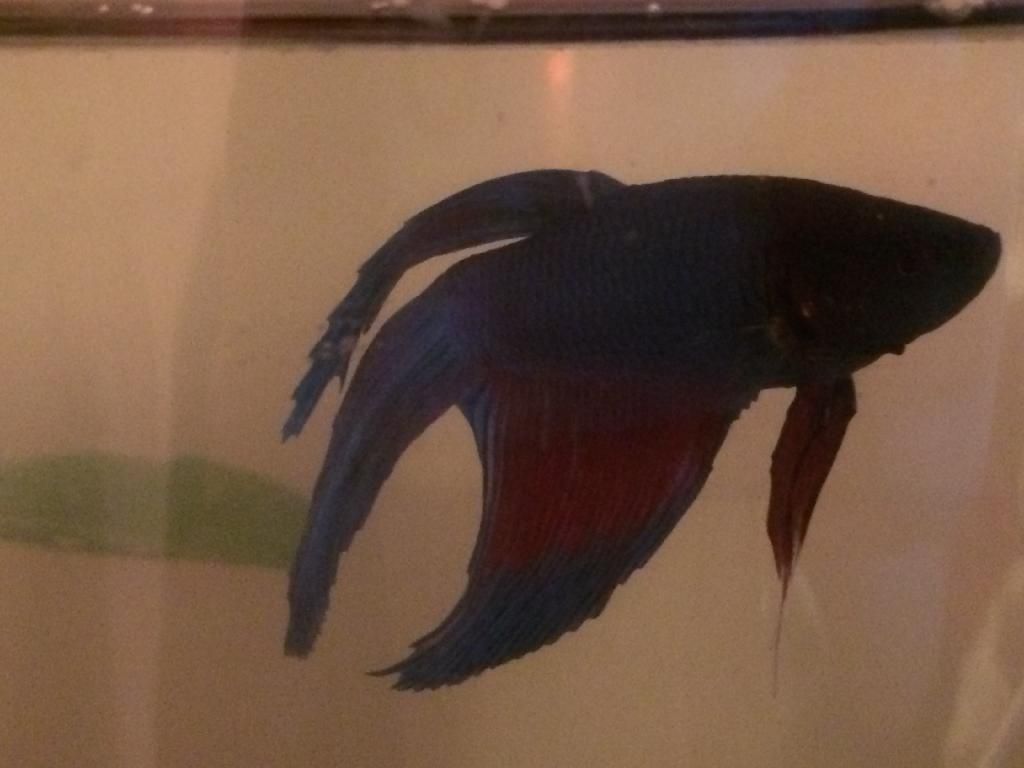 (I think he has a small spot of scale missing on his gill, which you can see here)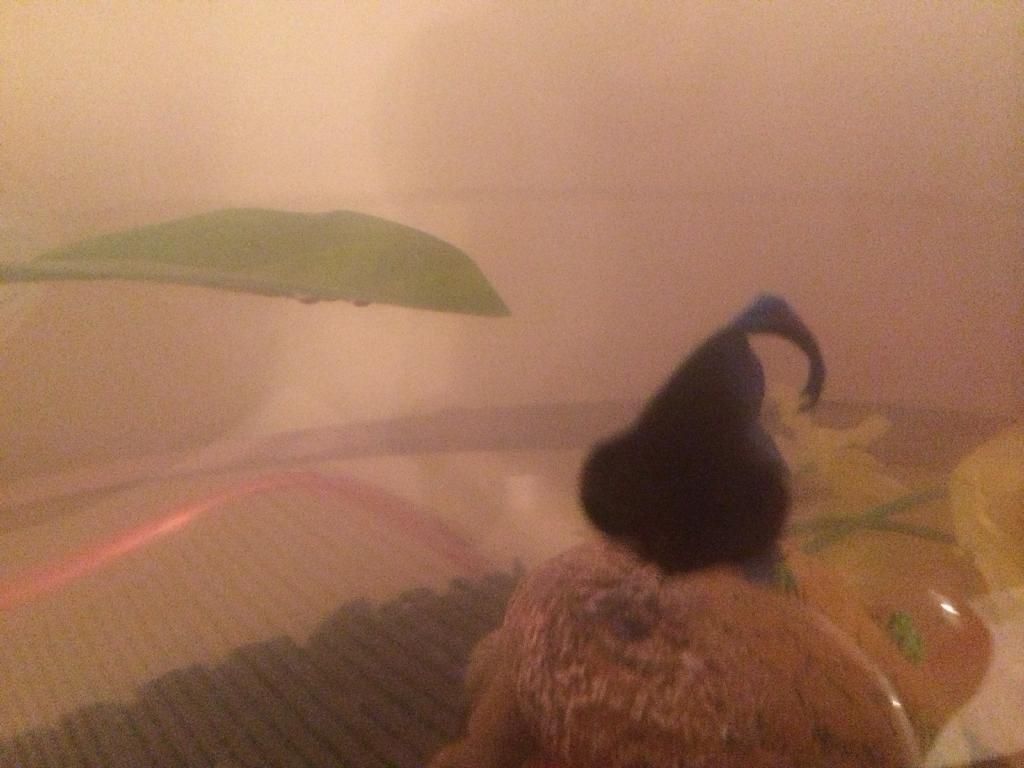 (blurry, but I kind of caught a flare)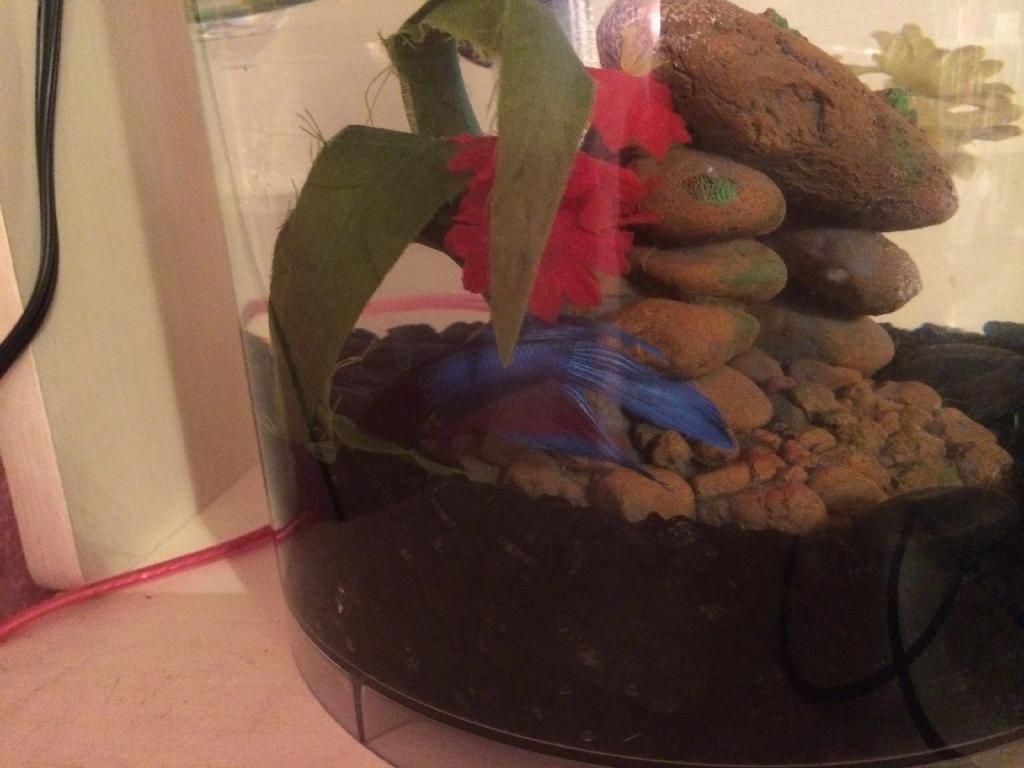 (he needs a new plant home, his is pretty tattered, but I was too anxious to get them out of their cups to stay and shop for new stuff)