Discussion Starter
·
#1
·
I tore down the 55gal NPT this week end and set it all back up again...NPT...soil based with pool filter sand cap
(
You can see the new 10gal NPT I setup last week in my album
)
Substrate-2in sifted dirt from my yard-Capped with half inch pool filter sand
Fluval C3 filter and heater set at 76F
Live stock-50 RCS (Red cherry shrimp) and the breeding pair of longfin-albino Bushynose plecos, 20 juvie Betta splendens, pond snails and trumpet snails
Hardscape-hickory wood-dried/cured from my forest, rocks from a recent trip
Lights-Daylight bulbs 2-40w-6500k on 12h/day photoperiod
Plants-Cabomba caroliniana, naja grass, water wisteria, Valliseneria, Sagittaria subulata and platyphylla, Rotala indica, Bronze cryptocoryne, hygrophilia, amazon sword...floating- water lettuce and java moss tied to the driftwood....
It took longer to tear it down than it took to set it up...lol
I add livestock the same day I set it up.
I don't rinse either the soil or the sand...I make back to back water changes before I plant and usually will make a third water change after I plant...usually 3-4 water changes total of 50-75%
These pics look cloudy-but it is the glare....looks clear in person....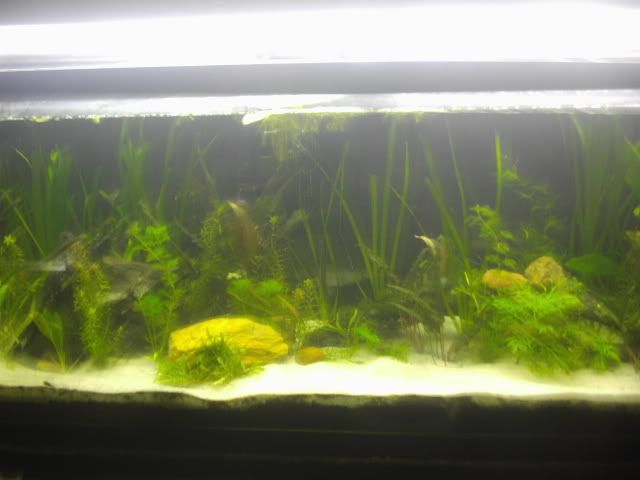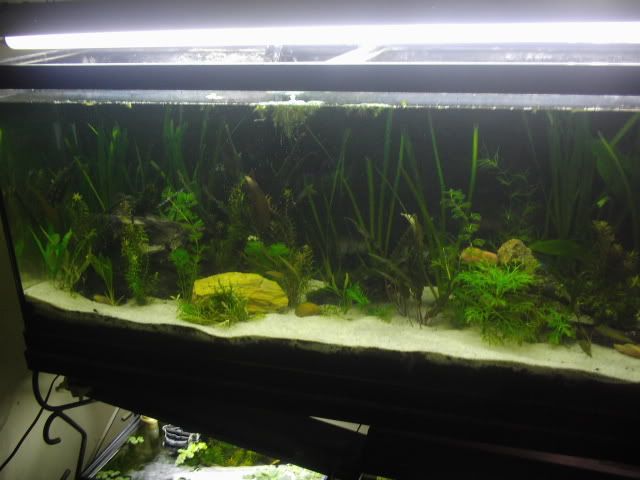 I will add more pics today-once I get the new bulbs on the tank....I bought new bulbs...but we had an accident.....cat knocked them over and they exploded....what a mess.....