Discussion Starter
·
#1
·
I lost Poseidon over night. It's really hard to bounce back. I took his enclosure and rinsed it in the hottest water I could get from the faucet, rinsed all of the decor in hot water, rinsed and rinsed and rinsed. I put in the ghost shrimp for a few hours first, just so I could watch them and make sure they weren't having adverse reactions. They were active, eating, and swimming, and the water was staying stable at 82 degrees, so I floated the dragon boy I got a few days ago, waited 20-30 minutes, poured out half water and introduced half fresh water, then let him float for another 20-30 minutes before release.
I'm happy to say that he is actively exploring, eating, and pestering the shrimp. I don't know if the tub killed Poseidon or if it was the stress, but I feel better now, at least a little.
I was going to use the needlepoint mesh to make a divider, but it didn't hold up well enough, and the 10g started leaking anyway, so.. nifty cover now. I'm putting the report binder spins on the edged to hold it up and keep it rigid. I'll do the same with Ares' "tank."
I'll be replacing the heater with an internal. I got a Top Fin 25w submersible which is working fantastically and is much more aesthetically pleasing, it's in Ares' tank. I have the filter baffled, reusing the filter floss I have in it since it never touched the tubs and couldn't have been contaminated if that's what killed Poseidon. I'll get a substrate some time this week, I'll go with black to make the dragon stand out more. I'm going to attempt to cycle these, as they are roughly 6.5 gallons, and add many more anubias and java ferns to help it along.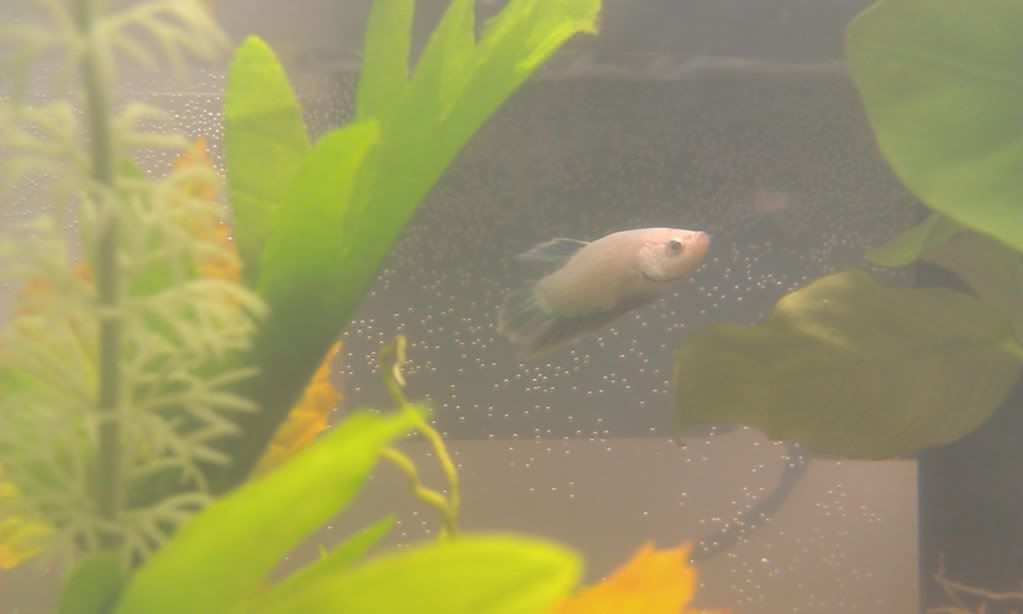 Here he is, swimming free. He's not clamped, he was about to move, I only just got a picture of him holding still. He's very energetic.
I'll be doing the same thing with my new halfmoon as well.
I haven't decided on a name yet, but I kind of like Zero, as in Absolute Zero, the temperature at which there is no detectable energy. Space is not quite absolute zero, but is very close. He has such a pale pretty, nearly white body that it reminds me of ice and snow.
Here's the close up of him, very close to his true colors, though his red wash is darker in person.
Nothing will replace Poseidon, I just hope I can keep my boys and girls happy and healthy. It's hard not being discouraged.