Discussion Starter
·
#1
·
So I posted here a few days ago seeking advice about my betta, Clark, and never received any kind of response, but he's worse now! Two weeks ago he started swelling up on his left side, and a couple of days ago I started seeing white fluff and string-like things in his poo, so I suspected internal parasites. I won't be able to get that medicine till tomorrow, so I dissolved 1/2 tsp of aquarium salt in a cup of treated water and added it to his tank last night.
NOW HIS SCALES ARE STICKING OUT!
I'm terrified, but the scales are only raised in that swollen spot on his left side, nowhere else! Does that mean it isn't dropsy?? Should I change his water and not add aquarium salt?? I don't even know for sure if he has internal parasites or not because no one responded to my earlier post, but please for the love of all things betta, HELP ME!
I feed him Top Fin color enhancing betta bits during the week, fast him on saturdays, and give him of a pea on sundays. Occasionally I'll give him a tetra brand sun dried brine shrimp. He's in a 1 gallon tank, his heater keeps the water between 72-74 degrees. I do partial water changes a couple of times a week and total water changes every other week so I can clean the tank. I use AquaSafe conditioner to treat the water.
After his side got swollen I gave him an epsom salt bath and fasted him for two days before giving him the pea. Other than the swelling, he acts like he's healthy. He still swims pretty actively, but when he rests, he tends to tilt with his head down and toward the swollen side. What do I need to do?!?!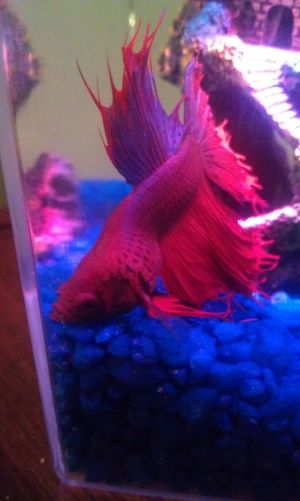 This is when I started noticing stringy poo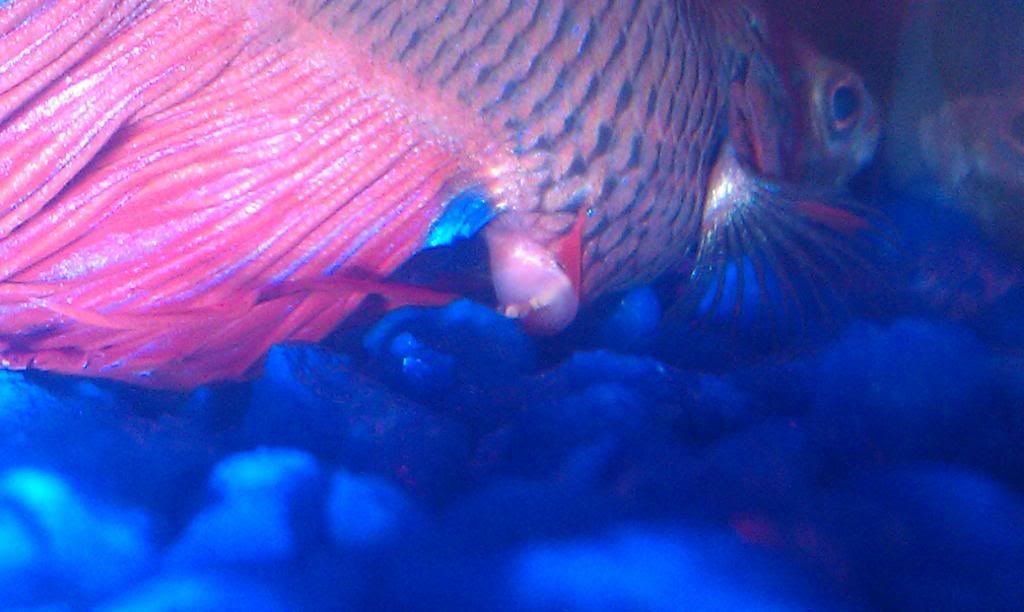 And this is a picture I just took with his scales raised over that swollen side