Discussion Starter
•
#1
•
Hello
I'm new here, so pardon my mistakes if I've made any...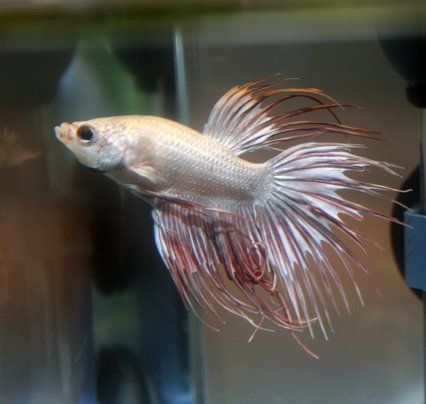 This is my betta, I've had him for about 2 months now I think. I chose him knowing he might die, because he was easily the saddest looking one in a store full of really sickly looking bettas
When I took him home he seemed to perk up for a little. He looked his best around the time I took this photo. That's him in full flare - fins seem to be a little bent up.
But now he's really listless... he just floats at the top and barely moves. He's always been kind of lazy but I'm getting a bit worried. I tried moving him from a 1 gallon tank to a 3 gallon, but no change. He won't even react unless I touch his head, then he gets a little upset.
Any ideas what could be wrong?? I'm a new betta owner and I'm not sure what to do. He doesn't seem to have fin rot and I change his new bigger tank weekly. By contrast, the other betta I bought at the same time and store is doing great, and is always active.