Since most filters require a filter baffle to work for bettas, I figured I'd show a step-by-step tutorial on how to build one from an ordinary water bottle. Make sure that the bottle is clean and contained only water prior to using. Rinse in HOT water, but never bleach or use soap that could be absorbed by the plastic.
Step 1: You will need a water bottle, as shown below, scissors, and a piece of tape. Pretty simple right ;-).
Step2: Measure the approximate area of your filter outflow so you know how long the baffle will need to be cut.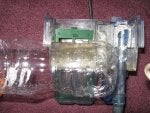 Step 3: Measure the amount of water bottle that you will need to cut. Note, do NOT use marker to mark your bottle unless you are certain to cut any marked areas off. I used sharpie just for the purpose of making it easy to see in pictures. A small slit in the plastic is the easiest way to mark the bottle.
Step 4: Cut both ends off of the bottle so that you are left with the middle piece that you marked off.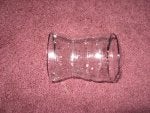 Step 5: Now you will need to cut the remaining ring lengthwise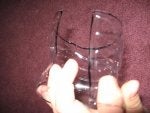 Step 6: Stretch one end of the curved plastic over the bottom lip of the outflow area, and tape the other end to the cover to keep it in place. Now when the water flows out it will hit the plastic and be redirected to the sides with much less force. Now plug your filter in and watch as you now have no surface current, but still have a filtered tank
.