Discussion Starter
·
#1
·
My girl, Scarlet Flame, has been with me since February 2022. She was purchased as a baby girl, she was small, from Petsmart.
She has always been in a sorority.
I did noticed about the first or second week that she had a round round tummy... she looked "pregnant"... of'course now I know female bettas don't get pregnant! I had her with her sorority (4 more betta, same size, age as her) in a 10 gallon tank, up until a few weeks ago, I moved her, along with the rest of her sisters in a 36 gallon tank. I already had one female betta there and I added 2 more.
While at the 10 gallon, I lost one of the girls, her tummy.... exploded... I never figured out what happened, but they all looked kind of swollen and I did believe I noticed scales pointing outwards... Right away I treated them for dropsy.
The rest of the girls got their figure back; yet she never lost her curves.
I have also tried to treat her for constipation and had her on a diet.
No matter what I do, she remains the same size.
Her appetite, her behavior and her looks (scales, fin, mouth, where she hangs out, how active she is, interested in her surroundings, seems happy and healthy) don't give me any reason to be worried.
But... her tummy is extreme. And I worry. Any suggestions? I though about treating her for endoparasites. But before I do anything I wanted to ask your opinion.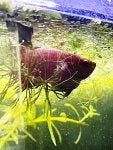 Housing:
How many gallons is your tank? 36gl
Does it have a filter? yes
Does it have a heater? yes
What temperature is your tank? 78
Does your tank have an air stone or other type of aeration? yes
Does your Betta have tank mates? What kind? Yes. A sorority of Bettas, 7 of them. Four catfish, 1 pleco, three mickey mouse patties, 3 Malaysian Snails, 3 Nerite Snails and 12 neon tetra.
Food:
What food brand do you use? Seachem, Fluval
Do you feed flakes or pellets? Both
Freeze-dried? Yes, bloodworms and Shrimp brine. 2x week
How often do you feed your Betta? How much? Twice per day. 2-3 pellets or a little bit of flakes (either or) 2xweek once a day with bloodworms and shrimp brine and 1 day fasting
Maintenance:
Before
your Betta became ill how often did you perform a water change? Once a week, sometimes twice per week, Still a "new" (3-4 months) establishment and I have been adding creatures slowly.
What percentage of water did you change? Last time I changed 50% every other day for a week, as I had some unrelated to this case deaths.
What is the source of your water? Tap with Stress Coat
Do you vacuum the substrate or just dip out water? I vacuum once every two weeks and as needed.
What additives do you use other than conditioner? What brand of conditioner? Prime as needed.
Water Parameters:
What are your water parameters? Please give exact numbers. If tested by pet store please get exact numbers. "Fine" or "Safe" won't help us help you. Important: Test your water
before
the regular water change; not after one.
Ammonia: 0.25ppm
Nitrite:0 ppm
Nitrate:5.0 ppm
pH:6.4
Hardness (GH):Unknown
Alkalinity (KH): Unknown
Symptoms and Treatment:
When did you first notice the symptoms? The first week I got her, 6 months ago
How has your Betta's appearance changed? She may have gotten a bit more swollen but not by much
How has your Betta's behavior changed? She hasn't
Is your Betta still eating? Yes
Have you started treating your Betta? If so, how? I did treat them for Dropsy, about four months ago.
Does your Betta have any history of being ill? No
How long have you owned your Betta? 6 months
Was he or she ill or suffering some sort of damage when purchased? No