Discussion Starter
•
#1
•
With goals mentally mapped out, I decided to start. I want crowntails with halfmoon spreads, strong rays, and even fins. I had found a gorgeous halfmoon male that I held off on mentioning, a paranoia about my previous bad luck. I decided to first cross him with my less desirable crowntail female, Opal. I decided to do this, as this is the first spawn and I need to gain experience and I felt it was better to use the lesser of the two girls, just in case something should go wrong.
My 10gal is holding up well. It might not even have been the tank that leaked, maybe one of the filters was losing water. I'm not sure at this point, but it's doing fine and didn't lose any water when I filled it in the tub for several hours. It has about three inches of water, three marimo balls, several anubias and some java fern. The heater is holding perfectly at 84*. I chose a slightly higher temperature to aid in hatching and growth without going too overboard. I wasn't comfortable bumping it to 90* as I've read some breeders do.
I have a small filter being seeded in my sorority tank. I am using standard airline tubing to top up the water enough to keep the heater fully submersed, but that's it.
Here's Shadrach, the daddy. He's absolutely stunning.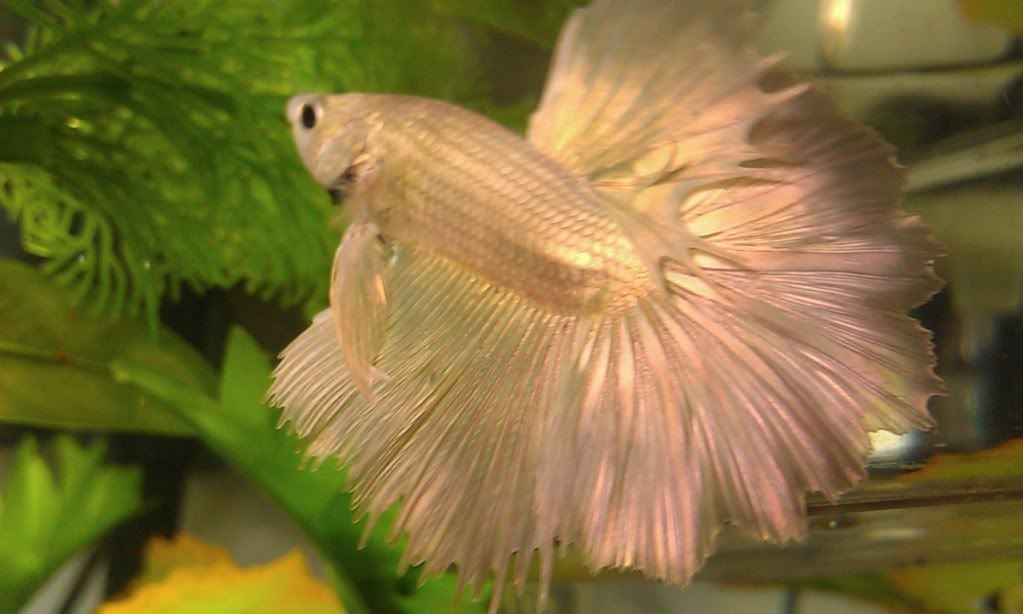 Here's Opal, the mom. Her sister Aurora is a little better, slightly better fin spread, slightly better crowning. She will be used for the second spawning when I'm ready for it.
I let the tank set for several days before acclimating Shad, and sectioned Opal off with a breeder box after acclimating. Shad got right to work flirting and building. He made a massive nest, it was amazing. I let them flirt safely for about 30 hours, then released Opal. They chased and nipped, but I let them be together over night. In the morning, still no eggs, so I separated her for safety while I was at work. Shad kept building his nest, and after work, I released her again. This time, Opal went straight to the nest and stayed there. Shad did chase her a bit more, but within an hour, they were learning to embrace. Opal started releasing eggs right away, and helped place them into the nest.
I watched to make sure they were okay, then left them alone for a couple hours. I checked periodically, and they were still spawning, until finally Opal was at one end behind a marimo and Shad was guarding his nest. I removed Opal and got her floating in the sorority. There were no visible tears on her fins or missing scales, and she didn't display any signs of stress. She was eager to eat and get back with her tank mates. Shad has not a single nip on his fins, either, and has proven to be quite a gentle and calm male.
He attended his nest very well and kept adding onto it while waiting for the eggs to hatch. I left a small CFL 6500k light on for three nights (sleeping was not easy for me lol) so he could easily see his eggs and the fry when they hatched and dangled from the nest.
http://youtu.be/1-VIi5W25YU
: Shadrach tending the eggs the night after spawning.
At about 8pm on March 6th (Wednesday), they started hatching. Watching little fry suddenly appearing and wiggling around was wonderful. I think I stared at the tank for a couple hours. Here's a vid:
http://youtu.be/XirRlbg63t4
Here's a couple hours ago, after a feeding of microworms:
http://youtu.be/uWU3EiWexjE
As you see, Shad is a bit of a camera pig! The fry have been free swimming for about 48 hours. I can see one that isn't doing well, it keeps spiraling somewhat while trying to swim. If Shadrach doesn't cull it, or it doesn't pass away, I'll do so myself. The rest seem quite happy swimming around. When I add microworms for them, I see quite a few move down to the bottom where I dropped the worms, and they dart around and appear to be eating well.
I don't have an estimate yet, they're hanging out in groups in different parts of the tank, but I think there is roughly about 50.
After doing a ton of reading, I want to attempt leaving Shadrach with his fry for now. He is showing no signs of eating them, and I have been feeding him since they hatched. He's very easy to lure for food, both live d. hydei and NLS pellets. If I do suspect him of eating fry, I'll cup him. He seems to be quite a good father though, so I am crossing my fingers that he'll be good for this method.
I have a very large culture of microworms, another small culture of micros, a small culture of walter worms, and a small culture of banana worms. I also have 3oz of decap BBS.
This is my first spawn, and I'm still reading everything I can. I'm going to give them several small feedings for the first few days and then three feedings a day after that.
I'm excited to see how these turn out. I'm expecting combtails, but my plans are to take the best of these fry- taking into account spread, evenness, ray quality, and color- and either line breed back through the father, cross siblings, or even cross with my better female crowntail.
I know it's going to be a process and take quite some time, but I'm really looking forward to it.