Discussion Starter
·
#1
·
Alright so Beau has had this white cotton looking growth come and go for three weeks now, and we're beginning the fourth. He's been on BettaFix for two weeks, stopped for one, it came back, but since I'm running out I went to a different pet store today and they sold me PimaFix. How effective is this for my Betta? Better or worse than BettaFix? Here's a picture in which you can see the growth. Previously it was only on the bottom front fin there that's red, and as you can see from the picture, it's now on the front of his blue fins.
Another question I have, and I asked last night and didn't get much response, is he got new tank decor yesterday, and has made a bit of a cave in the blue glass pebbles. I thought he was stuck at first and got him out, but when he went back in less than 5 mins later, I left him for a few mins and he got out just fine. It seems to be a new favorite hiding place, however, I'm just wondering if it's safe? Can he get stuck? He was able to push a few of the pebbles around, so I don't think they would trap him but I'm unsure :/
Here's a picture of him "stuck" so you can see what I mean.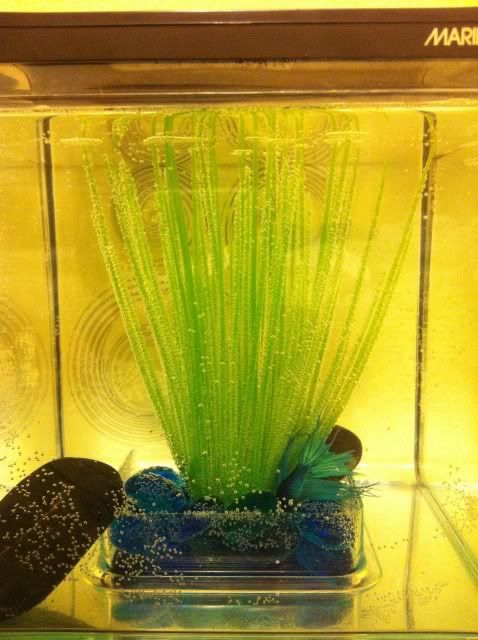 Thank you btw! All help is appreciated!